Downtown Phoenix Arizona is one of the United States most vibrant areas. Representing the heart of Phoenix, it has become an increasingly popular place to live, especially as the city has invested in its renovation. Considered one of the country's most alluring downtown areas, Phoenix is defined by its vibrant business and entertainment district, including shopping at the CityScape Phoenix complex and art galleries on Roosevelt Row.
And, along with a litany of brewpubs, cocktail bars, cafes, pizzerias and breakfast spots cluster around Arizona State University campus, visitors can take in the Arizona Science Center and Children's Museum of Phoenix. Adding to its sports-crazed fan base, it is also sports Chase Field, home to the Arizona Diamondbacks.
Maybe that's why developers are eagerly looking to build in the area and new projects are constantly in the works.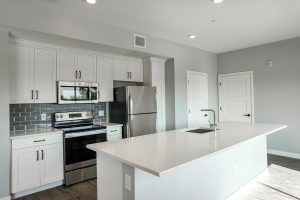 While most development in the downtown area are focused on high-rise condominiums, developer Live Forward Ventures saw that a large section of the community was searching for housing that was more affordable and for sale. This community inspired Live Forward Ventures to build Verde Park Condominiums.
Verde Park is a for sale condo community in the Historic Garfield District Downtown Phoenix. In all, the community features 43 urban residencies and has a starting price of $200,000—a price point unheard of in Downtown Phoenix. We sat down with Live Forward Ventures Partner Scott Kilkenny to talk about the company's newest project and why it has seen so much success.
What was the goal of Verde Park Condominiums?
Early on, we started meeting with neighborhood leaders in the downtown area to ask them what the community's housing needs were. We learned that the community wanted housing that was for sale and was good workforce housing. The neighborhood overwhelmingly wanted us to develop a unique product suited toward people who live and work in the neighborhood and are not second homeowners.
Community feedback is the big reason why Verde Park has been successful when other developers have unsuccessfully tried to build workforce housing in the area. Initially, we were going to community meetings and showing our concepts. The public's input went a long way in deciding how we were going to do the architectural style and finishing.
We knew that past projects have failed because they did not have the community's support, so we made sure we developed housing that the community could get behind.

What are the challenges to build attainable housing?
We are a developer that cares about the products we make, and with Verde Park we wanted to provide workforce housing at our $200,000 price point. In order to do that successfully, you have to invest a lot in preplanning so construction costs don't get out of control.
Our initial challenge was working within the City of Phoenix's zoning regulations to fit the right number of units on site to make Verde Park profitable for us, while still maintaining a reasonable cost for future residents. This took a lot of time and required a lot of communication with the city to ensure everything we were doing was up to code. Verde Park has 43 residences. A workforce housing project of this size had not been accomplished so it was a new experience for us and the city.
If you are going to develop a workforce housing project, you have to understand your design process from start to finish to prevent a bloated construction budget. A lot of work and our budget went into preconstruction. We knew exactly how much everything was going to cost because we designed Verde Park efficiently and understood every inch of our structural layouts. All this preplanning allowed us to build efficient condos without sacrificing quality.
Were there any challenges along the way?
One of our other challenges was investing in noise reduction technology while maintaining our attainable price point. Hearing your neighbors is usually an issue with multifamily housing. We felt that Verde Park residents should not have to deal with the problem of hearing everything your neighbors are doing. We worked with our engineers to craft a noise-reduced room that incorporates two by four party walls and genie clips.
We also invested in thicker floors to ensure our residents are not disturbed by their neighbors. It was a challenge to work these features into our budget without affecting our price, but it was worth it to develop quality housing for our residents.
What is Verde Park's current status?
The community has been incredibly supportive of Verde Park. We sold out the entirety of our North Building in August and we only have eight residences left in our South Building. Residents are currently living in our community now and we are thrilled about Verde Park's recent success.
The public's interest in Verde Park shows that there is a desire for quality housing in Downtown Phoenix, an area where $200,000 housing was previously nonexistent. We tried to do something for the first time and we are thrilled to create something this community needs and people are excited about.
________________________________________________________
Story by Michael J. Pallerino, editor of Commercial Construction & Renovation magazine. Over the past 30-plus years, he has won numerous awards, including the "Jesse H. Neal Editorial Achievement Award," recognized as the Pulitzer Prize for business-to-business magazines. He can be reached at mikep@ccr-mag.com.
One on one with...
Scott Kilkenny, Partner, Live Forward Ventures
Describe a typical day.
A patch work of Zoom calls, phone calls and site visits.
What's the biggest item on your to-do list?
Securing future bank financing with the information that I need to predict material cost.
What's the most rewarding part of your job?
In this case, it was taking an empty field and creating 43 new homes for 43 new residences.
What's the best thing a client ever said to you?
"When are you building your next project? I want to buy one."
How do you like to spend your down time?
At home with my family and dogs.