What is CNC? 
CNC is short for Computer Numerical Control; it is a system used in the automation of the production process today. A design made on Computer-Aided Design software is programmed into a microcomputer on the CNC machine which then proceeds to process the material into the part without any need for human input.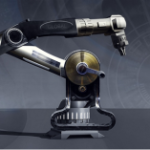 There are several ways that CNC is used to process materials such as lathes which cut symmetrical objects, routers that cut large dimensions, plasma cutters which use a laser to cut material, pick and place machines that use vacuums to pick and place items, and CNC milling services where the cutter moves into the piece to produce highly accurate shapes. In this time of the century, pick and place automation system is a must have.  
CNC's Use in Automation 
Automation in the manufacturing industry has been present since the 1840s and undoubtedly, the use of CNC in the production of robotics is of great benefit. Robotic arms are very prevalent in automated production processes, from simple repetitive tasks in the food industry to handling heavy parts in aircraft manufacture; for this reason, the parts of the robotic arms need to be sturdy and accurate. A CNC machine is perfect for their manufacture as these cutters like the 3ERP CNC milling can cut incredibly accurate parts out of a large variety of materials including steel, aluminum, and ABS. 
End effectors are a part that attaches to the end of a robotic arm, allowing it to perform a wide range of tasks and interact with objects such as grabbing and gripping. These are usually fabricated by CNC machines due to the flexibility in surface finishes and accuracy without compromising the structural integrity of the material. Additionally, CNC machined parts have the shortest lead time, allowing for rapid iteration and refinement which is required for many custom robotic applications. 
In most robot operations, custom jigs and fixtures are very crucial to hold parts in place and CNC cutters, with their accuracy and tight tolerance, are obviously the most cost-effective and practical option for their fabrication. They can be designed perfectly by experts on sophisticated CAD software and left to the machine to produce hundreds of parts without error. 
They can be programmed to cut complex shapes out of materials like wood, plastic, and aluminum. In recent years, CNC router software has become increasingly popular in robotics applications. Its main advantage is that it can be programmed to cut very precise shapes with little or no human supervision. This makes it ideal for use in manufacturing processes where speed and accuracy are essential.
Lastly, similar to how humans use their senses, robots use sensors and controllers to carry out functions that replace human labor. Printed Circuit Boards (PCBs) are an essential part of sensors and controllers and these were previously made using chemical etching which causes skin irritation, and iron buildup in the body, and the chemicals require extensive waste disposal processes. Although it is still a popular method of producing PCBs, CNC machining can help eliminate some of these harmful effects and will probably replace chemical etching pretty soon. 
The Use of Robots in Automation 
Automation is becoming increasingly popular in the rapidly growing competition in global markets; the use of robots over humans or even traditional or handheld machines is not only cutting down the average costs and increasing output to meet increasing demands at competitive prices but also improving quality and introducing consistency in the final products. Some of the commonly used production robots include; 
Articulated Robots: They have a single arm and multiple joints for different movements. 
SCARA Robots: Short for Selective Compliance Articulated Robot Arm, it offers movement along 2 parallel planes. 
Delta Robots: These have lightweight arms for quick movement. 
Gantry or Cartesian Robots: The defining feature of this robot is its linear actuators which move at 90-degree angles from each other. 
With these robots, a unique advantage is gained for custom-designed products or special requests by customers; a worker may be unfamiliar with the manufacturing processes and make a substandard product or take longer, sacrificing productivity. Robots, on the other hand, do not have the capacity to make errors like humans do, if there is any fault in the product; it is likely to be a result of external factors such as design error or malfunctioning parts.  
Robots can perform repetitive tasks such as loading or unloading products, reducing the need for minimum wage labor, and forcing the management to train these workers to work with machines, leading to skill learning and improved living standards. They can also assemble heavy machinery and components that would otherwise be dangerous or too time taking if done by manual labor. Robots can multitask as well as perform different tasks with different attachments; the robot may even change these attachments themselves with proper programming. With all these functions, a robot can even aid CNC machining! 
All in all, automation is inevitably going to improve production quality and quantity and improve living standards, directly and indirectly across the globe. There is so much room for improvement and innovation in the capabilities of these mechanoids. As long as we look at automation as a chance to upgrade instead of a threat, the future looks bright.