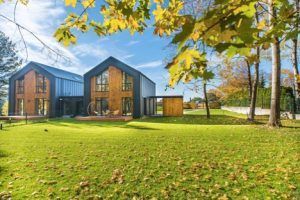 If you have a yard in your house then count yourself lucky. Whether you have a backyard or a front yard, it adds an advantage to your home. Most people grow fruits, vegetables, or flowers in their yard or use it as an alleyway. However, you may want to be different and decorate your yard unconventionally. Remember the way you decorate your yard affects the way you feel when you are sitting in it. Keep reading to get some tips on how to decorate your yard.
1.   The Floors
Not many people are fans of landscaping their yards, and that is okay because there are other options. You can design your yard with concrete floors instead. You can use tiles if you want to form designs. One of the advantages of hard-floored yards is that they are easier to maintain than landscaped yards. Concrete floors also won't get damaged if you throw a party or need to park a car. So, if you want to save yourself the hassle of maintaining a landscaped yard, then concrete floors are the way to go.
2.   Furniture
If you want to have a place in your house for relaxation, then look no further than your yard. You can furnish it with lounge chairs to sit on and relax, garden umbrellas to protect you from the sun, and foldable chairs and a table to sit on and enjoy your evening tea. If you have a big garden you can turn it into an outdoor living room, you can use it for privacy, or you can sit and relax with a good book in peace while being surrounded by nature.
3.   Fountains and Swings
If your outdoor space is big and your budget allows it, then you can put a small fountain in your yard. The fountain will beautify any spot you place it in and will add to the relaxation element. The sound of water trickling can also be irresistible and soothing. If you want to add something different but fun to your yard then you should add a swing. A hanging swing will add a luxurious look to your garden and it will be a lot of fun to use as well! You can also add a hammock if your trees are placed the right way to hang it, or you could put up poles to hang it up.
4.   Lights and Plants
Adding lights to your yards will create a romantic element to it. Imagine at night the glow of the moon and well-placed lights lighting up the paths in your yard, it is like a scene from a movie. You can put outdoor lanterns or use streetlight-style lamps. Another thing you can add to your yard is plants. Plants are beautiful to look at and add an architectural feel to your garden, and a garden isn't a garden without plants, is it?
If you make good use of it, your yard can be more than just an outdoor space. It can be a private place where you can sit and relax, it can be an outdoor living room, or a place to enjoy yourself with your family. There are so many things you can do with your yard so make use of this extra space, and use it well.