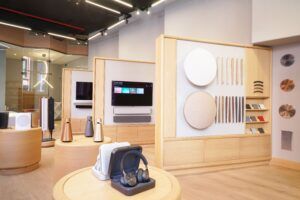 Bang & Olufsen is a luxury audio brand founded in 1925 in Struer, Denmark. For nearly a century, Bang & Olufsen has been pushing the boundaries of audio technology and the company continues to sit at the forefront of acoustic innovation. Today, every Bang & Olufsen product is still characterized by the unique combination of beautiful sound, timeless design and unrivalled craftsmanship. Bang & Olufsen recently opened a one-of-a-kind flagship store in the heart of New York City's SoHo neighborhood. Located at the corner of Spring and Greene Streets, the new flagship is designed to provide visitors with an unparalleled brand experience—showcasing the full range and depth of the company's innovative product portfolio. TPG Architecture was tapped to serve as Architect of Record for this retail project, with the task of implementing the new flagship concept designed by SIMPLICITY.
The flagship location will welcome guests with a refined, elegant atmosphere. The 3,700 square-foot space will include a ground-level floor dedicated to sales and experience; and a cellar space utilized as the back-of-house. Unique design features including dramatic magnetic track lighting which includes linear and spotlighting, imported German wood flooring, exposed brick, and sawtooth walls will create dimension and add texture to the store. 
At the store entrance, a circular-shaped pedestal fixture will invite guests to experience Bang & Olufsen's line of premium headphones and earphones. As guests move through the space, several wing walls will showcase the range of speakers and intricate setups possible among their series of customizable products. At the far rear of the store, an acoustically designed "listening room" will provide a residential setting, giving customers an immersive experience as to how Bang & Olufsen's products work seamlessly together.