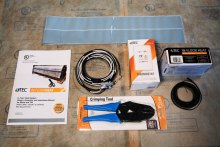 Floor warming technology is stepping into the future with a new breakthrough innovation—TEC™ In-Floor Heat. Unlike other floor warming systems available, TEC™ In-Floor Heat is customizable on-site to fit any space, with no down time for special ordering. TEC™ In-Floor Heat features no embedded heating wires that need to be patterned, and is thinner than other alternatives on the market at just 1/64" thin.
The extremely thin mat maintains less floor buildup than other systems, and provides uniform warmth underneath tile and stone using infrared heat technology.
In-floor heating systems are a growing 2016 residential and commercial trend. Increasingly installed in high-end luxury residential bathrooms, tile installers often face extended lead times for special-order heat mats. TEC™ In-Floor Heat eliminates the lag time of special ordering and expedites the installation.
Professionals can purchase TEC™ In-Floor Heat mat for their job specifications at a local distributor – along with 120 or 240 volt wire harnesses, a TEC® Crimping Tool and Edge-Sealing Tape to install the mat. Installers can then use the crimping tool to fasten the wire harnesses to the mat. Then, they must apply a polymer modified mortar, like TEC® Super Flex™ Mortar, onto the prepared subfloor to install the heat sensor and heat mat. The heat mat features no coils or wires that need patterning—eliminating an installation step. Once the mortar has cured, tile or stone can be installed directly on top of the heat mat. The floor temperature is controlled by a TEC™ Touch-Screen Thermostat or TEC™ Programmable Thermostat, which a licensed electrician must hook up and connect to the in-floor heating system.
"TEC™ In-Floor Heat saved me 50% on labor compared to the floor warming system I used previously," said JJ Sabenorio, of 1DayRemodeling in Castro Valley, CA. "The customizable mat is the easiest and quickest heat system I've ever seen. I only needed a thin layer of thinset to cover the mat compared to the thicker cable systems offered by competitors that usually require touchup after the pour."
Not only does TEC™ In-Floor Heat create optimal comfort, it's built for optimal safety. It meets the highest UL Safety Standards and conforms to International Electromagnetic Field Safety Standard IEC / EN 62233, so homeowners can have peace of mind knowing their families are protected.
When installed with TEC® HydraFlex™ Waterproofing and Crack Isolation Membrane, Super Flex™ Mortar and TEC®grout, TEC™ In-Floor Heat has a limited lifetime warranty*. For more information, read our installation guide attecspecialty.com/infloorguide
The TEC® brand is offered by H.B. Fuller Construction Products Inc. – a leading provider of technologically advanced construction materials and solutions to the commercial, industrial and residential construction industry. Headquartered in Aurora, Illinois, the company's recognized and trusted brands – TEC®, CHAPCO®, Grout Boost®, ProSpec®, Foster®, and others – are available through an extensive network of distributors and dealers, as well as home improvement retailers. For more information, visit www.hbfuller-cp.com.
*See sales associate or www.tecspecialty.com for warranty details.