Scissor Trusses Offer Aesthetic Appeal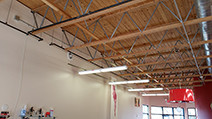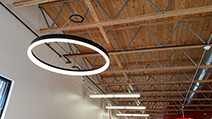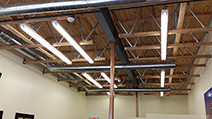 Main Street is a well-traveled, tree-lined street in Watertown, a community on the outskirts of Cambridge, Massachusetts. A corner that was previously a gas station is now an appealing one-story 4,500 square-foot retail building.
"The building owner wanted to think outside the box and transform this site to help attract upscale tenants," says architect Douglas Annino. "A RedBuilt scissor truss roof system – left exposed – was an aesthetically pleasing characteristic that fit the intent."
After reviewing three product series with different on-center spacings, the architect was able to evaluate the budget and select the best option. "Our RedBuilt customer service was very good. We don't get this kind of service from other manufacturers," says Doug. "It makes a huge difference in my decisions when I can actually talk with someone about design options with up-to-date information on costs and availability."
Doug selected
RedBuilt's Red-S™ trusses
at 4' on center, 35 feet in length. 38 of the trusses completed the 4,500 square-foot retail building. The trusses were left exposed to create a light, open-air interior with the warmth of a wood planked ceiling and the exposed wood flanges of the trusses.
"This is the second job where I've worked with RedBuilt and I look forward to the next," says Doug. "The product looks good and you can't beat the service." 
See the results of the Watertown Retail Building project and additional photos, and learn more about how we helped solve our customer's challenges on this project:
Scissor Trusses Offer Aesthetic Appeal.
More info at www.redbuilt.com.