A pop-up art installation created by designers in the music industry is coming to NeoCon 2021. Born as a result of creating some of the world's greatest event and concert spaces, Spacekit, the first modular, customizable wall art system of its kind will go on display at NeoCon at the Wood-Mode Lifestyle Design Center, located on the first floor in LuxeHome at the MART.
Who else but a team of event and entertainment industry designers could create an easy-to-transform yet well-designed art system? Tom McPhillips, Partner/Founder of ATOMIC (the creators of Spacekit), is the pioneer of the iconic modular stage design for the likes of Diana Ross, The Who, Eric Clapton and Martina McBride, that inspired Spacekit. McPhillips and the design team at ATOMIC pivoted their experience, creative design and modular, configurable products into art for residential and commercial application.
Spacekit's snap-and-go design will allow NeoCon attendees the opportunity to interact with several of the installation's pieces by reconfiguring and changing the art's design. A permanent mounting option means a few of the designs on display are guaranteed to stay-in-place to view beyond NeoCon.
"The Spacekit team worked hand-in-hand with our showroom designer to determine colors, patterns and dimensions that would complement our space" says Vince Hodshire, owner of the Wood Mode showroom at LuxeHome. "This installation is a smart way to provide a design refresher just in time for NeoCon."
The sustainably designed and easy to maintain Spacekit panels are made with ACRE™, a 100% tree-free wood alternative comprised of upcycled rice hulls, and is free of phenol, formaldehyde, and adhesives. And Spacekit's recyclable framing system contains self-leveling guides making it an easy-to-install design facelift.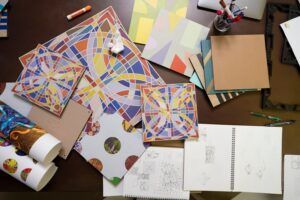 The panels are available in two standard sizes and in a variety of designs. They are ready to ship and flat packing provides for easy delivery. Unique designs and sizes, and even custom-branded installations, can be created with Spacekit's Configurator Tool available on Spacekit.co.
Spacekit's Trade Program offers a wide range of exciting benefits for commercial designers and architects including professional discounts, dedicated concierge service, customization and design assistance, no matter the size of the project.
For more information, or to get started designing with Spacekit, visit: www.spacekit.co.
About Spacekit
Headquartered in Lititz, Pennsylvania, Spacekit designs and manufactures modular, customizable wall art made from sustainable materials with a zero-waste, made-to-order manufacturing process. Spacekit is the creation of ATOMIC, a group of live event professionals with more than 25 years of experience designing and building for clients such as iHeartRadio, MTV and Nike. Watch the story of Spacekit - Spacekit - Designed by you. A snap to install.