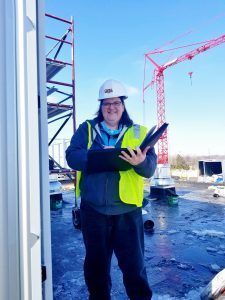 As just one of three females graduating from Minneapolis' Architectural Drafting and Estimating Program at Dunwoody Institute, Cindy Hillegass' evolution in the commercial construction industry made strides early. While her passion for the profession started early (as a teenager, she worked alongside her father installing surround sounds, networks and antennas in new residential construction projects), she did not immediately opt for a secondary education pursuit. Instead, she settled into more typical female jobs like retail, fast food and accounting.
But as the call for a career change beckoned, Hillegass found herself drawn to the construction world, especially in the drafting/architect sector. She found it the perfect spot to take her shot.
We caught up with Hillegass to get her thoughts on the industry's future for women, her plans for a return to normalcy and how the biggest item on her to-do list may help women everywhere.
Give us a snapshot of the construction market today.
Currently, design appears to be driving the construction market toward creative utopian projects featuring more complex, energy efficient and environmental challenges for contractors. Thankfully, product manufacturers are simultaneously stepping up their game.
The advances I have been exposed to while at Central Roofing provide exceptional trend examples from 3D imaging, leak detection products, to live vegetative roof top parks and gardens. While this generates interesting project development, it demands contractors stay on top of their individual industry advancements, training and education—or risk being left behind and out of work.
What are some of the biggest changes you've seen over the past few years?
From board drafting with pencil and ruler to CAD programs, the changes have been non-stop. The biggest change in recent years is the need for contractors to supply their own CAD-generated submittal and shop drawings. Architects and specifiers are looking for more job-specific detailed information defining how trades and crafts will transition and tie together.
Name some of the opportunities available for women in the industry.
With all the advances in the construction industry, women are constantly discovering ways to outwit obstructions and discover innovative opportunities where none previously existed. Only limited by their own imaginations, from trade workers to management and everything in between, there exists a treasure trove of roles waiting for female pioneers.
Women bring their natural born insight, empathy, grace and passion to the workforce. As they take on industry roles traditionally held by men, the opportunities for improvement are expanding. Jobs in a variety of areas, including communication, application and idea generation, are constantly expanding.

What challenges remain?
In many situations, women still are under-represented and often under-paid in the construction industry. They're able to do the work, but for some reason those in leadership positions are unable to see the equal value. Women need to stand up and support each other. That's the only way we will gain ground.
Here's what I've personally experienced. Respected drafters must be detail-oriented, focused on minute items and have a direct personality. Often, those traits are judged differently for (and by) men and women. When I'm detailed-oriented, I've been labeled as anal-retentive or over the top. When I focus on minute issues in a plan, I can be called boring, or stuck on the details. If I offer a firm handshake, some people decide I come across as too manly. These are limitations that females face in the workplace. No matter who imposes them, these perceptions negatively impact the vast opportunities for everyone.
What's the best piece of advice you've ever received?
"Perception is reality." What a person perceives to be true is reality for them. If you're going to successfully make change happen with anything, you must change the perceptions of those around you and your realities will become one.
What advice would offer women just coming up in the industry?
I have 10 of them:
As you carve out your own place, keep ethics front and center. Let your work speak for your character.
Learn how to write and print legibly. Stay away from fancy writing. Stick to a style everyone can easily read. And when you're typing, always use spell check.
Speak up when you know you're right and others are considering doing otherwise. Be a good listener and proactive solution provider. On the flip side, own your mistakes. It's far less painful than trying to cover them up. You'll learn more from them.
Realize you're never stuck in a position or a role. You have the power to change in order to achieve your vision of success.
Always be open to constructive criticism. Some of the best insight comes from negative criticism.
Nourish relationships. Cling to those which help you build character. Let go of those with destructive forces, no matter how difficult the choice can be.
Find a solid mentor—someone who offers a "safe place" to ask questions without judgment. Don't be afraid to ask for help.
If you want to get ahead or get noticed, show up every day before your boss and leave later.
Write handwritten thank you notes and physically mail them. You never know when that extra personal touch may position you for your next job.
Never stop learning. Read everything you can on a topic and take actual notes. What's important is not remembering all the answers; it's knowing where to go to get the answers, even if it's in your own notebook.
The biggest lesson the past few months have taught you?
It has been challenging on a personal level. My father passed away in November from natural causes. I was so busy with work that I almost missed the chance to share some final moments with him. My CEO, Gerry Stock, took me aside and told me to "stop, listen and slow down." She talked to me about the importance of family, whether it's our Central Roofing family or my at-home family. Her empathy trickles down through our work family, uniting us all. Right before my Dad passed I spent valuable time with him.
First thing you're going to do when everything gets back to normal?
While I'm sure this will sound corny, I want to go to Disney World. I've always enjoyed the parks, shows, rides and people watching. In fact, when we go to the parks, I have often been mistaken as a cast member. I believe one day I will work there.
Biggest item on your to-do list?
I want to create an internship/mentoring program at Central Roofing with a local trade school. My idea is to provide students the opportunity to graduate with exposure to real construction situations, some cash in their pockets, and an idea of what the construction industry has to offer them.
Biggest lessons you learned over the past four months?
On a personal level, I've learned how important it is to take care of your spiritual, physiological and mental health at all times. On a professional level, take the time to fix something on paper before a project starts. If you identify a problem, don't wait and fix it in the field. It will cause less anxiety, plus save time and money to make a fix as soon as you see it.