One of the nation's oldest cities, Lewes, Delaware is a historic treasure trove. In addition to its iconic lighthouses, 1631 founding as a whaling village and trading post, Underground Railroad efforts during the Civil War and being recognized as "The First Town in The First State," the ocean resort is only a short distance from President Biden's summer home in Rehoboth Beach.
To leverage this storied past while building toward the future, Lewes recently entered the latest phase of a robust renovation program developed to further community safety and policing by attracting new police officers and recruits. This included municipal buildings such as the Lewes Police Station, with a full-service law enforcement department comprised of 20 officers and civil servants.
"We just completed the next stage of upgrades designed to better meet the needs of a growing police force and serve as a recruitment tool for officers looking for a comfortable working environment in a beautiful resort town," said Alison Kirk, Facilities Foreman for the maintenance department in the City of Lewes. "The station was last renovated about 20 years ago, so an update was well overdue. By enhancing their workspaces, our public servants can now better support and respond to the needs of the community they serve."
As part of the upgrade, the Lewes Police Station's recent renovations included new flooring, furniture, fresh paint and the Ridge Series® of commercial vanity systems from Scranton Products. After working with Kirk to research the numerous alternatives, Union Wholesale of Wilmington, DE, supplied and installed the new men and women's room vanities. This included the need to customize the gray, HDPE vanities onsite to accommodate the irregular size and spacing of the walls.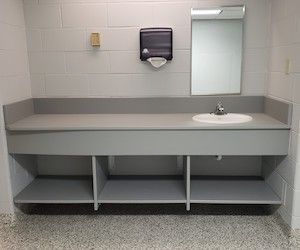 "The dimensions in the space were irregular so we used a circular saw to trim the vanities and create a perfect fit," explained Jeff Blakeley of Union Wholesale. "Thankfully, the material was super easy to work with and we were able to modify the units with great results to fit the room. Including the time for customizing the configuration, the whole job was completed in less than a day by two of our carpenters and looked beautiful."
Scranton Products' new Ridge Series of commercial vanity tops combine durability and long-lasting looks with a low-maintenance HDPE design, built-in shelf-storage and customizable face engraving options. Offered in a wide variety of colors, Scranton Products' vanity systems do not absorb water and resist mold, mildew and odors. They are also easy to clean, making them ideal for the heavy use associated with commercial restrooms and locker rooms.
Kirk is extremely pleased with the design of the newly-installed Ridge Series vanities at the police station, as well as the way each unit has stood up to wear and tear. "The vanities were perfect for our needs, given they not only sit off the floor, but are also moisture resistant." She added the open design added the shelving our employees needed to store gear and other supplies.
"In times when sanitary amenities are required, they can be hosed down and power washed after a shift," she said. They are also made of durable HDPE material like the company's restroom partitions. "Over the years, we've had success with Scranton Products restroom partitions at several facilities in the township, so felt confident that the vanities will perform with the same durability and aesthetics."
To learn more about the new Ridge Series® of commercial vanity systems from Scranton Products please visit www.scrantonproducts.com or call 800-445-5148.
About Scranton Products:
With more than 30 years of experience, Scranton Products is the industry leader in plastic bathroom partitions and lockers. Endless design options and an array of designer colors and textures provide confidence and elegant style in every project, creating a lasting impression. Proudly made in the USA and constructed from premium-grade solid plastic, our products' unmatched durability withstands impact, corrosion, graffiti and mildew. Backed by sustainable technologies and industry-leading warranties, with our partitions and lockers you are investing in peace of mind.