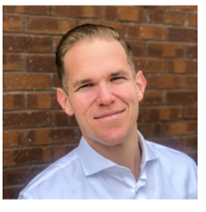 Christian Groom is Senior Product Marketing Manager for Legrand's Building Control Systems (BCS) division. [Text Wrapping Break] 
He leads end-to-end product marketing initiatives focused on driving growth & supporting the strategic vision for BCS's product portfolio, some of which include commercial shading & networked lighting control solutions. An experienced product marketer, Christian previously served as a Product Manager at Legrand, responsible for the new product development of Wattstopper DLM: BCS's networked lighting controls solution.  
Introduction:  
Today's building owners and building science professionals are experts in sourcing smart, energy-efficient technologies to reduce consumption and greenhouse gas emissions. Yet, the concept and benefits of automated interior shading systems typically don't take center stage in the planning and design dialogue – if at all.  
To get a pulse on how motorized shading systems benefit these parties and building occupants, Commercial Construction & Renovation sat down with Christian Groom from Legrand's Building Control Systems (BCS) division.  
Tell us about today's commercial shading industry/market - how do automated systems compare to manual in various sectors (i.e., office vs. healthcare). 
We have seen increased demand and will continue to see significant growth for automated shading, lighting, and controls in the healthcare sector.   Aside from the vertical market, automated shading sees more demand when the application is tenant fit-out and not new construction. However, with new construction and the design-to-build process, automated shading can often be value-engineered off the project over the project life cycle – a whole other question/problem to address. 
Has the market slowed down as WFH set it, are manual shades a big competitor still? How is the market leaning and pivoting?  
Manual shades will continue to be a big mover in any commercial market. However, we have seen a  significant change in healthcare post-Covid.  We now live in a world where many hospitals no longer allow visitors, which means that patients – who are assumed to be bed-ridden – need to have control of lighting, shades, and AV from their bedside. That need is driving more automated shading in healthcare now and is forecasted to increase. 
What are the key or top 5 advantages of integrated shading systems for electrical engineers and contractors? Do these differ between new builds and renovations?  
Any Electrical Engineer (EE) or Contractor familiar with Digital Lighting Management (DLM) knows that it is easy to design and easier to install. With DLM automated Shading Systems, controllers are connected via free topology, Cat5 cables. You also have fewer dedicated breakers required with the DLM system than many other competitors offer - no home-runs, no centralized panels. 
For automated shading in general:

 

Almost all automated shading solutions come with some sort of out-of-the-box functionality.

 

Automated shading systems with native lighting controls (like DLM) mean no extra integration work is required.

 

Integrated shading systems allow EEs and Contractors to work with one less point of contact since the lighting controls and shading come from the same manufacturer. This can make or break a project schedule/timeline in today's world and the supply chain issues many face.

 

Integrated Shading Systems also means the design using tools like ARCAT – or similar – is much more streamlined.

 

Lastly, you don't have to worry about control compatibility like you would with a non-integrated solution.

 
When is the best time to specify and what team leads that specification — the architect, interior designer, or the electrical engineer?  
Electrical engineers know that designing a well-thought-out and functioning automated window treatment system takes planning. There is a debate over who owns the shading specification decision. It's best to start shading decisions early in the design process, preferably kicked off by the architect with the help of the facility's electrical engineer and contractor. Electrical considerations should take priority.  
Additionally, architects and electrical teams should take full advantage of the manufacturer's product experts. Like Legrand, manufacturers must be a resource and should not be overlooked for their expertise. Like many other automated systems, automated shade projects face a smoother operation when they are fully considered by all professionals involved in the task as early in the design process as possible.  
How can motorized shading lead to LEED certification / WELL building standards?  
WELL building standards offer up a few different sections within their Light section, allowing someone to get upwards of 10 points with the proper lighting, lighting control, and shading system strategy. These points can be captured in: 
Light Exposure

 

Daylight Design Strategies

 

Daylight Simulation

 

Occupant Lighting Control

 

Visual Balance

 
Reference: Standard | WELL V2 (wellcertified.com)