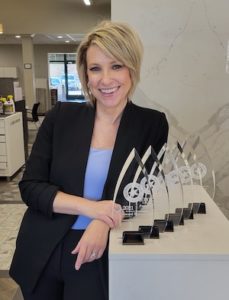 The 18th annual "Best Places to Work in Kentucky" phase one award winners have been announced. Once, again, Louisville Tile was chosen as a medium size company winner (150-499 employees). The selection process, managed by Workforce Research Group, is based on an assessment of the company's worker policies and procedures and the results of an internal employee survey. Categories are based upon the number of U.S. employees, and only Kentucky employees are surveyed.   
"This is the seventh year in a row we've been selected," stated Crosby Hall, Louisville Tile's Executive Vice President of Corporate Resources. "And we're obviously honored." A third-generation owner of the firm, Hall emphatically stated, "It's always been our belief to treat our employees as family... we want our co-workers to look forward to coming to work every day. 
"We believe in promoting from within. But we also believe in keeping our eye on tomorrow's business practices. In doing so, we've invested a great deal of time, training, and money to ensure that Louisville Tile is not just a great place to work... but an up-to-date business ready to attack the future in the most professional manner," concluded Hall. 
Among the initiatives put in place in 2021 was a firm-wide minimum wage of $20 an hour, establishment of an internal training program (aptly named Louisville Tile University), and an internal promotion program that resulted in over 15 internal advancements in career and promotions.   
About Louisville Tile 
Family-owned since 1955, Louisville Tile is one of America's leading tile distributors and has built a solid reputation providing state-of-the-art tile and setting material solutions, with the highest levels of integrity and professionalism. Its 13 locations in KY, OH, IN, MI, and TN offer careers in many fields, and the company is known for its family-like environment and caring culture. With a focused eye on tomorrow, Louisville Tile has recently added key management personnel and made major investments to ensure future growth in every area relevant to its business.