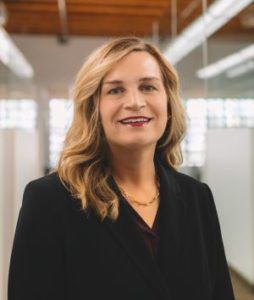 Big-D Family of Companies is proud to announce Laura Shivers has been promoted to Vice President of Johnson Carlier, an Arizona based subsidiary of Big-D Companies.
Beginning her career at Johnson Carlier in August of 2020, Shivers was hired as the Director of Business Strategy, a position she's done exceptionally well in during difficult times. In her role as Vice President, Shivers is responsible for the preconstruction, business development, marketing, and administrative teams. Additionally, she will spend a majority of her time securing new business, accelerating growth and ensuring 100% client satisfaction.
"I'm excited to represent Johnson Carlier and the Big-D Family in a leadership role. The opportunity to help grow the organization into the next century and execute on our strategic plan is a challenge I am ready for," said Shivers.
The new leadership role comes on the heels of several promotions within Big-D Family of Companies as of the new year. Shivers will report to Big-D's Chief Operational Officer, Troy Thompson, based at company headquarters in Salt Lake City, Utah.
"Laura's drive, passion and skills when it comes to enterprising and social relationships are as high as I have seen in other leaders within the organization," said Thompson. "I am thrilled to see how she uses those powerful skills to help all of our associates at Johnson Carlier achieve the careers of their dreams."
Prior to Big-D, Shivers has an extensive and impressive resume as an award-winning marketing and communications professional. She is also highly dedicated and fervent about giving back to the community and has turned that passion into one of the fastest growing non-profits in the state of Arizona, Back 2 School Bounty. Shivers is highly determined and good at what she does. As Vice President, she is looking forward to winning, growing people, and evolving the perception of the company's limitations. She's particularly proud of how far Johnson Carlier has come and is looking forward to the future.
"Since joining Johnson Carlier two years ago, Laura has taken our office to new heights in her role as Director of Business Strategy.  She has participated in the re-branding of Johnson Carlier, website development and features, rebuilding of the marketing team and has been very successful in opening up doors to new projects and clients for the company," stated Thompson. "We are pleased that Laura has accepted the offer to serve as Vice-President and help to grow the company's vision for its 2030 Strategic Plan in this executive capacity."
"I'm extremely proud of the recent strategic hires we've had at Johnson Carlier—our team's resume is critical to growth and future work in this market. In addition, in 2021 we had over $400 million worth of industrial opportunities and an additional $200 million in multi-family projects, more than we've ever seen—large in part to an effort in forging relationships with other business units within Big-D," said Shivers.
ABOUT BIG-D FAMILY OF COMPANIES
Strengthened by more than 1,500 employees, the Big-D Family of Companies has grown to become one of the nation's leading contractors, comprised of 14 offices in 8 states traversing the west from California to Minneapolis, with a resume of thousands of construction projects spanning from coast to coast. Today, they are responsible for the construction and management of $2 billion annually, providing design-build, general contracting, and construction management services to customers in a variety of specialized and focused industries. Regional offices are in Salt Lake City, Ogden, Lindon, and Park City, Utah; Pleasanton and Irvine, California; Tempe, Arizona; Las Vegas and Reno, NV; Saint Paul, Minnesota; Bozeman, Montana; Boise and Idaho Falls, Idaho; and Jackson, Wyoming. For more information, please visit www.big-d.com. 
ABOUT JOHNSON CARLIER CONSTRUCTION
Johnson Carlier is an Arizona-based independently managed general contractor providing construction management, design/build and CMAR services throughout the southwest. Headquartered in Tempe, Johnson Carlier brings small-firm attention and large-firm capabilities to every client, partner, and project and does so by delivering exceptional expert customer service and nimble, responsive solutions. For more information, please visit www.johnsoncarlier.com/.