Many homeowners pay a good amount of money per month on energy bills just because they are unaware of the fact that their home windows play an essential role in cutting energy expenses. The right windows offer much more than just ventilation and airflow through the home. Installing suitable windows can effectively lower the energy expenses by keeping the home warm in the winter and preventing the conditioned air from escaping during the hot summer months. The best window glass for this purpose is insulated glass. Let's explore more about the insulated windows to plan some long-term energy savings. 
What Are Insulated Windows? 
Insulated glass windows are composed of multiple panes of glass that are held together with a spacer material. The spacer can be an inert gas or vacuum which is responsible for preventing the transfer of heat or cold through the glass windows. These windows offer thermal insulation thus the name insulated windows.  
Insulated glass windows are typically of two types.  
Double Pane Windows -

The windows with double panes of glass. They are a practical choice for regions with normal temperature variations.

 

Triple Pane Windows -

They have three panes of glass in their construction. These windows are ideal for areas with severe weather conditions.  

 
Components of Insulated Glass Windows  
Insulated glass windows are a combination of multiple components. Here is a breakdown of the structure of insulated glass. 
Insulated glass windows typically have two or three panes of glass in the thickness range of 1/8′′ to 3/8′′ in their structure. Most people prefer clear glass for their home windows. However, tinted glass, Low-E glass, and frosted glass can also be used.  
The spacer separates the glass panes in the window frame. It is usually a desiccant that absorbs moisture and prevents the windows from fogging. The width of the spacer varies based on the insulating gas and the type of window.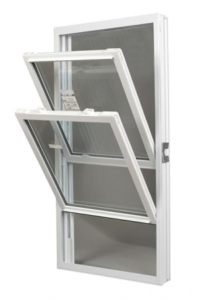 Insulated glass can be used with a wide range of window styles. Whether you have casement, double-hung, picture, or skylight windows, insulated glass can fit all window styles.  
How Does Insulated Glass Windows Work? 
The insulated glass windows have a sealing material, typically an inert gas, in between the glass panes. This gas helps restrict any airflow between the interior and exterior of the building by reducing the convection currents between the glass panes. As the sealing gas is inert, there are no risks of window damage or breakage.  
Benefits of Insulated Glass Windows 
When it comes to functionality and appearance, insulated glass windows are an all-rounder. They have a number of benefits over the standard single-pane windows. Some major pros of installing insulated windows are as follows.  
1. Energy Efficiency   
The most notable benefit of investing in insulated glass windows is their energy efficiency. These windows effectively control the flow of heat through the home interior. Similarly, they also prevent the outside cold from affecting the interior temperature by acting as an impenetrable barrier between the buildings exterior and interior.  
2. Noise Insulation 
Along with temperature insulation, these windows also offer noise insulation. If you live in a noisy neighborhood, insulated glass windows are an excellent option for you. The gas between the glass panes prevents the noise from reaching the home interior. You can enjoy a calmer home environment by choosing these windows.  
3. Easy to Maintain 
Insulated windows are low- maintenance. A simple soap solution is enough to restore their shine. Moreover, as the edges of the windows are tightly sealed in the frame, you won't have to worry about the repairs due to edge breakages. 
4. Better Security  
Insulated glass is highly impact-resistant and potentially unbreakable. So they offer better security value than ordinary single-pane windows.  
5. Design Versatility  
The insulated glass comes in a variety of sizes, tints, and textures. You can personalize the windows glass as well as frames to achieve highly customized windows.  
Are Insulated Windows Worth It? 
Considering its benefits, investing in insulated glass windows is a smart move. It is worth every penny. So whether you are building a new home or remodeling the old one, make sure to install the insulated glass windows to reap the benefits of thermal insulation.