I was amazed at how their system allowed for me to easily place an order and then quickly they filled my order and I was out and it was just like no hassles and super friendly people I gave them a 10 a plus rating and a gracious thank you from a lifelong customer. — Google Review
I love Giving Tree Dispensary! Their flower is my favorite of all I have tried throughout the valley. Their staff is really friendly, helpful and informative. — Yelp Review
Great customer service! The line moved quickly unlike other dispensaries in the area. Great selection with great quality buds. — Google Review
Take a stroll through the Giving Tree Dispensary website and you will see a number of reviews exclaiming the values of one of Phoenix's best cannabis shops. From making its own cannabis products to its exemplary customer service, the Giving Tree Dispensary remains on the cutting edge of the cannabis industry.
Opened in 2013, Giving Tree Dispensary has provided recreational and medical cannabis consumers the very best in product and service. Take its menu, which has a full slate of products offering a holistic approach to health and chronic pain relief. Beyond flowers, the retailer also offers edibles, extracts, concentrates, tinctures, cartridges, oil, topical solutions and Kindred Cannabis THC capsules.
We sat down with co-founder Lilach Mazor to get an inside look at what makes the dispensary and its team tick.

Give us a snapshot of your brand?
Giving Tree Dispensary is a woman-owned, single store cannabis retail operation. Locally owned, our brand is customer-focused offering a personal shopping experience where people can learn about different cannabis products on the market and their wellness benefits. We've created a space that invites consumers to begin their cannabis journey. All of our products are hand-selected for quality and our team members are passionate about helping our community of shoppers find the right items for their lifestyle.
What type of consumers are you targeting?
We are focused on consumers looking to integrate cannabis into their lifestyle and who are not price sensitive, but rather interested in finding the right item to suit their needs.
How does the overall design of your shop cater to what consumers are looking for?
Customers today are here for a journey. Giving Tree has so much to offer; it's a place where you can come and explore by yourself or have our concierge walk you through the products and how to consume them. There are also spaces designed for congregation, like our high top table displays or more intimate seating areas where one could sit down with a family member or a consultant to find the right product.
What kind of adjustments have you made over the past year to help customers shop in this new landscape?
We knew we wanted to create an open environment and move away from the dispensary image of five years ago. It started with building transparency into the retail design by having lots of windows and no exterior bars. For the interior, we built out custom displays on the floor so shoppers could easily peruse what is available. On the service end, we've made online ordering and pick up easier and efficient. We have a train station style announcement board so people know when their orders are ready.
Was your operation deemed essential during the lockdown?
A big stepping stone for our industry and a big step for cannabis users was when the state deemed cannabis dispensaries essential. It gave our employees a sense of validation and importance, that their passion was recognized. It also gave patients and consumers the acknowledgement that cannabis is part of a healthy lifestyle. Even more, our team realized that what they do helps people. We are here because people need us. Cannabis is not about getting high, it's a part of a wellness regimen and deeming it essential was the right thing to do.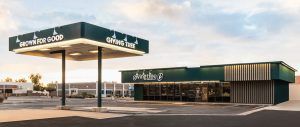 What type of areas do you look for when seeking store locations?
I wanted to stay closer to our former retail location to remain near our loyal customers and make it easy for them to find us. When we first opened in 2012, dispensaries were only allowed in industrial areas. These hidden corners of commercial property are often darker at night and have less traffic. We saw a decrease in women shopping later. With the new location, we are part of a regular retail community where all of our customers can feel safe to visit at all hours of the day.
What is your short-term strategy? Long-term?
Short-term: Our goal is to become a bigger part of our community and the North Phoenix neighborhood. We want to create a place that's comfortable and easy to shop in. Right now, we are working on procedures to make our lines shorter and online orders easier. We plan to double our staff and ensure everyone is trained and educated in the Giving Tree way.
Long-term: Create the personal shopping experience that people strive for and become the local cannabis representative for the North Phoenix neighborhood. I want to build a community around what we do.
What's the best piece of advice you can offer on how to deal with what's happening right now in the marketplace?
Most important with any brand or industry is to have a very clear voice on what you are trying to do. Some brands try to reach everyone rather than knowing where they want to go. Customers can feel it if a brand is not being completely honest. My other piece of advice is to start looking at regulations ahead of time to make sure your brand can transition smoothly and compliantly. Cannabis moves quickly and the earlier you start the better.
Education is another area where brands can engage with their customers more. You must be able to show what cannabis can do for a person's lifestyle to increase your brand loyalty and awareness. As a small business and brand, I've worked hard to build loyalty around connection and quality, rather than pricing.
What makes your location engaging to today's cannabis customer? Have you added any in-store features?
Our location used to be a Circle K, so it still has the gas pump shade that has now been rebranded. We are easy to spot when driving by and because we have lots of windows, people can easily see what is inside. In cannabis, I feel many people are interested, but are also nervous about taking that first step and opening the door. We've made Giving Tree provide transparency in cannabis retail with engaging and dynamic in-store aspects.
We have an open concept layout, so people can feel comfortable walking around and exploring the displays. We have a tactile education area with interactive Q and A tiles. We've also included a large touchscreen display so customers can menu browse and our cannabis concierge is available to walk shoppers through the store and help them order online. Our flower bar has magnifying glasses so people can look at the plant up close and our variety of displays tangibly illustrate the multitude of options available to shoppers.

Walk us through how and why your shop is designed the way it is?
The biggest difference is the open concept floor space. There are high-top table areas for people to stand around and places to sit and talk, similar to a coffee shop. We kept the Circle K fridge and some of the other original elements like the gas pump shade to invigorate a different look and feel into our cannabis retail space. We don't have any product inventory on the floor, the experience is more immersed in the displays to encourage conversation and engagement, as well as help with security.
Give us a rundown of your market's layout.
Most of our customers live within five miles of the store. Our average age is 39, but we see people aged 21 to 100. More men are purchasing cannabis at about a 65/35 male/female ratio and we are hoping to see more women consumers. Since Arizona legalized adult-use in January 2021, we are seeing 65% adult-use customers versus medical card-holder patients.
What's the biggest issue today related to the construction side of the business?
Once you actually receive permits from the city, you need to ensure it follows cannabis regulations, zoning laws and receives inspections from the compliance and fire departments. It's also essential to work with the right construction company who understands what you do.
What type of opportunities do you see moving ahead?
Lots of exciting ones. In terms of retail, I see a daily reminder of why, because we are improving the wellbeing and happiness of many people from all different backgrounds. We see so many new customers entering the Giving Tree and I only see that number increasing. The more people get introduced to cannabis, the more they talk about it to their friends and family.
I also see more opportunities to bring products to market that are more lifestyle oriented. Building and developing brands that connect with people is a passion and will be another focus. I also want the Giving Tree to really become a part of the North Phoenix community, we plan on adding a mural to our dispensary wall featuring a local artist and we want to start a give back program with local charities and become a good neighbor.
We have an open concept layout, so people can feel comfortable walking around and exploring the displays. Our flower bar has magnifying glasses so people can look at the plant up close and our variety of displays tangibly illustrate the multitude of options available to shoppers.
What trends are you seeing/expecting?
In retail I see more and more people treating it like a regular shopping experience and expecting to be an experience with knowledgeable staff. Customers are going to demand more and more.
In consumption, flowers are still king (55-60% sales). We see other categories scoring near that. New customers care about what they put into their bodies, sugar intake, calories, and less and less want to smoke. That is one of the reasons why we developed the Kindred brand with its series of cannabis-infused capsules. With edibles, more brands are introducing no sugar/low calorie options, and beverages will make an increase in sales.
Looking at the industry as a whole, I love seeing less stigma, and more people coming in with their work tags or in their scrubs. There is much more open discussion now and this will help to develop the industry and make it more diverse.
What's the secret to creating a "must visit" location in today's competitive landscape?
Cool design coupled with amazing people. Design makes people want to visit. By creating something different from any other store that is fun, engaging, and experiential, you are able to get people in the door. The right team that is passionate and positive and cares is what makes a person talk about it.
What's today's consumer looking for?
Mostly looking for a place where they can ask questions and have a personal shopping experience where they receive care and attention leading to a much better experience. In terms of products, capsules and beverages are new categories taking over and the next level of consuming cannabis in a healthy way.
Tell us what makes your brand so unique?
We created a personal shopping experience like no one else. Starting with the design, the displays, as well as the knowledge and care of our employees. You can't find that anywhere else.
One-on-One with Lilach Mazor Power, Giving Tree Dispensary
Describe a typical day.
I wake up at 5 a.m., make time for a workout and am at my desk by 7:45. By then, there are usually a few fires that I need to take care of first. Then I check with my department heads to make sure we are all on the same page. I also make time to meet with other people in the industry, as well as going to the dispensary for a full day to see the customers and be available for them.
What's the biggest thing on your to-do list?
It's wrapping up another major renovation for our grow and distribution facility. I am looking forward to being done with construction projects.
What's the most rewarding part of your job?
When I talk to an employee who loves their job and thanks us for what we do. That's what makes it all worth it. I try to visit the dispensary a few times a week to talk to people on my team and customers. They appreciate what we do and how we do it differently, those two things combined make me smile.
What was the best advice you ever received?
Talking to other entrepreneurs and knowing that the rollercoaster is part of everyone's life. It's completely normal and you can't let it get to you. If you believe in yourself and stay focused, it will all work out. Also, keep reading up on other people's entrepreneurial journeys and don't be afraid to ask how they are going through it.
What's the best thing a client/customer ever said to you?
When customers ask to speak with me and thank me for changing their life. Mostly it's for medical reasons, it can be moms who can't sleep or someone with PTSD, someone who has anxiety and is afraid to go out into the world. They trust us with their cannabis journey and it's changed their life. When they tell their stories and thank us for the extra steps we take as a team to make it happen, it is the best thing. This is why working in the cannabis space is so great because you get that why so often.
Story by Michael J. Pallerino, editor of Commercial Construction & Renovation magazine. Over the past 30-plus years, he has won numerous awards, including the "Jesse H. Neal Editorial Achievement Award," recognized as the Pulitzer Prize for business-to-business magazines. He can be reached at mikep@ccr-mag.com.