When the topic of interior design or improvement is brought up, some homeowners would think it involves spending a lot of money. They think they will use furniture, ornaments, decors, fixtures, and other expensive items. When you come to think of it, home interior improvement does not necessarily involve spending much if you let your creativity and resourcefulness work. If you are interested in knowing cost-effective ways to improve your home interior, read along to learn some tips here.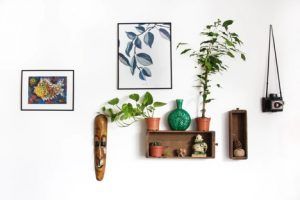 Introduce Indoor Plants
Indoor plants are excellent focal points for your interior space. They can also play a supporting role by positioning them in a way that emphasizes the ornament or decoration you want to highlight. Indoor plants cost little to nothing, depending on how you obtain them. Many indoor plants reproduce asexually, so you would not have to wait for seeds to grow roots and leaves. Roots, stems, buds, and leaves of indoor plants can be cultured in a plant nursery or separated from the mother plant and replanted by plant owners. Buying from plant nurseries is not as costly as one may think. Aloe vera, anthurium, jade plant, baby toes, and other small indoor plants cost somewhere between $5 and $15, which is something you can afford to buy. If you have neighbors who have these plants, you can ask them for a bud or a stem and plant them in your pot. Indoor plants not only improve interior space aesthetics but also the air quality inside your home.
Move Your Current Furniture
Giving your interior a new look does not always mean adding or replacing your current furniture set. Moving your furniture pieces around can change your perspective and influence your mind to perceive the setup as something new. Rearranging the positions of tables, sofas, dressers, and other types of furniture opens up new angles and spaces for your home. The repositioning gives your home interior a more spacious look and a fresh feeling.
Personalize Your Shelf Items
The shelves that you have at home primarily serve as functional spaces for placing frames, photos, figurines, and other small items. Make your home interior look more interesting by placing items that reflect your personality. If you are into sports, place collectible items, memorabilia, or sports-themed miniature items like mugs or paperweights. You can do the same with your sideboards, cabinets, and other similar types of furniture. You can also place items that are important or memorable to you. Your display does not have to impress other people; having items that reflect parts of who you are can make a statement on your living space.
Dazzle Your Space With Mirrors
Mirrors are versatile ornaments that help disperse natural and artificial lights and also help make a room look and feel spacious. Large or oversized mirrors create an optical illusion of extended space, which influences the perception of people who look around the interior of your abode. There's no set number of mirrors you can place inside your home, so one, two, or many mirrors will work fine.
All homeowners agree that interior spaces are essential parts of their homes. They need constant attention and should be functional and aesthetically pleasing to both their occupants and guests. Improving your home's interior space does not have to be costly. A smart and creative approach can give you fantastic ideas that are easy on the pocket or cost nothing. Get your imagination and resourcefulness working and work wonders for your home interior.