For Jared Bradley, the process is pretty straight forward: His companies, The Bradley Development Group (BDG), The Bradley Projects and Certified Construction Services, design, build and develop their own projects with its partners and investors. By creating boundary-pushing concepts , the Nashville, Tennessee based company remains at the forefront of the built environment.
As founder and President, Bradley, AIA, NCARB, has grown to understand the value of designing with wellbeing and space-making in mind. With more than 20-plus years in the business, his focus is on encompassing a diverse mix of building types and uses to help transform the existing neighborhood concept and inspire community engagement.
We sat down with him to get his thoughts on how his company continues to transform the marketplace.
Give us a snapshot of the housing brand?
Like all of the projects in our portfolio, our residential work prioritizes thoughtful, minimal design that meets the unique needs of the given site and surrounding community. Our residencies offer tenants both privacy and seamless connections to their surrounding environments through emphasizing natural light, open-air amenities, and proximity to urban centers.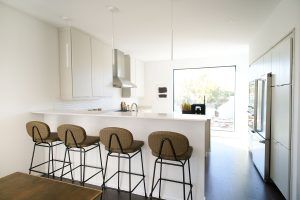 What type of consumers are you targeting?
We don't target a consumer or demographic. We target smart growth, urban infill projects that provide opportunities for progressive architectural solutions for the community that they serve. No matter the type of development—whether it's multifamily, retail, office, industrial, educational, hospitality or a restaurant—we love to work with partners who appreciate architecture as an art form and not simply as a means to an end. Rather than designing spaces for restaurant chains, traditional malls, or uninspired suburban developments, we target projects that require an individualized approach to ensure it best supports its function and surrounding community.
How does the design of your homes cater to what today's consumers are looking for?
The pandemic has expanded our perspective with our projects. Many people are now relying on their personal residence to be both their office and primary space to socialize and unwind. As an example, by incorporating open floor plans with expansive outdoor space, Linden Row exemplifies how we're taking into account the new meaning of home into our design. We're empowering residents to be more flexible in arranging their living space while prioritizing healthy and sustainable environments.
What adjustments have you made due to the recent state of events?
The pandemic tested our entire team's resilience, and I'm proud of how we remained agile while adhering to the new regulations. All of our office and field staff are trained experts in creative problem solving, and they rose to the occasion with the pandemic. While managing various projects from home offices, we had to oversee our sites closer than ever by creating and inventing an entire host of new industry practices like real-time scheduling protocols, screening employees as they entered and exited, and sanitizing all of our areas.
Give us a snapshot of today's multifamily market.
The multifamily market in Nashville is skyrocketing. As more people work from just about any location, people are looking to cities like Nashville, which offer world-class food, music, and culture and don't break the bank. More specifically, people are prioritizing architecture and amenities that help them connect with the outdoors.

That's why projects like Linden Row, which is flooded with natural light and features spacious rooftop terraces, are especially appealing right now. All our projects strike a careful balance to ensure people feel like they have privacy while also being able to easily engage with their neighbors and the greater community.
What's likely to happen next?
The pandemic has emphasized to us that "necessity is the mother of invention" to be valid for architecture. I think the pandemic will come to represent a turning point in architecture, and we're well-positioned to be at the forefront of developing new, creative designs. As an architect-developer, we have always incorporated outdoor space and health-conscious design in our projects, but in a post-COVID world, we will push ourselves further to think creatively about making sure residents feel safe but also integrated with their community. We're already thinking ahead to different kinds of shared spaces to incorporate, in addition to making sure we're using all of the latest tools and data available.
What trends are defining the space?
With people spending more time than usual inside their homes, residents are looking for spaces that blur the inside and outside worlds. With Linden Row, we made sure to focus on natural light throughout the spaces, which has been proven to enrich residents' well-being and comfort while also helping to regulate circadian rhythms. Another crucial design feature is transparency: While there are continuous privacy walls separating units, custom large-format windows along all outward-facing facades open up the residences to the surrounding environment.
What is the most defining part of the units/location?
Just as Nashville is proving to be an evolving metropolitan city, Linden Row honors the history, but isn't afraid to embrace progressive ideas. The dichotomy is that the development harmonizes with the site as if it has been in the neighborhood for 100 years but as a 2020 development, it seamlessly blends modern aesthetics into a traditional and historically significant part of Nashville.
On the inside, natural light is introduced deep into the space thanks to strategically located, oversized windows and features, open-floor and spatially charged layouts, private elevators, and rooftop terraces. Perhaps the most significant factor is its incredible location in Hillsboro West End, bordering the Vanderbilt campus and Music Row, the most sought-after area and heart of the city.
Walk us through the design process.
The first step in our design process was digging into researching the history of row homes to help us build a foundation of how the project should look and function. We looked at early row homes in Northeastern cities of the US and even some early row homes in the UK. Traditionally, these buildings allowed residents to enjoy the conveniences of being in an urban environment while also promoting a more relaxed suburban lifestyle.

We then started to think about how we live in 2020. What we came up with is a clean, healthy, minimally cluttered, spatially charged environment but in more of an "art-gallery" context, because we all love spending time in cultural spaces. Based on the melding of traditional and historical chassis of a row-home and the freshness of an art-gallery, what happens if you place your everyday life, routines, patterns, enjoyments into that context? That became the thesis of Linden Row.
Take us through your construction strategy.
By operating a truly vertically integrated business, we're able to seamlessly manage the entire lifespan of a project, from land acquisition, to design and construction, and asset management. This comprehensive approach provides our team and our partners with more confidence the creative vision will be met while also reducing costs, time and risk.
What's the biggest issue today related to the construction side of the business?
There are three main issues today related to the construction side of the business:
The rising cost of construction, materials, and labor has been a significant issue.
We have had to get extremely creative about building and managing properties as cities get more populated.
It is a challenge to find qualified team members that understand how and why we do what we do and how we are different from our competitors.
Talk about sustainability.
Sustainability is embedded throughout our entire development and design practice. Our commitment is on full display throughout Linden Row with features like stormwater management and filtration throughout the site, permeable pavers for all automobile traffic, and FSC-certified lumber.
We also included energy-efficient HVAC systems with smart thermostats, Energy Star appliances, low water usage/low flow plumbing fixtures, and high-efficiency instantaneous water heaters within the units. Further, Linden Row, like most of our projects, is near the city and mass transit lines, reducing dependency on single occupancy vehicles.
What type of opportunities do you see moving ahead?
It's such an exciting time to be in Nashville. We can't wait for more opportunities to work in the city. Because of the broad range of our projects, from urban-infill affordable-based projects, to luxury residences, local distilleries and breweries, outdoor schools and other non-profit work, we're excited to contribute to enrich the city's fabric by creating progressive, welcoming spaces that show off architecture as an art form. We absolutely love it here, we love the people here, and our mission is to help this city thrive not just in the immediate post-pandemic world, but for generations to come.

What's the secret to creating a "must visit" location today?
In the wake of the pandemic, people are noticing their surroundings and built environment more than ever, so I think folks are going to start appreciating architecture that's functional and beautiful. Our society by large has forgotten that architecture is art.
The Bradley Projects has always been very intentional at designing art-forward spaces that fit their environment and are contextually appropriate as well as provide tremendous services. We are humbled and honored that residents, civic leaders and stakeholders, partners and investors are taking notice: Linden Row and our other new residential projects are attracting attention from people new to the city and those who have lived in the area for years.
Tell us what makes your brand so unique?
Showcasing architecture as an art form is at the core of everything we do. As a young architect, I was fortunate to have mentors like Mark Steele, Jonathan Segal and Lloyd Russell early in my career. I realized that I needed to get far more involved in development and construction if I was going to be able to push the envelope. By growing and operating a vertically integrated business, we're able to seamlessly manage the entire lifespan of development, from land acquisition to design and construction, allowing us to ensure our projects' creative vision.
There are a lot of companies out there today claiming a vertical integrated process, but from our perspective, vertical integration is not having a strong consultant list; it's about believing in, giving all you have, laboring over and nurturing the built form and built environment that we are creating, from the earliest fragment of an idea to long after we are gone. What we do during our short time here on this planet has a huge impact and we are responsible for that.
We are proving there are ways to be both profitable for our investors and partners, as well as profitable to our communities and cities where we get to serve.
One on one with…
Jared Bradley, AIA, NCARB, founder and President of The Bradley Projects
Describe a typical day.
Each day usually starts the same—I wake up at 5 a.m. to reserve the first hour of my day as quiet time for me and God. This is by far the most crucial part of the day and is the driving force behind all we do. From there, my wife and I navigate whatever the landmines there are getting our little boys ready for school. I am so fortunate that I get to take my sons to school every day.
At that point, I feel like a UPS employee as I've already gotten more done before 8 a.m. When I enter the office, I take time to address any urgent issue with the team. Serving the team allows them to do what they do best and demonstrates how important they all are to the organization.
The rest of my day is spent working on everything from design to financing to loan closings to construction management to future and potential deal navigation. There have never been two days the same in the office. I can only follow my calendar, and within the gaps of that calendar, the sky's the limit for what will come up at the office. It's truly the most dynamic and colorful existence I could ever imagine. It would make an insane reality show.
What's the most rewarding part of your job?
Returning home after a long, productive day. It's like the feeling after a long hard run, like an endorphin high.
What was the best advice you ever received?
The first thing Mark Steele taught me back in San Diego was when you walk into any situation that is emotionally or politically charged there are only two requirements. Before you walk through the door, take off your logic hat, as you won't be needing that—at all. Then, get ready to meet people exactly where they are. Listen, try to understand what they are scared of, their fear, and where it is coming from. Once you do that, you'll know what to say, or not say, what to do or not do.
What's the best thing a client ever said to you?
Most of our clients are really our partners. But in that light, two of our current partners are seasoned veterans, having developed projects all over the US and internationally and for them to tell me and others in the community that they've never seen anything like us, the systems, the diligence, the resources, integrity, trustworthiness, and that this is the best way to develop projects. That means more than they could ever know. They are saying two things: First, they validate our focus, hard work and success. Second, they trust us. And I can't quantify the gratitude we have for that.
How do you like to spend your down time?
Since we cannot surf in middle Tennessee, and our local skatepark closed, I built and perfected a 46-foot halfpipe in my backyard that allowed me to have something fun for my family and me to enjoy while we were all stuck at home most of the time, plus it's just a beautiful structure to look at every day. Architecture is art.
Story by Michael J. Pallerino, editor of Commercial Construction & Renovation magazine. Over the past 30-plus years, he has won numerous awards, including the "Jesse H. Neal Editorial Achievement Award," recognized as the Pulitzer Prize for business-to-business magazines. He can be reached at mikep@ccr-mag.com.