Workplaces must be spacious enough for ease of movement, safety, and increased overall productivity. Innovative solutions, such as mechanized storage, help save workplace space. Regardless if you have an office space, warehouse, or factory, you can rely on using mechanized storage solutions to get the most of your workplace's square footage.
In this article, you'll learn the different mechanized storage solutions and how they can save workplace space.
Customized Height And Weight Capacity 
A vertical lift module refers to a type of mechanized storage that can help save workplace space. But what makes vertical lift modules space-savers? Here are some of the good-to-know things about vertical lift modules:
High-Quality: Vertical lift modules use high-quality parts, maximizing user safety. They are manufactured using clearly-marked safety rules to ensure good quality.
Customized Weight: Each vertical lift module tray can hold a set weight capacity. You can increase the weight limit if your facility requires it.
Customized Height: You can customize the vertical lift module's height to meet your growing business's needs, saving vertical and horizontal spaces.
Space-Efficient: Vertical lift modules are space-efficient, allowing you to add more units without moving to a new facility.
Removing Aisles Between Shelving And Racking
A growing business usually has increasing storage demands. More often than not, you need to decide whether you have to store goods off-site, relocate to a larger facility, or turn to a third-party facility for warehousing and distribution. However, these choices increase overhead costs every year.
You can avoid these storage issues and increase available space by removing aisles between shelving and racking rows using high-density storage equipment. Some examples include pushback, pallet flow, and drive-in systems, which are very useful in various storage situations and inventory mixes.
Check the important things to know about using high-density storage equipment when removing aisles between shelving and racking:
Selective Rack: All shelving is a selective rack, saving space for the mobile aisle.
Safety Feature: This includes a feature that triggers an emergency stop when an eye beam is broken or an object steps into a closing aisle, stopping the system.
Drive-In Rack: A drive-in rack system provides plenty of access but is slower than the selective rack.
Fast Movers: Some companies keep fast movers on a few aisles using a selective or pushback system, and use mobile aisles to store less accessed higher density products.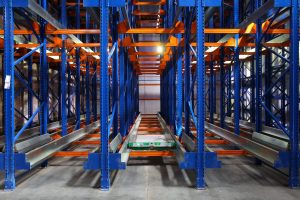 Use In A Wide Variety Of Applications
Mechanized storage solutions, like vertical lift modules, drive-in systems, pushbacks, and selective racks, aren't just for warehouses. They can be used in various business niches and industries, improving stock management, inventory, workflows, safety, and overall productivity.
Applications that can benefit from mechanized storage systems include the following:
Business: Mechanized storage systems are a smart storage option for keeping business records and reference materials, among other things.
Industrial: High-density storage systems save floor space, consolidate material handling procedures, and improve workflow.
Education: Mechanized storage systems organize and compress space for education materials, books, and supplies.
Libraries: Mobile shelving systems for libraries use high-density shelving and filing solutions for document and literature preservation.
Healthcare: Healthcare mobile shelving systems offer supply and pharmaceutical storage in a more consolidated and organized way, preserving floor space.
Public Safety: Mechanized storage saves and secures storage for law enforcement facilities and correction units, wherein security is a priority.
Military Rack System: Mechanized storage helps maintain high-density records, consolidate supply, and store equipment.
Government: Mechanized expandable file and records storage systems make it easy to retrieve records.
Athletic or Sports: For storing and racking materials and equipment.
Retail: Mechanized storage conserves space and consolidates inventory in the warehouse area.
Save Storage Space For Good Return On Investment
With mechanized storage systems, the return on investment (ROI) can greatly benefit any type of business. This type of storage solution saves space, which means less expense for storage and consolidation. You can use the savings to purchase additional equipment or improve your business process.
Your business can save money because of the following advantages:
Improved floor space usage
Streamlined workflow
Lower product costs
Improved inventory management with consolidation
Conclusion
Mechanized storage, such as a vertical lift module, can save workplace space because you can customize its height and weight capacity without transferring to a new facility. Also, drive-in rack systems, selective, and pushback systems are used in a wide array of applications to save space. These storage solutions are described as high-density and mobile, allowing you to save more square footage while improving workflow and productivity, as well as production and storage costs.