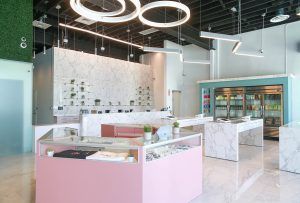 Opening a new business can be challenging in any market, at any time, in any setting. Try a pandemic. That was the daunting challenge that Mara Stusser faced when she opened the doors to CALMA, a cannabis dispensary in one of the country's biggest COVID-19 hotspots—Los Angeles.
But there she was, cutting the ribbon, so to speak, on the 3,250-square-foot dispensary this past July, ushering in a new experience for cannabis consumers.
In Italian, CALMA means "tranquility" or "calmness." That is the vibe that Stusser set out to create with her store and marketing efforts. Her strategy rests in the store's layout, which incorporates elements of its name by evoking a sense of tranquility, including pastel colors and marble details. CALMA also features a large LED video wall that showcases calming images like including ocean waves, waterfalls and forests.
And if that is not enough, in what is a mostly male-dominated industry, Stusser wanted CALMA to appeal to women, including offering inclusive space for customers and employees.
We sat down with Stusser to get her thoughts on her dispensary's rollout, the industry and what the future holds for cannabis.

Give us a snapshot of your brand?
CALMA (calmawesthollywood.com) is a premier cannabis retailer and delivery service in West Hollywood, California that was uniquely designed to provide an immersive, elevated atmosphere for customers to experience cannabis in a tranquil and therapeutic way.
Drawing inspiration from its name, CALMA, the Italian feminine noun connotes peacefulness and tranquility. Each customer is paired with a budtender upon arrival and receives comprehensive cannabis education, from product tutorials to selection and consumption, leaving them with a clear understanding of potency, effects and benefits.
What type of consumers are you targeting?
Leading with the inclusiveness that the West Hollywood community values above all, CALMA embraces a welcoming atmosphere regardless of gender, sexual orientation, socioeconomic status, ethnicity or age. Whether you're interested in simply browsing the store or looking for a specific product, we welcome anyone over the age of 21.
How does the overall design of your shop cater to what today's consumers are looking for?
Our design is catered to the customer's shopping experience. We selected light pastel accent colors to mix with our marble floors and big beautiful windows. We also have an LED wall that is always showing calming, soothing visuals that help bring a special, CALMA experience to our customers.
The idea behind CALMA was to create a female-forward design that felt inclusive to all cannabis consumers. We want our shop to speak to women, men, doctors, teachers, lawyers and stay at home moms—without leaving anyone out.
What kind of adjustments have you made to cater to your customers' shopping experience in this new landscape?
We had to pivot the opening from the start by implementing safety protocols such as temp checks, sanitizing the store every hour, limiting the number of people inside, mask wearing and strictly enforcing a 6-feet distance rule.
Was your operation deemed essential during the lockdown? How does that help the category's standing in the marketplace?
CALMA was one of eight retailers to win a city-wide competition for recreational and delivery cannabis licenses, and opened its flagship store in the midst of the COVID-19 crisis in July. We never planned on opening during such a difficult time, but the dispensary's concept had already been in motion.
What's your short-term strategy? Long-term?
Our short-term strategy is to continue to offer a wide range of products at the lowest prices in order to build brand affinity. Our long-term goal is to eventually open up several more stores in the Los Angeles area.
What's the best piece of advice you can offer on how to deal with what's happening now?
Patience. It takes time to understand your customer and what they like. Spend time on your sales floor with your customers. Talk to them. Ask them about their purchase and why they selected that item. When they return, ask how they enjoyed it. It is all about providing a personal experience.
What makes your location engaging to today's cannabis customer? Have you added any in-store features?
Every customer who walks in can immerse themselves in all of the highest standards with our remarkable "Cinematic Experience" Ultra High Definition LED Video Wall. With over 650 modules of LED panels that surface the wall, outputting 4-8K content, customers can elevate their senses of sight and sound, and feed their artistic souls as dynamic video content. The can't-look-away visual experience has the power to draw any onlooker into a moment and inspirer.
Walk us through how and why your shop is designed the way it is?
The idea behind CALMA was to create a female-forward design that felt inclusive to all cannabis consumers. We want our shop to speak to women, men, doctors, teachers, lawyers and stay-at-home moms—without leaving anyone out. Cannabis is about inclusivity and we wanted to make sure our shop reflected that.
What trends are you seeing/expecting?
Cannabis trends are always changing. At the moment, we are seeing a huge desire for exotic flower.
What's the secret to creating a "must visit" location in today's competitive landscape?
Due to existing stigmas associated with cannabis, many may feel hesitant to try cannabis or even step foot into a dispensary. The secret is to create an elevated, calm and comfortable ambiance to attract customers, from parents to grandparents, and leave them wanting to come back again and again.
What's today's consumer looking for?
The CALMA consumer is very flower focused. Most of our customers are coming in for flower. They also love pre-rolls and edibles, but we've noticed, that especially right now, exotic flower is our most sought-after item.
____________________________________________________________
One-on-One with...
Mara Stusser, GM, CALMA
What's the most rewarding part of your job?
Being able to help people find the products they need, whether it is for medical or recreational use.
What was the best advice you ever received?
The best advice I've ever received is to just keep swimming through challenges and barriers. Don't lose momentum or give up, because things will turn around if you just keep it going.
What's the best thing a client ever said to you?
When clients compliment the store and say it is the best shop they've been to. Those words definitely keep me going during the hard times.
How do you like to spend your down time?
I look forward to finding new hiking trails on the weekends, relaxing, enjoying my favorite cannabis strains, and spending time with family.