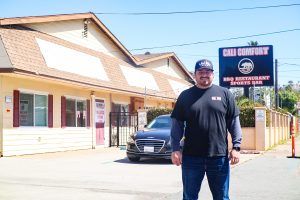 Since opening Cali BBQ in 2008 in San Diego County, owners Shawn and Rositsa Walchef have set out to transform the way Californians think of barbecue. Part of that is how they continue to incorporate the Bulgarian traditions of hospitality into every facet of their expanding business empire.
Ask Shawn and he'll tell you the goal is simple: Make Cali BBQ the "Amazon of BBQ." So, when you think of barbecue, you not only think of mouthwatering meats and sides, you think of easy online ordering, ghost kitchens, cool and informative podcasts and media content, and the kind of hospitality you cannot get anywhere else.
With technology leading the way, the Walchefs have their eyes on changing the BBQ game. And, in case you're wondering, that plan does not only apply to California, but the world.
We sat down with Shawn to get his thoughts on where the brand his heading and what this year holds for the restaurant industry.
Give us a snapshot of the brand?
We opened our first Cali BBQ restaurant in 2008 at the height of the Great Recession in Spring Valley, California. East San Diego is a county many people thought was undesirable. After digging in and learning everything we could about owning and operating a restaurant, we grew our brand thanks to the power of the internet and the smartphone.
We're now a digital restaurant and media company that's expanding with ghost kitchens in San Diego. Our goal is to become the "Amazon of BBQ." Our second location, a 200 square foot ghost kitchen, opened in early 2021 inside the Barrio Food Hub in San Diego.
Cali BBQ Media also produces and publishers digital content, including the Digital Hospitality podcast, and helps other businesses do the same.

What was the inspiration behind that concept?
Cali BBQ Media serves slow food—fast. We want to make sure people can order slow-smoked barbecue, sides, desserts and drinks online, whenever they want. And with technology, the goal is to make that process as easy and efficient as possible.
The last significant change in the restaurant industry was food trucks. That was because they had a low cost of entry and you could promote yourself on social media. Now with ghost kitchens, experienced operators, multi-unit concepts, as well as solo chefs or others who want to get into the business, have a lower barrier of entry than ever before.
What type of consumer are you targeting?
Digital consumers. But we don't discriminate how people find our BBQ. Digital customers are anyone who understands that the key to everything they want in life is accessible through their smartphone—that includes ordering slow-smoked barbecue whenever they want. We want to find any way we can to better serve our customers, save them time and give them a quality, memorable experience.
What are some of the adjustments you made to your business model with everything that is happening today?
Our Spring Valley Cali BBQ restaurant was originally a house. Over the years, it has transformed along with the business. In 2020, when we switched from a full-service restaurant to a digital restaurant for takeout and delivery only, we converted some of the windows in the dining room into walk-up takeout windows. We also turned the front swinging doors into a to-go window by pushing a desk right up to it.
What kind of conversations are you having with your customers?
We are always talking to our customers online and off to get their input, which is incredibly valuable. The conversations are open, honest and vulnerable. We want to have the type of conversations that other restaurant owners are unwilling to have. Creating a personal connection with customers helps the company.
Today's consumer is looking for hospitality and they might not know it. They are no longer looking for customer service. Instead, they want genuine, memorable moments.
How does the restaurant's design cater to what your consumers are looking for?
Our Digital Hospitality concept is more like a quick-service restaurant than a full-service restaurant. We use technology to reduce friction in the business, such as kiosks for ordering and paying, and QR codes instead of physical menus and tickets. Sixty percent of our restaurant will be dedicated to the takeout and delivery side of our business. This will reduce labor costs and increase our digital hospitality.
Is there a location that shows how the brand interacts with the community and customers?
The first Cali BBQ location in our village of Spring Valley was created to be a part of the community. Located in an area that's underserved by business, we did everything we could to fit in, including hosting events, a BBQ festival and giving back how we can.
Walk us through your restaurant design.
Originally, our first Cali BBQ location (and master smokehouse/media center) in Spring Valley, was a two-bedroom house. It was repurposed in the 1980s to turn into a restaurant.
Take us through your construction and design strategy.
Our new locations will either be a standalone digital restaurant for takeout and delivery or a small ghost kitchen located in a larger food hub.
Give us a rundown of the market's layout.
There's a huge demand for slow-smoked barbecue in the San Diego region. We've identified multiple locations all over San Diego County where people are searching for our type of food. That's how we know it's the right time and right place to build a test case for the "Amazon of BBQ."
Our new locations will either be a standalone digital restaurant for takeout and delivery, or a small ghost kitchen located in a larger food hub.
What's the biggest issue today related to the construction side of the business?
The biggest issue I see is related to the health department and local municipalities catching up with all the change that's going on in construction and technology. Because of this great gold rush for commercial kitchens, the increase in demand is going to put a lot of strain on all these local governments to understand the needs of a digital restaurant versus what a full service restaurant needed in the past.
Talk about sustainability. What are you doing?
We look at every decision through a sustainability lens, whether it's lighting, waste, oil or recycling. We want to make a smaller impact with our business. We are focusing on better, more sustainable packaging. And we're working on reducing food waste. Figuring out how to repurpose menu items and giving the guests the right size portions.
Are you optimistic about how the marketplace responded to what's happening today?
Yes. We've seen it in action. We've seen things turn. I think the most important thing is that experienced operators are starting to understand they can grow in ways they've never considered. And that's through either opening up a ghost kitchen, or repurposing their existing concepts to allow for another restaurant or concept to come in.
What is your growth plan?
We want to become the "Amazon Prime of BBQ." Our goal is to raise $5,000,001 to build a prototype ghost kitchen model in San Diego that we can replicate all over the West Coast, and then the world. We will bring "Slow Food— Fast" to the globe by building centralized master smokehouses and satellite ghost kitchens where the demand is highest for slow-smoked Cali BBQ, Cali Wings, craft cocktails, and more.
We are a BBQ media company. We're not stuck on definitions. And we take our media as seriously as we take our slow-smoked barbecue.
What trends are you seeing?
Technology is the biggest. Every single thing that used to be written down by hand can now be digitized. We have digital kitchens now, which help every aspect of the operation. Smart Kitchens using the "Internet of Things." You should know that Alexa (or Siri, etc.) is going to be a huge part of a commercial kitchen before most people even understand how fast it's all happening. That means things like voice-enabled tasks like turning off equipment at closing time, setting alarms and other duties that can be offloaded to tech.
We also want to be the first BBQ restaurant to accept crypto currency. We want BBQ NFT. Whatever new tech trend, we want to explore its potential. Technology is changing all aspects of the restaurant industry so nothing is out of consideration.
What is the secret to creating a "must visit" restaurant today?
The secret is Digital Hospitality. Today's consumer is looking for hospitality and they might not know it. They are no longer looking for customer service. Instead, they want genuine, memorable moments. They want what we call, "Oh @#$!" moments. You find that by sharing and revealing.
What is today's consumer looking for?
Today's consumer wants time. If you can save time and trouble using systems and technology, that's better than money. Time is something you can't make more of so it's incredibly valuable to be able to save people time. That's why our motto is, "Slow Food— Fast." We know how valuable your time is.
What's the biggest item on your to-do list?
To either secure a long-term lease for our 5,000 square foot master smokehouse and media center at the Spring Valley location, or purchase another property to build a brand new smokehouse and media center.
Describe a typical day.
We cook our barbecue fresh every day. The plan is to sell out of barbecue every single day. How do you achieve that? By understanding and using the technology available right now. You can look at predictive data and past analytics to estimate what future sales will be, which in turn lets us prep the right amount of food.
We smoke our meat multiple times every 24 hours in order to maintain the quality and freshness of our food. Our brisket, for example, is smoked for 12 hours in Ole Hickory Pits. Pre-orders made online help us know how much to put in the smoker.
We're open from noon to 8 p.m., and once we sell out of meat, we're out until the next day.
What makes your brand so unique?
We are a BBQ media company. We're not stuck on definitions. And we take our media as seriously as we take our slow-smoked barbecue. Our brand's uniqueness is in our willingness to share our stories online—all of them—the good, the bad, the ugly. Not just from a business-to-consumer (B2C) angle either, but from a business-to-business (B2B) standpoint. We're willing to document and share and have conversations to educate the industry and those around us about digital marketing, digital media, ghost kitchens or anything else.
One-on-One with…
Shawn Walchef, Owner, Cali BBQ
What's the most rewarding part of your job?
Helping build community. When we opened, we were told that the Spring Valley location in East San Diego County was "not a good community for business." We opened anyway with a different mindset. We got to know our neighbors. When you start to participate in their lives, they start to participate in yours. That's what true hospitality is: kindness to strangers. It is the most rewarding thing we do. Shift after shift.
Every guest is an opportunity to prove who we are and what we do. We strive to make memorable moments. This extends to people outside our four walls. Businesses should strive to go good in their community. That's why we created our "Spreading Kindness" campaign to reach out and give back.
For example, during Christmas last year, my wife, Rositsa, suggested a random act of kindness. We'd give back to the amazing people at our local post office who had been working day and night without enough recognition. We really felt for our letter carriers who are working through the pandemic. So we partnered with Victor Lopez from El Pollo Grill and fed 70 postal workers, who nobody typically goes out of their way to thank.
What was the best advice you ever received?
My grandfather Luben Walchef said to always stay curious. The answers to your hopes and your dreams are there, you just have to be willing to put the work in and find the right person to ask the question. And you should always be a student. This is key. Even the master should be a student. The biggest lesson he taught me was not to discriminate against who you ask questions of. He would find somebody that was well-educated and ask them questions.
What's the best thing a client ever said to you?
A customer told me he used to come to the restaurant when he was a kid—before it was Cali BBQ—because his family loved the restaurant. Now he brings his family. It's the generational impact that a business can have.
Name the three strongest traits any leader should have?
Stay curious — Curiosity allows you to be empathetic, to seek and to be understanding instead of understood.
Get Involved — Nothing happens without action. People dream of ideas all the time, but that doesn't make them an entrepreneur. You actually have to go after your ideas and fail. Fail forward, fail fast, learn and readjust.
Ask for help — As a leader, asking for help is the easiest thing you can do. Don't let ego get in the way. There are so many people who we admire from afar. And there has never been an easier time to access these people and their thoughts; to learn from them at a faster rate than if you went at it alone.
How do you spend your downtime?
Downtime is a strange concept for me, because as a business owner, a dad and a husband, I live life 24/7 and 365. That doesn't mean we shouldn't prioritize mental health, physical health and spiritual health. I get up at 4 a.m. every day to make sure I express gratitude for being able to experience another sunrise.
My family and I recently went on vacation to Northern California and I made sure the place had Wi-Fi. As an entrepreneur and as a business owner, there has never been an easier time to travel and stay connected, but also to have that time with your family.
One of the biggest things leaders must do is to learn how to work on their business instead of in their business. You can stay in touch with your team anywhere in the world because of Wi-Fi. It also allows greater flexibility.
Depending on how COVID regulations pan out this summer, I plan to go to Bulgaria and Turkey for the longest period of time that I've ever left, which is more than two weeks. I'm planning on going for three weeks. I used to be hesitant to be away, but there's no hesitation when I can be in the plane and literally check my emails and respond to projects that we're trying to accomplish.
What are you going to do once we get back to some sense of normalcy?
We are going to do what we've been doing all along. Every day is one to improve. To us, every day is Day 1. We couldn't be more excited about the opportunities ahead for small business owners, restaurant owners and people in the commercial kitchen business. This is honestly the greatest time for the industry.
Story by Michael J. Pallerino, editor of Commercial Construction & Renovation magazine. Over the past 30-plus years, he has won numerous awards, including the "Jesse H. Neal Editorial Achievement Award," recognized as the Pulitzer Prize for business-to-business magazines. He can be reached at mikep@ccr-mag.com.