A steamed bun. Chili. Raw onions and a shot of yellow mustard. You know you want a hot dog right now, right? Growing up in Detroit, Dennis McKinley never dreamt there was anything other than the Coney Island style hot dog. But as he traveled around, he was amazed at such how many different style hot dogs were out there.
So McKinley started thinking. Why not open a hot dog franchise company? In 2015, after purchasing, revamping and rebranding The Original Hot Dog Factory name, he set out to spread the love for one of America's favorite foods. The brand hit pay dirt after McKinley appeared on the Bravo reality TV show, "The Real Housewives of Atlanta."
Today, McKinley is driving the brand fast-forward with franchisees like Aaron Anderson, president and CEO of Axxeum LLC. The entrepreneur is not only helping to grow The Original Hot Dog Factory name in Philadelphia, but he also is on track to open a new steakhouse in the City of Brotherly Love, Steakhouse 163.
Commercial Kitchens caught up to Anderson in between working both sides of his growing restaurant brand.
Give us a snapshot of The Original Hot Dog brand?
The Original Hot Dog Factory was founded in Atlanta in 2010. I opened my first store in February 2020 and now I have five locations. The Original Hot Dog Factory is a whimsical, family fun chain catering to families and everyday people looking for satisfying fun treats and an affordable price. We offer more than two dozen menu options—and it is not just hot dogs. We also sell chicken sandwiches, Buffalo wings, burgers and various French fry options. Carnival themed desserts are also a popular option on the menu, including deep fried Oreos, Twinkies and funnel cakes dipped in powdered sugar.
Tell us about Steakhouse 1635. What was the inspiration behind that concept?
My love for enjoying a good steak is one of the reasons and inspirations for launching Steakhouse 1635, which is scheduled to open in fall 2020 in Center City—downtown Philadelphia. It is currently under construction. We are very excited to offer a new, intriguing steakhouse experience.
The traditional steakhouse usually has a stuffy, traditional and, at times, boring atmosphere. Steakhouse 1635 will offer a totally different experience focused on being fun, upbeat and quite a huge difference from the norm. Modern, eclectic and unforgettable is our focus at Steakhouse 1635. I want it to be a place that has an open and colorful floor plan, one that is enjoyable and exciting with quality service and engaging. This will be the blueprint for the Steakhouse 1635 franchise model—with plans to open similar locations nationwide and internationally.
What type of consumer are you targeting?
I am targeting not only families, but business-minded professionals who want to dine in a safe, wholesome atmosphere that exudes dynamic energy—one that offers the highest quality ingredients served to perfection.
How does the design of the restaurant cater to what today's consumers are looking for?
I have discovered the way an establishment looks on the outside is a critical component in getting customers to want to come inside and see what the restaurant has to offer. The construction and aesthetics of a building are just as important as the menu options, service and the cost of food items. Consumers today are more educated and choosey, as it pertains to where they want to dine and where they want to spend their money. So, to stand out in an overly saturated market, being unique and raising the bar can make the difference between staying afloat and drowning.
Honesty, integrity, professionalism, quality and smiles all go a long way. There are very important characteristics that still go a long way and can determine the success or failure of a business.
What about Steakhouse 1635?
Steakhouse 1635 will be in the heart of downtown Philadelphia, so we have to make sure we stand out among the several other steakhouses nearby. We do that by catering to the needs of our customers and listening to what it is they are asking for. This can be a very congested area, and on busy nights customers can wait more than an hour for a table at other steakhouses nearby. Our challenge will be seating customers faster, offering menu items that are better and unlike our competitors and doing so in an environment that's exciting and one where customers will want to come back.
Is there a location that really shows how the brand interacts with the community and customers? One of your favorites?
The Original Hot Dog Factory's Center City location is in the heart of Downtown Philadelphia. This location is around the corner from a homeless shelter and a homeless intake center, which we consider it a blessing to be located near. This is because we are able to give free meals immediately and often to those in need. We also contribute to the Ronald McDonald House, providing hundreds of free meals to families in need. During the height of the pandemic, we were also able to provide meals to first responders on the frontlines of the epidemic because of our close proximity to area hospitals and urgent care centers.
Walk us through how and why it designed the way it is?
We opened our Center City location of The Original Hot Dog Factory in March 2020 after our first location at the Subaru Soccer stadium had to close because of COVID-19. We designed it with keeping efficiency and safety in mind, especially knowing that COVID-19 had taken front in center in all of our lives.
With indoor seating no longer an option, we installed self-service kiosks to keep customers and employees safe and also to expedite the ordering process. This proved to be a huge success and helped to boost sales month after month. The open floor plan design is also helpful for our food delivery partners to come in quickly, retrieve their items and leave, safely and with efficiency.
Take us through your construction and design strategy.
Our model consists of an open floor plan, centered around the grab and go concept. This design is very important especially in this COVID-19 era. Black and white wallpaper with large letters in a newspaper style format accentuate the walls and generates lots of compliments. The stores have a very modern and sleek ambiance catered towards the chick consumer, environmentally conscious and short on time.
The counter is spacious and gives the customer a glimpse of the many fresh food options and condiments to top their favorite hot dog, burger or chicken sandwich. Kiosks have been installed at all of my stores to expedite the ordering process and keep customers and employees safe.
Give us a rundown of the market's layout.
The competition among restaurants is fierce, so a marketing layout must be effective to fill seats. This has been especially challenging during the pandemic. Our layout consists of promotion through social media, partnering with food delivery services and offering specials on take-out orders have helped us to fill the void for in room dining. Also catering toward essential workers, and staying open and accessible during the times that others are closed also have helped.
What is the biggest issue today related to the construction side of the business?
The biggest challenge to me is making sure I stay under my budget. As an African American man, it is especially difficult to get loans, therefore I have paid for everything out of my own pocket. Fortunately, my previous businesses have been successful, allowing me the assets and opportunity to afford this latest projects.
I have discovered the way an establishment looks on the outside is a critical component in getting customers to want to come inside and see what the restaurant has to offer.
Talk about sustainability. What are you doing?
Our future is dependent of the work and the strides we take today. Therefore, I have taken several steps to ensure sustainability in our structures such as using enough insulation. Many buildings are built with too little. We choose green and sustainable materials and also make the best use of natural light in our plans. In addition, we implement the use of structural systems early in the design process. Making sure we are being energy and water efficient are also top priorities.
Are you optimistic about how the marketplace has responded?
I am extremely optimistic about how the market is responding to my franchises. Our success with the Center City location paved the way to opening several other locations in just six months. It also created an opportunity for us to open a new concept with Steakhouse 1635. Customers were looking for something unique, fun and cost effective yet upscale, so we answered the call with our The Original Hot Dog Factory franchises. We will do the same with Steakhouse 1635.
What is your growth plan? What areas are you targeting?
My goal is to open 18 The Original Hot Dog Factory locations by 2021 throughout the United States and abroad. Steakhouse 1635 is scheduled to open in the fall of this year, with plans to franchise the operation and open in five major cities by the end of 2022. These cities include New York, Miami, Las Vegas, Miami and Los Angeles.
What trends are you seeing?
In this COVID-19 era, customers want to make sure they are safe, and the items they purchase are safe to eat. Cost is also a major factor. In these challenging financial times, consumers are not eating out as much, but when they do, they are choosing select places to spend their hard earned cash. Employee safety is also paramount. Perfecting the take-out order process in a safe environment are the new challenges that restaurants across the nation face. Providing fast, effective service is what we have had to focus on and it does not seem like this trend will end anytime soon
What is the secret to creating a "must visit" restaurant environment in today's competitive landscape?
The secret to creating a "must visit" restaurant is providing something that your competitors do not offer and listen to the customer. The old adage, "The customer is always right" will always ring true.
In Philadelphia, there are restaurants on every corner, so it is critical that one stands out and sets itself apart. What has made my franchises so successful in the area is our A-1 customer service, and affordable high quality unique food items. Also, as the owner, there is no job that is too small for me. You may find me behind the counter taking orders or helping to tidy each store. Customers can relate to humility, kindness, professionalism and gratitude.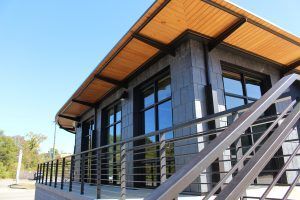 What is today's consumer looking for?
Today's consumer is looking for a quality one of a kind experience at an affordable price. Their needs are also always changing so it is important that concepts are fluid and constantly evolving. Gone are the days of traditional service. Consumers are more intelligent, cost and environmentally conscious. Companies that fashion themselves after these changing customer needs will survive long term.
What is the biggest item on your to-do list right now?
Our newest location of The Original Hot Dog Factory is opening the last week of August. Now my focus is to open Steakhouse 1635. Our goal is to open this location in the fall 2020, so we only have a few months to go. It is especially tough as we with the pandemic still raging, we are uncertain as to what this means for indoor seating, so we are preparing for alternative strategies to stay viable yet adhere to the city codes in regards to COVID-19.
Describe a typical day.
Every day is definitely full of excitement and no two days are the same. In just six months, I have opened five The Original Hot Dog Factory restaurants and am overseeing the construction of Steakhouse 1635. I did this without having any prior restaurant experience.
Each day includes, staffing restaurants, ordering supplies, handling payroll, daily meetings and putting out fires that may arise with operating new businesses. Overseeing the day to day construction and plans of Steakhouse 1635 is another full time job. The building is under construction, so I have to ensure we adhere to all building codes and ordinances and, most importantly, ensure we stay under or at budget costs. I am also the father of three beautiful daughters, another full time job in itself—one that I truly love.
Tell us what makes your brand so unique?
Honesty, integrity, professionalism, quality and smiles all go a long way. There are very important characteristics that still go a long way and can determine the success or failure of a business. I am one of five children raised by a single mother, after my father died when I was 10. She instilled these core values in me and also a diligent work ethic.
I have an unyielding desire to succeed, but most importantly, to value and respect others while doing so. When you are working in the public sector, these are traits that must be on the forefront to ensure your viability as a business owner. Customers have a variety of options and are very selective especially during these tough economic times. So, when they can find a place that operates on these values, it is a win-win for the customer and business owner. Offering quality products at a reasonable price are also key.
____________________________________________________________
Story by Michael J. Pallerino, editor of Commercial Construction & Renovation magazine. Over the past 30-plus years, he has won numerous awards, including the "Jesse H. Neal Editorial Achievement Award," recognized as the Pulitzer Prize for business-to-business magazines. He can be reached at mikep@ccr-mag.com.
____________________________________________________________


One-on-One with...
Aaron Anderson
President & CEO
Axxeum LLC
What is the most rewarding part of your job?
It is being an inspiration to others who may want to follow in my footsteps and do the same thing I am doing. I also take pride and give back to those in need. It is very important to never forget where I came from and to lend a helping hand to the less fortunate. I also take pride in being able to give jobs and second chances to those who are often overlooked in society, including the homeless and those formerly incarcerated.
What was the best advice you ever received?
Never to be afraid to embark on my goals and to dream big. I was told if my dreams do not scare me, they are not big enough. Also, to never accept the word no. If there is a will, there is a way. Perseverance and keeping the right company are imperative to one's success. We are only as strong as those we surround ourselves with. If you spend time around five brilliant minds, then you are the sixth.
What is the best thing a client ever said to you?
I really appreciate you and thank you. These two things go a long way. To be appreciated for the good you are doing is music to my ears. It makes me want to work even harder. My goal is to not only achieve my dreams, but to help and please others during the process. No man is an island, and we are here to service and be a blessing to others.
Name the three strongest traits any leader should have and why.
Listen more than you speak, be honest, humble, compassionate and never comfortable. Comfort is the enemy of success. If you are too comfortable, you will not be open to change and trying new things or advancing. Listening shows you care about what the other is saying and shows true leadership. Remaining as humble as possible is also imperative. We are all works in progress and as quickly as the success comes, it can be taken away.
How do you like to spend your down time?
I am an avid traveler. I have visited dozens of countries around the world. Traveling gives me a sense of freedom and gratitude. Reading is also something I enjoy to keep my mind engaged and is also very relaxing. Spending time with my three girls however is my main priority. As I mentioned, I lost my father at 10 years old, so to be in my children's lives and being there for important milestones in their lives is priceless.
What are you going to do once we get back to some sense of normalcy?
I have plans to empower others through motivational speaking across the nation. I also have plans to write an inspirational memoir to help others achieve their desires. Sports are also another passion of mine. I have plans to become an owner in a sports franchise. I will also resume my love of travel. Most important, I plan to spend more time with my loved ones. Nothing matters more to me than spending quality time with my family and friends. Giving back is also on the top of my list. I have plans to launch a shelter to cater to families in the inner cities of Philadelphia.