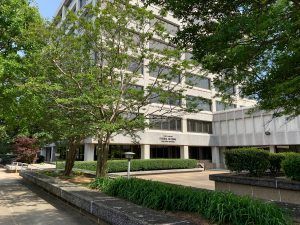 A case is made. Breath is held. Heavy air makes great courtroom drama, but healthy air has now taken center stage in the public consciousness. Since COVID-19, indoor air quality has become a concern for every employer, public or private. For federal courthouses and facilities, that concern is magnified by the sheer number of shared rooms and spaces that must be cared for to mitigate risks of shutdown and other negative impacts on healthy airflow.
In 2020, nine federal courthouse complexes found a solution in an Energy Savings Performance Contract (ESPC). By making a 37% reduction in energy use possible, the project creates $34.3 million in projected savings and includes ventilation system upgrades in all nine facilities.
Sunbelt Region 4
In its procurement, real estate management, and historical preservation roles for the Federal government, the US General Services Administration (GSA) is responsible for federal courthouses and courthouse complexes across 11 regions. Based in Atlanta, GSA's Southeast Sunbelt Region 4 itself oversees more than 140 government-owned buildings and more than 1,300 leases across eight states.

GSA's goal for the Sunbelt Region 4 project was to reduce energy costs, improve ventilation assets, and take a deeper look at sustainability and deferred maintenance issues. To reach 37% energy reduction for nine facilities over the 20-year life of the project, the ABM team developed a total of 60 energy conservation measures (ECMs) for HVAC, lighting, and building controls; roofing, windows, and weatherization, electrical distribution systems, and more.
"An energy project is an opportunity to look past maintaining and repairing in the here-and-now," says Steven Baird, Project Manager for ABM. "You need to really look at enhancing system functionality and cost efficiency in the long term."
The project also includes upgrades to historic courthouses and provides new and upgraded Building Automation System (BAS) infrastructure and platforms to five of the nine locations. The BAS integration ties facilities into Region 4's centralized monitoring and analytics, improving centralized, real-time monitoring. The BAS upgrades include advanced controls and access to performance data that enable significant reduction in the energy use of connected HVAC systems.
"HVAC system renovations will improve indoor air quality by better controlling outdoor air," says Dusty Wheeler, ABM's Director of Federal Energy Services. "Reducing supply air leaks, for instance, allows a reduction in fan energy while still increasing the fresh air brought into shared spaces."
Objections overruled
Developing and executing energy projects in operating Federal courthouses was complex before the pandemic. ABM is an Integrated Facility Services solution provider at our core. That allows us to create robust energy projects, tempering innovation with actual experience maintaining the building systems that drive energy savings.

On this project, it also meant access to environmental services and disinfection experts to help us plan to enter facilities safely and not expose employees and citizens inside to additional risk."
"For the Region 4 courthouses and complexes in our project, GSA and their O&M contractors are supporting multiple tenants and agencies," says Gary Pomerleau, ABM's Senior Federal Projects Manager. "Each tenant has its own policies and procedures for access to a space, and scheduling needs that will impact the implementation of our energy control measures. Having a team experienced with supporting GSA and its tenants is crucial to delivering on schedule."
Counting the energy project for Region 4, ABM has provided GSA with energy solutions totaling over $100 million in capital invested. ABM has previously created custom energy solutions for GSA, with multiple phases implemented for federal facilities in Los Angeles. "To develop a project across three states and deliver energy savings quicker, we could activate teams across our national network," says Darin Willis, ABM Senior Account Manager. "That also means we subcontract less, self-performing the work to speed up development and hold down costs."
As a selectee awarded a US Department of Energy IDIQ ESPC (Indefinite-Delivery, Indefinite-Quantity Energy Savings Performance Contract), ABM submitted an initial Notice of Opportunity Response, and was competitively selected to proceed to the Investment Grade Audit step.

Sustainability sustained
The project also protected a solar power generation system against the risk of future shutdown. Installed in 2010, the rooftop solar photovoltaic (PV) was projected to offset 18% of the Terry Sanford Federal Building's electricity use by generating 772,000 kWh/year.
ABM implemented a new system design with additional redundancy so that any future panel damage would not shut down the entire PV system. Active monitoring was improved to diagnose issues as soon as they arise. "We're making that system more robust and reliable going forward," Wheeler says. "That's a long-haul win-win for both costs and sustainability."
A case for the books
Every building in the project received upgrades to their HVAC system. Improved controls empower GSA building managers to address resiliency and sustainability issues before they impact ventilation and operating costs. Highlights of the extensive project also include:
Optimizing chillers and boilers to improve energy efficiency
Retrofitting lighting with energy-saving LED lighting
Capital improvements to resolve issues impacting air quality and energy savings
Installing water conservation upgrades
Replacing high-efficiency transformers in electrical power distribution systems
"The overall project strikes a balance between optimizing existing systems and replacing critical infrastructure," Wheeler says. "Existing equipment life is extended through refurbishment and control system upgrades generating energy and equipment cost savings that are then leveraged to replace dilapidated equipment critical to mission assurance for the facilities."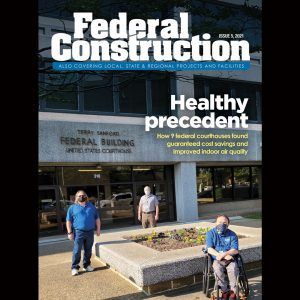 As an Energy Savings Performance Contract (ESPC), the project helps drive down the overall operating costs at government-managed facilities while providing funding for certain mission-critical goals such as ventilation improvements. For federal entities, schools, and local governments, an ESPC helps fund investment in facilities and assets without upfront costs.
The nine facilities included in this project are:
Dan M. Russell Jr. Courthouse, Gulfport, Mississippi
Frank M. Johnson Jr. Federal Building & U.S. Courthouse, Montgomery, Alabama
Hiram H. Ward Federal Building & U.S. Courthouse, Winston-Salem, North Carolina
L.R. Preyer Federal Building-Post-Office-Courthouse, Greensboro, North Carolina
Terry Sanford Federal Building & U.S. Courthouse, Raleigh, North Carolina
Thad Cochran U.S. Courthouse, Jackson, Mississippi
US Courthouse, Oxford, Mississippi
Veach-Baley Federal Complex, Asheville, North Carolina
William M. Colmer Federal Building & U.S. Courthouse, Hattiesburg, Mississippi
"Going forward, we're going to see energy projects continue to evolve," Willis says. "HVAC systems have a large impact on a facility's energy budget. Facilities will want to protect healthy air quality for their shared spaces, but they're going to want to do it sustainably. An energy project helps you stop, deeply assess, and invest in a solution that does that, now, and for the future."
Ted O'Shea is VP of Federal energy for ABM. Prior to this, he was president of RenewEnergy Solutions, a joint venture between ABM and Building Energy, and he was chief operating officer at Southwest Recycling Company, and he served as a captain in the US Army. Contact him at ted.oshea@abm.com.