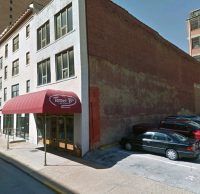 Hilliker Corporation, a local commercial real estate brokerage firm, represented a client with seven building purchases in Downtown St. Louis.
Patrick McKay with Hilliker Corporation represented Dr. Daniel Cook in acquiring a retail loft building in Downtown St. Louis. The building was purchased for $290,000.00.
The is the seventh building that Dr. Cook has acquired in Downtown St. Louis with redevelopment plans through McKay.
When asked about his continuous investments in the downtown area, Dr. Cook stated, "I'm investing there because of the long-term growth potentials I see in the Downtown emerging market," he continued. "There are a lot of profitable redevelopment opportunities waiting and I want to be to make sure I'm taking advantage of these opportunities as the time is now."
The building, which is former Tanner B's Restaurant, is approximately 7,762 sq. ft. It is located at 1113 Pine Street.
The building was vacant for the past five years and owned by M3 Investments, LLC. Hagan Properties represented the seller in the transaction.
Hilliker Corporation, which targets regional and national entrepreneurs, is St. Louis' largest independently owned commercial real estate company located at 1401 S. Brentwood Blvd.  The firm's agents, who each average over 15 years of experience, have completed more than 10,000 commercial transactions for industrial, office, retail and institutional clients since its inception in 1985.
For more information, please contact Hilliker Corporation at (314) 781-0001 or visit https://www.hillikercorp.com.