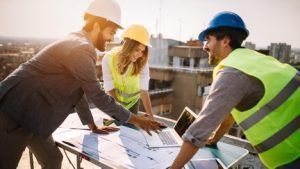 Attracting new customers is vital for any new business to flourish, but it isn't enough to just gain recognition. Your goal should always be to build lasting relationships so that your construction business has a solid foundation of recurring partnerships.
The construction industry is extremely competitive. To beat out the other contenders, you must initiate a high level of trust and consistency in prices to keep customers returning to you for their construction needs. Satisfied customers will also recommend your business to their own networks, helping you grow exponentially.
Before a Project
Potential clients will request proof of your completed projects before committing a partnership.
A great way to exhibit your work, aside from taking your client on a driving tour of your greatest hits, is on a well-designed website, which you keep up-to-date with your latest projects. If your company doesn't already have a website, you should work on getting one up as soon as possible.
In addition to serving as a great work portfolio, there are many other benefits small businesses can reap from having a good website. For example, your site can also host informative posts and satisfied reviews, demonstrating your knowledge and skill to potential customers.
Be Sure Your Team Has the Right Skills
Although there is plenty of demand for construction work, the industry suffers from a lack of skilled workers. In 2020, about 81 percent of construction firms reported struggling to find skilled laborers to fill vacant positions.
Since there is a shortage of qualified workers, you should ensure that your workers have the right skills, so you can feel confident when making promises to clients. Establish criteria that your current workers and potential workers should meet, such as specific certifications and equipment licenses, depending on the project.
During a Project
Keep Communication Consistent
Communication is vital during a project, and providing your client with frequent updates on the project's progress is a great way to demonstrate accountability. It will also raise you in their esteem if they don't feel like they're constantly checking in with you and then waiting on a reply.
Whatever method of communication you use for your updates (be it phone, email, client management software, and so on), be sure that you're on the same page, so there's no frustration when they want to get in touch with you.
Excellent communication is also essential within your team. Frequent progress updates will help you stay on schedule, so you don't face any surprises about your project when preparing to check in with the client. Be sure your workers stick to one mode of communication and make updates mandatory.
Even the most thoroughly-planned projects run into unexpected issues such as bad weather, labor shortages, and equipment failures. Despite your best efforts, there are plenty of reasons why a construction project can be delayed. However, it is your job to stay on top of any problems and provide constructive solutions to clients.
Make use of technology, such as software to track costs and eliminate budget inaccuracies. Similarly, you can also use the right software to streamline labor schedules and automate tasks for approval. Make use of a backup to prevent data loss related to the project and track all progress.
After a Project
After the project is complete, make it a priority to debrief your client and discuss the results. You should be ready and willing to talk about both your successes and what didn't go according to the original plan, such as delays or material requirements that your team couldn't meet.
Emphasize how you found solutions for any issues and how much you enjoyed working on the project and with the client to leave them with a good impression.
Give Them Something to Remember You By
Giving a client a small token of your appreciation can be a great way to thank them for their business. Not only will promotional items serve as a thank-you gift, but they will also help to keep your brand in their memory and improve their chances of remembering you for any future projects. Consider investing in apparel, quality custom pens, customized water bottles, a construction hat-shaped stress ball, or a range of other products featuring your logo and contact info.
Maintain Strong Relationships
Once you've built a relationship with a client, you must continue to communicate with them effectively. You can stay in touch via email newsletters, quarterly updates, mailers, and social media. Once they have a positive impression of your business, they will welcome the opportunity to contract you again for future work and recommend you to others.