So, you've either purchased or are considering purchasing your first house. You've undoubtedly heard a million times that buying a house is the best investment you'll ever make. They don't inform you how to look after your new purchase. If you're a new homeowner, there are a lot of small details to keep track of to keep your new house in tip-top shape.
We examine hundreds of houses each year at Inside & Out, and we observe what most home sellers overlook, as well as what prospective purchasers should do once they acquire the keys.
Here are some upkeep suggestions for first-time homebuyers.
Clean Your Roof and Gutters
The roof is one of the most critical, if not the most crucial, components of your home's maintenance. We are not joking when we say that a house without a good roof is not a house. Falling leaves and other debris can clog gutters, causing long-term roof and water damage. Clean your roof and gutters to ensure that water flows efficiently away from your home's foundation.
While you're cleaning your gutters, check your roof and gutters for damage and make any required repairs before winter arrives. However, you likely won't be able to handle your roof's installation, maintenance, and repair needs on your own. You will almost always require a professional, so get one and stop worrying about roof leaks and other mishaps.
Identify Key Controls and Access Panels
In a time-sensitive crisis, every homeowner should be able to turn off their home's electricity and water. Find the main water shut-off valve before you settle in. This valve is normally located on the inside perimeter of the street-facing side of the property if your home uses municipal water. Some residences have a streetside shut-off valve at the road or sidewalk on the boundary of the property. Make sure you have the equipment and know-how to switch it on and off after you've identified it.
Take the time to locate your circuit breaker as well. Examine the labels to learn how the circuits connect to different regions of the house.
Take inventory of all additional controls, panels, and hatches, such as thermostats, septic tank access panels, and other similar items.
Replace Your Filters
To keep things running well, some household appliances require filter changes. Check the air filters in your heating, ventilation, and air conditioning systems. If they're clogged with soot and grime, replace them.
Next, make sure your kitchen exhaust fan's filter is clean. This might be on the underside of a built-in microwave or in a separate microwave. If your reusable filter is coated in aerosolized oil or cooking residue, thoroughly clean it with warm, soapy water. If your exhaust fan uses disposable filters, you'll need to buy and install a new one.
Finally, if your refrigerator produces ice or distributes water, the internal water filter should be replaced.
Deep Clean Your Home
To prepare your home for move-in day, clean and disinfect all surfaces. Scrub the walls and baseboards thoroughly, as well as the appliances, and hire a carpet cleaner to remove all of the dust and dander.
After you move, a clean house is easier to maintain and saves you time and energy, allowing you to rest and enjoy your new home.
Here's a list to keep track of:
All floors should be vacuumed and mopped, and the baseboards should be scrubbed.

All carpets and rugs should be cleaned with a carpet cleaner.

Clean the screens and windows.

HVAC registers and dust vents

Toilets, tile, bathtubs, and sinks should all be scrubbed.

To clear all drains, use a plumber's snake and a soft cleanser.

Clean behind kitchen and laundry appliances by taking them away from the wall.

Wipe all worktops, cabinets, doors, windowsills, and other surfaces with a damp cloth.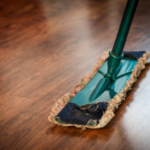 Search For Mold and Mildew
Mold and other issues should have been identified during your expert house inspection, but it's always a good idea to double-check. Check for mold and mildew in your bathrooms, basement, garage, attic, and home's exterior. Vermin can also be identified by the presence of dead insects, rat droppings, termite frass, and insect and rodent nests. The sooner you notice these problems, the easier they are to fix.
Inspect Your Home's Exterior
While you're looking for mold and mildew on the outside of your house, keep an eye out for other possible issues. Look for signs of water damage, such as standing water or particularly wet spots. Inspect your home's foundation, pathways, and driveway for cracks or fissures. Check for wood rot on your porch, deck, railings, and siding. Confirm that no skunks or raccoons have taken up residence beneath your porch. Bird and bug nests should be identified and carefully removed.
These are the essentials for housekeeping and an excellent place to start when it comes to managing your home. It will assist you in maintaining a clean home without having to worry about any difficulties or hassles.