DIY projects have a certain appeal to them. Once you have completed your work, there is a sense of accomplishment and pride, unlike any other.
It is no surprise, then, to learn that, on average, American homeowners have nine unfinished home projects on their to-do list. It is even less surprising to find out that just one-third of those projects end up being finished.
DIY culture is at the height of its popularity worldwide due to many home improvement TV shows and tutorials readily available on the Internet. But, these appealing craft videos don't always account for individual project needs. They might leave out vital steps, making the project appear much more straightforward than it is.
This is especially true when it comes to completing DIY electrical repairs. Those repairs should almost always be left to the pros who have the right equipment and knowledge.
Here is the list of electrical maintenance work that you should never DIY.
Electrical Panel Maintenance
While it is second nature for many of us to reset a tripped circuit breaker and never think of it again, the electrical panel is much more intricate and dangerous than you can imagine.
The panels contain service lugs that are dangerous to work with. You must contact a licensed electrician for the job, rather than attempting to repair it yourself.
The lugs are the big screw terminals or posts securing the service cables that are always hot (energized), even after you shut off the main breakers. You should stay well away from the cigar-size wires connected to the lugs, too. Definitely not a good idea to mess with this piece of equipment on your own.
Electrical Appliance Repair
A frayed electrical cord or a faulty electrical appliance may seem like a no-fuss issue that you can take on yourself. It's smartest not to take that risk. According to the U.S. Fire Administration, of the top five common causes of residential electrical fires, faulty electrical appliances were ranked at number one.
Frayed cords can transfer heat onto combustible surfaces such as rugs or curtains and start a fire at any time. Make the right choice and call a reputable electrician to assist you in preventing such issues.
On top of that, appliances have a capacitor, a device that stores electricity to boost some machines' startup. This is especially the case with big appliances like air conditioning units. Cutting the power to the appliance doesn't discharge the capacitors, so you won't be completely safe even if you take all the safety measures you think you should.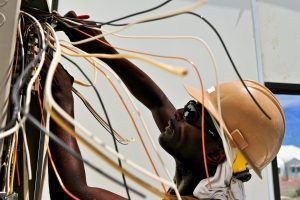 Your home's electrical system
Unless you're an electrician yourself, messing with your home's electrical system on your own is not a smart idea. While it would be a good idea to replace any outdated wires, you're going to need to hire a professional to do the job safely. A professional electrician will not only know how to rewire a home properly but will obtain all the necessary permits you need to do so.
Depending on how old your house is, there's a chance your wiring could be outdated and extremely dangerous to handle.
Older homes may not be equipped with the wiring capacity to handle increased electrical demands created by modern-day appliances. If your home is older than two decades, this is one more thing you should consider. Also, if your home is older, the extreme temperatures (especially in the attic) may cause the insulation around your electric wires to dry out and become brittle.
If it has been many years since your wiring has been checked, it might be time for a home electric general inspection.
Altering, Extending, or Installing Power Cables
Once cables are installed or altered, the job needs to be inspected and tested by a licensed electrical inspector. This is because you're not permitted to connect your cable work to the electricity supply on your own.
Your electrical inspector will want to see that a licensed electrician has completed this job. The inspector will only issue a Certificate of Compliance if it meets their safety requirements. Therefore this is another example of a job that needs to be completed by a professional.
Stay away from the Weatherhead
A Weatherhead, also known as a weather cap or periscope, protects service entrance cables from harsh weather conditions. There are about 200 amps that pass through your electrical lines and into the Weatherhead.
Attempting to repair it could lead to a severe, potentially life-threatening, injury if you touch the wrong line. Leave these repairs to a professional electrician that knows all the ins and outs of the system and can safely repair any present issues.
What you can safely do around the house
If you want to keep your electrical components and your entire home safe, focus on the general work every homeowner can do. Be alert to the signs of electrical problems in your home, such as lights dimming or flickering or the circuit breaker tripping frequently. Another sign of an electrical problem that could be harmful is hearing a buzzing or sizzling sound from your electrical system.
Those are the warning signs that tell you that there might be some faulty wiring or the need to replace your electrical panel. As you have seen above, those are the tasks best left to the professionals.
Besides the things mentioned above, you should also be wary of open junction boxes or uncovered light or dimmer switches, and other unfinished home electric projects. They are often removed while remodelling but don't always get put back on promptly. This makes them a risk for a potential electric shock.
Finally, try to avoid extension cord overload caused by the shortage of outlets. The times we live in mean that each family member has a couple of their personal devices that need to be charged. Add a couple of TVs, consoles, and cable boxes to the mix, and you've got yourself a situation that can easily cause an overload. To avoid this, reach out to a professional electrician as soon as possible.