One of the biggest issues plaguing our times is the amount of waste that we are generating. Worse still, is how we are disposing of our waste.
It may seem like an inconsequential part of life but the waste you produce has a significant impact on other areas of life. Therefore, you should give it more importance as compared to other areas of your life.
It is always a good idea to reduce the amount of waste you are producing. The following are easy and simple ways to reduce your waste:
1.  Consume Less
The simplest, but by no means the easiest, way to reduce the waste you produce is to consume less. The garbage you produce is a direct result of what you consume so reducing one automatically reduces the other.
Reducing your consumption is an issue that will include significant self reflection. You can use your budget to see just how much you consume. You can then take steps to cut some things out of your budget.
You should consider what is necessary in your life and cut out the rest. If you do, you should produce less waste than you can imagine. The money you save will be a fantastic bonus.
2.  Hire a Skip Bin
A significant reason why we have so much waste in our streets is due to improper disposal and collection of garbage. It leads to waste piling up on the streets and on our curbs, which is unhealthy and a sore sight.
A solution to efficiently disposing of such waste is to hire a skip bin. The best skip bin hire services will swiftly and efficiently remove waste from a property. They will remove all types of waste as long as you have the bin.
Skip bin hire services are particularly helpful in reducing toxic waste from both commercial and residential properties. Such waste can have serious health repercussions and needs experts to properly dispose of it.
3.  Reuse
Another simple and effective way to reduce garbage is to reuse items that you can. Instead of constantly throwing things away which substantially increases the waste you produce, you can save and reuse them.
A great example is instead of buying water bottles and throwing them away, buy a single water bottle and refill it whenever it is empty. The same for cans and containers that may be used to store other things.
You should also try and reuse grocery bags. Instead of using plastic bags that can only be used once, have a stand at home where you keep and reuse your grocery bags.
4.  Recycling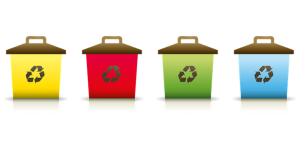 If you want to reduce the amount of waste you produce, then you should recycle. It is an easy and simple thing to do but most people don't do it despite years of advice.
There are many types of materials that are recyclable such as glass bottles and resin containers. Plastic containers are sometimes not recyclable.
At home, you should have bins specifically for materials that can be recycled. It will have a tremendous impact on the waste you produce.
In summary, easy and simple ways to reduce your waste include consuming less, using a skip bin, reusing and recycling. There are many more but the above should be enough to produce a lot less waste. However, if you can do more, please do.