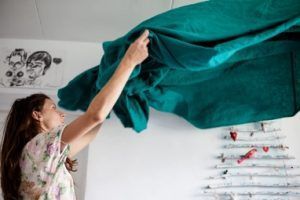 Cleaning is a vital part of healthy living, and ultimately increases the quality of life itself. While all of us have been cleaning for a better part of our lives, many fail to do it the right way. Here are some cleaning hacks to ensure you are cleaning your home the right way, once and for all.
Don't Clean Room By Room
One of the first things you should pay attention to if you want to ensure that you are cleaning your house the right way is not to clean by the template "room by room". There are many reasons why this isn't efficient and can even cause unnecessary small clutter during the process which will make the cleaning process for most even more annoying and therefore, it might prompt them to give up. The first reason why cleaning the whole house and not room by room is the right way is the less time it takes to get the job done. Focusing on a single task such as vacuuming the whole house will make things go more smoothly than having to keep switching chores. Furthermore, if you let's say don't vacuum the whole house at once, you run the risk of getting dust into the rooms from the rooms you're currently cleaning to the ones you've previously cleared.
Clear The Clutter First
There is nothing worse than starting to clean your house when there is clutter everywhere. I mean, what is the point of cleaning your home if you have to stop at every little step to get rid of clothes, dog toys, children toys as well as the dishes that may be laying around. The right way to clean your house is to declutter it first. And we're saying declutter the whole house, not just a single room that you're cleaning for the time being. Removing the initial clutter will help you go faster, and will also ensure that you get a better chance of cleaning all, now clutter-free surfaces. If you want to go a step further, and thoroughly declutter your home, many minimalist-based decluttering strategies have a great approach and many techniques for you to consider if you want your house to be generally decluttered and not only once you tidy up.
Have The Right Tools
You can't clean your house without the proper tools. The most helpful and most obvious are cloths (the most popular being microfiber cloths), sponges, a spray bottle, a bucket, and maybe a toothbrush. That being said, many people have their quirks when it comes down to cleaning tools so whatever you have in mind will work great, these are some of the staples for you to consider. Furthermore, you will also need cleaning products for every part of your home. More often than not, cleaning products have a plethora of harmful ingredients, and many cleaning chemicals manufacturers suggest that making your cleaning detergents from carefully selected raw materials might be the best option. Raw materials for detergents, be it for powdered or liquid detergents can nowadays be bought from different chemical manufacturers worldwide, but from the ones who are renowned in their industry. This way you get to handpick which ingredients you come in contact with so you don't run any unnecessary health risks.
Stain Removal The Right Way
The chances are there are plenty of stains all over your home, especially if you have small children or pets (or both!). Many people don't know the right way to get rid of different kinds of stains, and they tend to overpay different kinds of services to take care of them, or they simply throw away pieces of furniture. To avoid this altogether, we'll show you the right way to get rid of many stains the right way. If you have crayons or wax stains on your walls or carpets, use either a blowdryer and a cloth to clean them, or if they are on surfaces like carpets, use a cloth-covered iron to weed them out. If you have water stains on your sinks, a simple layer of shaving cream will do the trick. Another good way to get rid of stains on cabinets in your kitchen is to mix vinegar and coconut oil and wonder how better they look.
Make sure you think about and implement these cleaning hacks to ensure you are cleaning your home the right way. More often than not we don't realize what we've been missing in our cleaning routines, but this is the way to correct that and use the best products that we can without putting our health in danger.