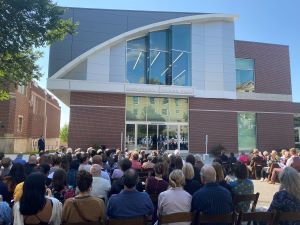 Photo Courtesy: Big-D Construction
The doors at Westminster College's Florence J. Gillmor Hall are officially opened. Recently, a grand opening ceremony was held to celebrate the completion of the educational institutions two-year expansion project.
Big-D Construction in Salt Lake City was awarded the $10.3 million project in 2020 and this marks the completion of the construction company's fifth major project on the Westminster College campus.
"For over 20 years we have built a strong working relationship with Westminster College. Whatever the project, it is always an honor and a privilege to be able to support the college and campus community," said Vice President Jim Allison, Big-D Construction Salt Lake.
A 26,000 square-foot academic facility, Gillmor Hall is located at the north end of campus and includes a three-story expansion on the south side of the building that houses the Jewett Center for the Performing Arts. The facility allows Westminster to better serve its performing and visual arts students through state-of-the-art classroom, rehearsal, performance, and display spaces. The building includes a 93-seat recital hall, a costume studio, and expanded scene shop, and a grand lobby for art shows and receptions.
"Westminster broke ground for Florence J. Gillmor Hall in February of 2020, just as a global pandemic disrupted our work and lives. Big-D Construction expertly guided us through the months and years of supply issues and challenges. Gillmor Hall is now a stunning and integral part of Westminster's and the community's connection to the performing arts. It stands as a testament to the power of determination and artistic expression," said Dr. Bethami A. Dobkin, Westminster College President.
ABOUT BIG-D CONSTRUCTION – MOUNTAIN WEST
Founded in 1967, Big-D Construction has grown to be one of the nation's largest contractors in the United States and is part of the Big-D family of companies. Headquartered in Salt Lake City, Utah, Big-D Construction has additional offices in Ogden and Lindon, Utah, and Idaho Falls, Idaho. For over 50 years, Big-D remains on a mission to be the most sought-after construction company in the business. Focusing on the company's core values – Respect, People, and Truth - all Big-D regional offices work to enrich the lives of customers, consultants, employees, and its community. For more information, please visit www.big-d.com.