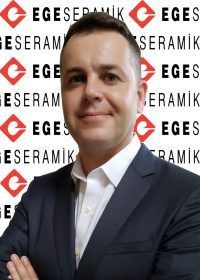 Ege Seramik, major global supplier of top-quality ceramic and porcelain tile materials and top Turkish exporter to the United States, recently announced the promotion of Alp Er to General Manager .
Er, a graduate with a master's degree from Buckinghamshire University in the United Kingdom, boasts a solid 18 years in the tile industry following his military service in Turkey. He started with a smaller Turkish ceramic manufacturer (now defunct) and subsequently joined Ege Seramik in 2002. As its international sales manager, Er was working out of the company's headquarters in Istanbul, Turkey, before moving to the United States in 2005 to be an executive sales manager.
"Ege Seramik is a very forward-thinking company when it comes to marketing in the states," stated Er. "We follow what consumer demand is telling us and then, develop products to fill that need. Our products are very high-tech in that our team is not only consistently providing new designs, but new finishing as well. Our product designs go beyond the surface with real-life textures.
"Ege continues to be one of the leading Turkish manufacturers with distribution here in the States. Our goal is to continue to be both an innovator and a leader in this market through service, quality and reliability," added Er. "We will continue to build our business by exceeding customers' expectations with state-of-the-art products and service."
Alp Er will continue to work out of Ege's stateside headquarters in Norcross, Georgia.
About Ege Seramik  Since 1972, Ege Seramik has been a major global supplier of top-quality ceramic and porcelain tile materials. To meet the demand of customers in the United States and Canada, Ege Seramik America, (established in 1991) has been serving a strong and loyal cadre of active North American customers from its stateside headquarters in Georgia. For years, Ege Seramik has been the number one Turkish product exported to the North American continent. To learn more about Ege Seramik and view the entire product line, visit. https://www.egeseramik-usa.com/ or contact the firm directly at Ege Seramik America, Inc. 1721 Oakbrook Drive, Suite C, Norcross, GA 30093 Office (678) 291-0888.