As a mining company, your workforce is exposed to many safety concerns at the worksite. Therefore, you must develop a safety guide for the worksite. A safety guide can ensure that employees have a safe workplace and that there are sufficient guidelines in case of emergencies.
In addition, you should consider mine planning when coming up with mine safety measures. It will ensure that all the mine operators are protected and protect the mining area for future use. You can consult mining specialists on a mining worksite's most common safety concerns. That said, here's a guide to a mining company's worksite safety:
Understand The Risks
Unlike other workplaces, mining sites have hazardous risks because of the nature of the work done. Your mining company should evaluate all the possible risks to develop the appropriate safety management guide. Some of the hazardous safety concerns that you must consider the possibility of include the following:
Flooding  

Explosions  

Mines collapsing  

Fire breakouts  
If any of the above catastrophes occur at your mining site, it can affect many people working at the site and could destroy the entire area.
In addition, your company should also evaluate and understand other safety health concerns that affect individuals, such as:
Dust  

Noise  

Whole body vibration  

Exposure to ultraviolet radiation  

Musculoskeletal disorders  

Thermal stress  

Exposure to chemicals  
If your workforce is regularly exposed to any of the above issues, they could end up with long-term health complications.
Therefore, once your company understands the possible risks at the worksite, you can establish a safety mechanism for each issue.
Provide Safety Gear
Mining companies should provide safety equipment to all workers at the mining site. In addition, all employees should wear protective gear while at the worksite to decrease injuries and fatalities. Some of the protective equipment that must be provided for mining employees at worksites includes the following:
Hard hats  

Gloves  

Noise cancellation headsets  

Steel-toed boots  

Individual fall protection gear  

Reflective vests for visibility  

Safety glasses  

Face masks  
You can also provide air-purifying respirators if the materials being mined harm the respiratory system when inhaled. Furthermore, your mining company should have strict regulations on employees wearing protective gear while working.
Prepare For Emergencies
It's crucial to always prepare for emergencies at a mining worksite. Proper preparations can help you prevent issues from escalating quickly and containing casualties. You can prepare for worksite emergencies by creating an emergency response plan that caters to different scenarios, including fires, explosions, and chemical leaks.
Another aspect that should be included in the emergency response plan is training mining employees to respond to emergencies. It ensures that everyone at the worksite understands what to do in an emergency.
Your mining company can also prepare for emergencies by building emergency bunkers fully stocked with food, oxygen, and water. During emergencies, workers can rush and stay in these bunkers until emergency responders rescue them. It can significantly reduce the number of casualties during emergencies.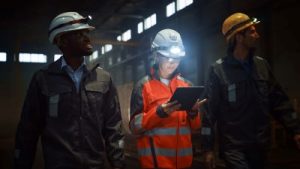 Create Visual Management And Hazard Communication
Mining environments are volatile, so it's crucial to have a strong communication system incorporating visuals. It will ensure that workers understand all potential hazards and dangers at the workplace. For instance, you should ensure there are safety labels, clear indicators for emergency exits, and glow-in-the-dark signs.
Further, your mining company should use hazard communication and visual management signage compliant with mining regulations. It can make the worksite safe because people are easily guided on where to go during emergencies.
Strengthen The Infrastructure
In most cases, catastrophic events occurring at mining sites happen because of poor infrastructure. The company should strengthen the present infrastructure to avoid collapse-ins and use fireproof materials to curb fires. It will require your company to invest more resources in proper ground control, such as pillar designs, roof support, and reinforcing side walls by providing extra support.
While the initial cost of strengthening the infrastructure can be costly, it would be worth it. Fires and cave-ins at the mining sites can paralyze work for days, making the company lose more money. Therefore, it'd be best to invest in proper mining infrastructure engineered for safety.
Provide Safety Training For Employees
Mining safety guidelines are only effective if the workers understand and know how to utilize them. The training offered to employees should be on safety issues and sustainable practices. Your mining company is responsible for regularly training the workers on safety issues and handling different mining machinery. For example, plant operators should be trained to operate the machines safely.
Some special training that can be offered to workers includes lockout-tagout practices. It ensures that plant operators understand how to handle the machinery responsibly. In addition, you can also offer refresher courses to keep the workers updated on safety measures and concerns.
Conclusion
The mining industry is generally hazardous because of the many safety concerns and issues that can arise at any moment. As a mining company, there are several safety issues that you should be concerned about, such as emergencies, response, and workers' safety. The safety concerns can differ depending on the substances being mined, thus calling for additional safety measures. Nonetheless, once you're aware of the safety concerns at the mining worksite, you can find ways to mitigate them.
Stock Images