Check out the winners of the "2021 CCR Project Profile Awards," featuring some of the best commercial construction projects in the country in the areas of retail, restaurants, hospitality, healthcare, and more.

Project Name: 300 Grant Avenue
Location: San Francisco, California
Designer: MBH Architects
Contractor: Hathaway Dinwiddie Construction Co.
300 Grant Avenue is The Lincoln Property Company's newest development—a project that has helped breathe new life and opportunity to the prominent corner of Grant Avenue and Sutter Street. Sitting at Chinatown's iconic gates in San Francisco, the 70,000-square-foot, retail and office mixed-use development is the first in Union Square in more than 20 years. The development signifies an important architectural and economic milestone in the neighborhood's history, exemplifying the architecture that will help shape San Francisco's 21st-Century landscape.

Project Name: The Lois
Location: Brooklyn, New York
Designer: CetraRuddy Architecture
Contractor: McAlpine Contracting
The Lois, the culmination of the efforts of developer The Hudson Companies, general contractor McAlpine Contracting and architect CetraRuddy Architecture, is a $70 million, eight-story, multi-family rental building. The property features 250 market-rate and affordable residential units, 5,500 square feet of ground floor retail, communal spaces, and office and support areas. The Lois is the second building in a phased project that is expected to deliver a total of more than 400 apartments to Brooklyn, New York's East Flatbush — Prospect Lefferts Gardens neighborhood.

Project Name: HI-TIDE Dispensary
Location: Ocean City, Maryland
Designer: Fisher Architecture, LLC
Contractor: Delmarva Veteran Builders
The conversion of an old storage building into one of the first retail dispensaries in Ocean City, Maryland features designs that utilize unique materials on the inside. In addition, specific local elements creatively separate the occupants and adhere to the need for confidentially. Customers can benefit from safe access to the finest quality laboratory certified and pesticide/contaminant-free medicinal cannabis. HI-TIDE Dispensary offers flower, pre-rolls, vaporizing oils, tinctures, balms, etc., in a vast variety of Indica, Sativa and hybrid strains of medicinal cannabis.

Project Name: Jacqueline Bradley & Clarence Otis Family Branch Boys & Girls Club
Locotion: Orlando, Florida
Designer: SchenkelShultz Architecture
Contractor: Brasfield & Gorrie
The Jacqueline Bradley & Clarence Otis Family Branch Boys & Girls Club is the largest of the 35 facilities operated by Boys & Girls Clubs of Central Florida (BGCCF). The center will serve 250-plus children daily in a neighborhood with a rich African American history that has been underserved in recent decades. The Club's name honors the couple's leading $4 million gift toward the $9 million capital campaign to build the center. The state-of-the-art center features a dance/aerobic studio, commercial kitchen, music rooms, art studios, technology labs on both floors, and a full-size gymnasium with a stage for performances. For teenagers, there is a college and career center with STEM programming to promote access to elevated learning for underserved youth.

Project Name: ZEA Rotisserie Bar
Location: Denham Springs, Louisiana
Designer: Interplan LLC
Contractor: Block Corporation
While the design gets you interested, the execution of the ZEA Rotisserie Bar is what really seals the deal. The plan is simple: Rough stone meets sleek glass, with some added fire for warmth and atmosphere thrown into the mix. The overall construction turns the concept of those transitions of material and planes into the reality—a patio that blends the exterior with the interior to deliver a dining room that begs for relaxation. Splayed columns and accent elements—check out the signage tower and angled glass) pay homage to the tri-head owners and angles of "Z."

Project Name: Bearings Bike Works
Location: Atlanta, Georgia
Designer: NELSON Worldwide
Contractor: South Tree Enterprises
Founded in 2008, Bearings Bike Works offers a popular after-school program that teaches students how to build a bike from start to finish by putting the right tools in their hands. Completed in two phases, the projects include the renovation of an old auto repair shop that is home to various workstations, storage space, and offices and a refurbishment warehouse that holds the organization's new retail, service center, and co-working space to further develop their existing internship program. Located near the iconic Atlanta Beltline, the refreshed campus brings a new feeling of gratification to employees, volunteers and students by having a modern facility to work, mentor and thrive in.

Project Name: Mountain View Corporate Center
Location: Mountain View, California
Contractor: South Bay Construction
To attract and retain high-tech tenants, the owners of Mountain View Corporate Center invested in updating three buildings from concrete exteriors to a modern copper-colored metal panel façade. To achieve the intended appearance, more than 23,000 square feet of panels of Linetec's proprietary Copper Anodize were added. Along with the high-tech aesthetic, the durable anodize supports the property's sustainability goals and protects the aluminum panels fabricated by Morin Corporation and installed by Sheet Metal Systems (SMS).

Project Name: Salt Lake City Fire Station No. 14
Location: Salt Lake City, Utah
Designer: TCA Architecture + Planning
Contractor: Zwick Construction Company Inc.
The Salt Lake City Fire Station No. 14 earned a LEED Gold certification through the US Green Building Council for its energy-efficient, environmentally responsible design and construction. When the department opened it in 2018, the building was one of the first Net-Zero-Energy (NZE) fire stations in the country, which means it generates more energy than it consumes. To help achieve the building's performance goals, Tubelite Inc.'s triple-glazed thermal curtainwall, multi-pane storefront and interior framing systems were installed by Mollerup Glass Co.

Project Name: Anderson Auto Group Fieldhouse
Location: Bullhead City, Arizona
Designer: Orcutt | Winslow
Contractor: Fleming West
Located along the Colorado River in Bullhead City, Arizona, the Anderson Auto Group Fieldhouse encompasses 126,000 square feet with regulation football and soccer fields, classrooms and space for up to 8,000 people. When not in use by the Colorado River Union High School District (CRUSHD)'s River Valley High School Dust Devils and Mohave High School T-Birds, the fieldhouse is available for other athletic, academic, community and commercial uses. The Fieldhouse features EXTECH/Exterior Technologies Inc.'s LIGHTWALL 3440® interlocking wall system installed by Systems Contractors Inc. (SCI).

Project Name: Prime Independent Living
Location: West Knoxville, Tennessee
Designer: MRP Design Group
Contractor: NorSouth Constructs
The 145-room, three-story, 170,000 square foot project is a state of the art assisted living facility designed for today's seniors. The stylish one- and two-story floor plans offer a slate of enticing amenities, including full-size kitchens, hydroponic greenhouse, pickleball court and an 18-hole putting green. Other enticements include a theater, a billiards room, coffee and ice cream cafe, hair and nail salon, computer kiosks and a bark park pet area.

Project Name: Braves Development Company — Four Ballpark Center
Location: Atlanta, Georgia
Designer: NELSON; Collins | Webb Architecture
Contractor: Choate Construction
The Battery Atlanta, which sits adjacent to Truist Park, home of the Atlanta Braves, features restaurants, shops and entertainment facilities. The mixed-use development serves as the South's preeminent lifestyle destination, thanks to a 143-key A Loft hotel, 50,000 square foot, high-end movie theater, 22,000 square feet of retail restaurant space, 40,000 square feet of loft office space and a 535-space precast parking deck. With the new additions brought by Four Ballpark Center, this unmatched entertainment haven has enhanced the ever-increasing popularity of The Battery Atlanta.

Project Title: Gather GVL
Location: Greenville, South Carolina
Designer: McMillan Pazdan Smith
Contractor: Base360
Located within one of the most vibrant and coveted districts in the downtown area, and sitting on 0.5 acres, Gather GVL consists of repurposed and newly fabricated shipping containers positioned around a courtyard to form a welcoming gathering space. Commissioned by Four Oaks Property Group, the family-oriented space is enhanced by several seating options that reinforced this district's sense of community. Offering vendors ranging from local craft breweries to authentic German cuisine, Gather GVL provides a well-rounded culinary selection in an inviting, open atmosphere where people can responsibly follow safety protocol adjustments in the face of the pandemic.

Project Name: JD Sports NYC Flagship
Location: New York, New York
Designer: FRCH Nelson
Contractor: Schimenti Construction Company
From value engineering an entirely new HVAC system to its modernizing various forms of vertical transport, the four-story flagship JD Sports is a one-of-a-kind building. Getting people, sneakers and apparel quickly and efficiently through the space required four forms of lift. The project included entirely new escalators, dumbwaiters and modernization of elevators and a vertical lifter. These systems created continuous plan revision, which required a full partnership with the client and design team to overcome cost and schedule impacts. The store comes from wall systems and display cases highlighting rare and limited-edition sneakers, accented by lighting and media screens, and an AV package that includes a DJ booth for live music and events.

Project Name: 650 S Tryon at Legacy Union
Location: Charlotte, North Carolina
Designer: L3SP / HKS
Contractor: Gilbane / Shelco
Erie AP collaborated with its glazing contractor Crown Corr to deliver another amazing tower at the Legacy Union development. The teams worked together to provide three separate towers at this development—the second in line following the Bank of America Tower, which was completed in 2019. This tower features segmented and leaning curtain wall facades.

Project Name: Admirals Cove
Location: Alameda, California
Designer: Degen & Degen
Contractor: CP Constructions West Inc. | Carmel Partners
The 15-acre decommissioned military housing unit was converted to market housing just minutes away from downtown San Francisco. The 150 multi-family townhome development was remodeled inside and out to give each room its own unique character. Treatments include new entries, porches, canopies and an array of local colors—all of which contributed to Admirals Cove's new, yet preserved history identity. Anchoring the site is the newly built Clubhouse, a contemporary jewel reminiscent of Naval tradition complete with pool and fitness center.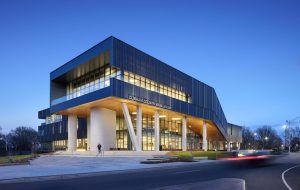 Project Name: Durham County Main Library
Location: Durham, North Carolina
Designer: Vines Architecture
Contractor: Skanska USA Building and Holt Brothers Construction
The newly renovated and expanded Durham County Main Library provides a key asset for the Durham, North Carolina community, accommodating their needs today and in the future. Close to 30,000 square feet larger than the previous configuration with more gathering spaces and overall capacity, the library features a new innovative interior layout and building entries for ease of use. It also offers increased visibility and natural light throughout. Additionally, the facility offers a prominent outdoor public plaza and an amphitheater for programming and events.

Project Name: Drakes Restaurants
Location: O'Fallon, Illinois
Contractor: Knoebel Construction
Drake's is a unique and growing restaurant dining and entertainment chain. Each location, which is approximately 6,000 square feet, features one or two large bars, 30-plus televisions, and a covered patio for games and outside dining. When fully operational, the location can accommodate 210 guests. Drake's has adapted its design on recent builds to include kitchen design modifications, massive plexiglass dividers and parking areas designated for online order pickup.

Project Name: Methodist Mansfield NICU
Location: Mansfield, Texas
Designer: Perkins & Will
Contractor: Beck (Dallas, Texas)
Since its opening in 2006, the Methodist Mansfield Medical Center has been one of the best hospital and emergency departments in the Arlington, Texas area. The full-service hospital features 262 beds, up to date technology, and myriad skilled medical specialists. So, when the NICU required new flooring, it turned to Ecore's Rx line. Along with providing optimum performance, its modern design provides enhanced ergonomic and acoustic performance, including reducing surface-generated noise.

Project Name: District Dogs Navy Yard
Location: Washington, DC
Designer: GTM Architects
Contractor: Spectrum Inc. General Contracting
This space, the second for the District Dogs brand, features doggie daycare, overnight boarding, a Dog Spa, training, and a curated retail shop for dogs and dog lovers alike. Located on the first floor of a multifamily building at the Navy Yard, the facility features a combined retail and check-in area, grooming, overnight boarding, and three indoor play yards for doggie daycare. The owner of District Dogs wanted this larger second facility to reflect branding from the flagship shop, while also integrating updated design elements to better serve clients and their four-legged friends. The goal was to convert a utilitarian area and make it both aesthetically appealing and functional.

Project Name: New Brunswick Performing Arts Center
Location: New Brunswick, New Jersey
Designer: Elkus Manfred Architects
Contractor: AJD Construction
The New Brunswick Performing Arts Center (NBPAC) is a transformational project that has propelled New Brunswick's Downtown Cultural Arts District into the spotlight as the region's most exciting and dynamic performing arts center. The $172 million, 23-story high-rise unites two state-of-the-art theatrical venues in the Elizabeth Ross Johnson and Arthur Laurents Theaters, dedicated rehearsal studios, collaborative work spaces, 207 apartments, and more, into one facility that will serve as the artistic anchor for New Brunswick. The facility also includes eight acoustical smoke vents manufactured by BILCO.

Project Name: "The ALLOY" a Doubletree by Hilton
Location: Prussia, Pennsylvania
Designer: HVS Design & Jonathan Nehmer + Associates Inc.
Contractor: The Allied Group
The $18.5-plus million renovation project in Valley Forge has completely reimagined the previously plainly branded property into a lifestyle hotel. Today, the hotel features 327 updated, modern guestrooms with contemporary decor, new bedding, carpet, luxury vinyl flooring, wall vinyl, artwork, renovated bathrooms and an expanded fitness center with new equipment, including Peloton bikes. In addition, there are five new event rooms, culminating in 25,000 square feet of meeting and event space. Guests also can take advantage of Hammer & Fire, a new American grill concept.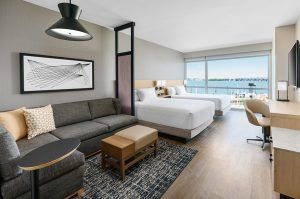 Project Name: Hyatt Place, National Harbor
Location: National Harbor, Maryland
Designer: //3877
Contractor: OTO Development, Peterson Companies, Turner Construction
The Hotel Hyatt Place National Harbor is located within the unique master-planned development of National Harbor—a 350-acre shopping, dining and entertainment destination. The LEED-certified, seven-story waterfront hotel is the first Hyatt-branded property in Prince George's County, Maryland. Upon entering the development, located along the bank of the Potomac River, Hyatt Place is positioned as the site's first building. The design concept for this hotel is "Magnetic Moments," celebrating the energetic atmosphere of National Harbor through the use of dynamic design elements.

Project Name: SkinCeuticals SkinLab
Location: Palm Desert, California
Designer: Collaboration of L'Oreal (Parent Company) and ArcVision Inc.
Contractor: Lambert Builders Inc.
The newest location for the No. 1 medical professional skincare brand in the US, SkinCeuticals SkinLab, offers cutting edge, doctor-validated services. The space encourages consumers to unwind in the sleek product discovery areas and shop brand heroes. The facility's design incorporates the stark contrast of black on white, which showcases the product and accessories, but also reminds guests that they are in a medical facility. The walnut and marble floors bring warmth to the space and the brushed brass accents add a touch of glamour.

Project Name: The Otis, Marriott Autograph Collection & Marriott AC Hotel (Dual Brand)
Location: Austin, Texas
Designer: Flick Mars
Contractor: DPR Construction
Serving as an extension to the University of Texas Austin campus, the hotel was designed to bridge the traditional aesthetic of academia with the city's rich history. The vibrant and free-spirited culture of Austin is carried through from floor to ceiling. These characteristics unite the design, creating a sense of easy-going luxury and love of local artists. The hotels provide a combined 347 guestrooms, 7,500 square feet of flexible meeting space, a 4,000 square foot luxurious rooftop pool and lounge, and two full-service restaurants.

Project Name: Waterway Express
Location: Cleveland, Ohio
Designer: SP Architects
Contractor: Fortney & Weygandt Inc.
It does not get any more unique than converting a former big box store to a drive-thru car wash. But that is exactly what the residents of Cleveland, Ohio have, thanks to a former HH Gregg store. The facility, part of a brand that has helped set the standard in the car wash industry for the past 40 years, features high-capacity wash bay entrances in the front and back of the existing structure, new floors into existing space and many modifications to the structure to accommodate a unique new use. The former showroom now has 20 vacuuming/drying bays.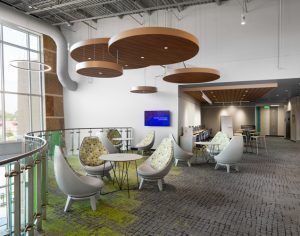 Project Name: Madison Technical College
Location: Madison, Wisconsin
Designer: Plunkett Raysich Architects, LLP
Contractor: Miron Construction Company Inc.
Opened in 2019, the Goodman South Campus of Madison Area Technical College (Madison College) serves 33,000-plus students throughout a 12-county district in south-central Wisconsin. As the second-largest institution in the Wisconsin Technical College System, the facility incorporates biophilic-inspired elements, an earth tone palette, regional materials and other local character from its additional campuses around the state. Bringing a sense of the natural outside environment to this indoor space, the Rockfon's ceiling systems in an oak wood grain finish to create the distinctive overhead appearance.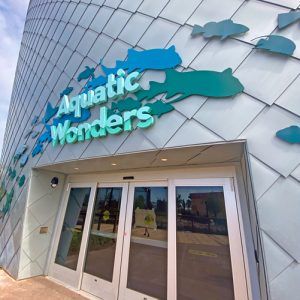 Project Name: Mississippi Aquarium
Location: Gulfport, Mississippi
Designer: Eley Guild Hardy Architects
Contractor: Roy Anderson Corporation
The Mississippi Aquarium is an alluring sight for both residents and visitors to Gulfport, Mississippi's downtown area. The 5.8-acre complex incorporates both indoor and outdoor habitats with more than 200 species of animals and 50 species of native plants. In addition, the aquarium's three main buildings showcase a distinctive, scaled pattern using 16,000 zinc tiles fabricated from RHEINZINK prePATINA® blue-grey material. And thanks to a potential lifespan of 100 years or more, this resilient, natural metal will support both the aquarium's economical and environmental goals.

Project Name: On-Line Education Offices
Location: Columbus, Ohio
Designer: Nvironment
Contractor: Danis Construction
In a time when more developers are looking for opportunities to extend the life of old mall buildings, the renovation of a 1970s-era mall in Columbus, Ohio fit the bill. The old building was converted into functional office space, featuring a new exterior facade and parking spaces. The extensive overhaul also included executive offices, orientation and admissions areas for new students, and offices for full-time staff.

Project Name: TWA terminal at John F. Kennedy International Airport
Location: Queens, New York
Designer: MCR Development
Contractor: Turner Construction
After the TWA terminal at John F. Kennedy International Airport sat vacant for more than 15 years due to its inability to accommodate modern air travel, the Port Authority of New York and New Jersey set out to transform the TWA Flight Center into a hotel. The only hotel inside JFK Airport, the hotel provides guest rooms in hotel wings designed to reflect the Flight Center, an observation deck, a rooftop pool with views of the runway, eight restaurants and bars, and a 50,000-square-foot event center. It also features museum exhibits devoted to TWA, the Jet Age and the mid-century modern design movement.

Project Name: DuPont Headquarters
Location: Auburn Hills, Michigan
Designer: CESO
To help make its workspaces environment unique, DuPont underwent a complete remodeling of its existing office space and created a new innovation center. Through the delivery of architecture, interior and graphic design services, the spaces now represent its vision of a vibrant, high-performance environment. As part of the work, the entire first floor offices were retrofitted to better fit employee needs, while also remaining aligned with their existing remodel guidelines. Additionally, space planning exercises were utilized to determine the best placement of the innovation center and office layout.