It's wonderful to own your own property, but with the passage of time, if you don't take proper care of it, it will age and you'll have to come up with a solution. In a time where making money is becoming more difficult each day, one has to search for ways that can help him generate income with little effort. A side hustle is something that always comes to mind when thinking of making more money but it takes hard work and you only start seeing the benefits after a lot of time. Renting was and will always be a good way to earn some passive income, however, there are some tips that can make renting your old house without much trouble.
1.   Set A Price
Make sure you do market research and know the average price people ask for when they rent in your area. Make sure in your ad to list all the advantages you have and all the nice things that will be included in your offer. You will also need to make up your mind whether you will rent your house as furnished or unfurnished.
2.   Prepare A List Of Requirements
This is also something you need to decide before you publish your ad or tell everyone that you are seriously looking for a tenant. You need to decide upon the list of requirements that will be needed from anyone who will rent your house. This can include anything from the number of references you will ask for to a minimum income that you need to make sure they are making.
3.   Take Your Time Before Choosing A Tenant
When you decide to rent your house you will of course advertise online or in a newspaper or both. Asking your friends and family to help you is also advisable as they know you and they will bring people they can trust. Read all the applications and check for criminal records and credit card reports among other things you should look for before you sign the contract with them. The time and effort you will exert in this step will not go in vain.
4.   Protect Your Property And Your Money
When leaving your house for strangers, a lot of things can happen. A tenant's pet can cause damage to your property or your tenants may lose their source of income and stop paying you at some point. In cases like these, it would be better if you use the services of residential property management that can be of much help. A professional service like this can help you feel relaxed and not in a constant state of worry about your money on the assumption that any unfortunate situation happens.
5.   Prepare Your House
Before you leave your house for future residents you have to make sure that you clear it from any personal belongings and leave only the things you are okay with being used by other people. Make sure your house is sparking clean even if you have to use professional cleaning services. This step is very important especially if you continuously rent so that your new tenants won't feel the presence of previous residents in case they had pets or if you allowed them to smoke.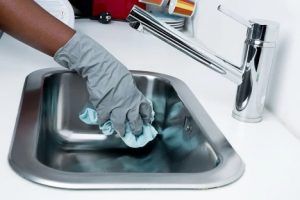 6.   Create A Move-In Checklist
It is very beneficial to have with you a checklist to use on the day you hand over the house to the new residents. This document or checklist can prove helpful in case of any arguments regarding the condition of the house. For example, a tenant might break something and assume you already handed over the house while this item was broken. A checklist signed by both of you will act as proof that you have done your part and handed him a house in a good condition. This also leaves very limited space for manipulation or deceit.
If your mortgage allows you to rent your house, this would be a great way to make money you can save for any purpose or even use it to pay debt. Often when people sell their houses they go put the bulk of money on another house or a luxury car or even a trip that costs a fortune. Renting allows you to keep the asset while receiving an equal sum of money every month that you can depend on to spend or save or even invest. The best thing is if you change your mind about the whole renting issue, you can always move back to your house or sell it after the contract is over. By utilizing the advice provided here, you no longer have to stress about what to do with your aged home.