Having a nice commercial landscape is one way of making your property more welcoming and appealing to potential clients. In some cases, your business location may be the first aspect of your company that clients might see, so you should ensure that it leaves a good impression. After all, people are less likely to work with an establishment whose location doesn't look well taken care of.
Some businesses may be hesitant to have commercial landscaping done, as it seems to be a costly undertaking. However, it's an important aspect of your business and thus one worth investing in. That being said, there are ways to elevate the exterior of your establishment without breaking the bank. In this article, you'll be taken through several tips on how to accomplish budget-friendly commercial landscaping.
Main Considerations
Commercial landscaping is essentially the execution and maintenance of a visually appealing outdoor space for commercial establishments. You could say that it's similar to residential landscaping, except that it doesn't rely on aesthetics alone. Often, businesses will want the exterior of their location to match their image or brand, so much consideration is given to whether the commercial landscape aligns with the business's 'persona.'
Essentially, in working on the landscape of a commercial space, you will have to accomplish the following:
Amplify the beauty of the building.

Create an inviting atmosphere.

Represent business values in the yard design.

Minimize resource use (e.g., water and power).

Integrate proper drainage.

Reduce maintenance costs.
All these tasks may sound like a tall order, but with a few tricks, you can avoid going over your budget.
Commercial Landscaping Ideas That Won't Break The Bank
An attractive façade can do more than just attract clients. It's also known to promote workplace productivity and take care of your employees' well-being. People often feel better about going to work if the place that greets them is pleasing to the eye and has a relaxing atmosphere.
To be able to provide your clients and employees with a good outdoor space while keeping costs down, you may want to consider the following tips.
Though it may be tempting to have exotic plants decorating your space, non-native species may be quite costly to acquire. In addition, they may need extra care and attention, especially if they thrive better in the specific climate and conditions of their place of origin.
On the other hand, using native plant varieties may not require much effort, as they are already in their natural habitat. And, because they're a common find, their prices will be much friendlier for your budget.
Evergreen plants remain lush throughout the year, which makes them the best choice if you'd like a low-maintenance commercial landscape. Instead of using annuals, which may need constant replanting, it would be wiser to opt for perennial plants, as they require less attention.
Besides being a more cost-effective option, evergreen plants can give your establishment a spruced-up look all year round, as they retain their attributes despite weather changes and seasonal cycles.
If you're located someplace that doesn't have too many evergreen options or that has an environment that can sometimes be harsh to plants, you may want to consider using artificial grass Canada and other artificial plants to ensure your establishment has attractive greenery year after year.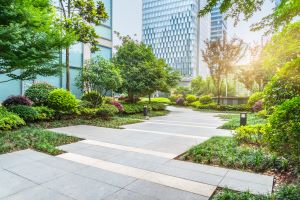 Make Strategic Placements
You don't have to add too many elements to your landscape to make it look more interesting. You can just use what you already have and come up with a good arrangement that brings out the best in those elements.
For example, for a more pleasant and inviting design, you may want to mix delicate plants and hardy species. Place ornamental flowers and greenery in common areas such as entryways and pathways. You may also plant them around the trees in front of the office building to serve as points of interest, or in places that visitors often occupy.
Position more resilient plants in more expansive areas around the outdoor space so you won't have to spend much time and effort maintaining the entire landscape. Consider the colors of the plants as well before you choose them. You may want to have a pop of color in an otherwise monotonous environment, or you could go with a color motif that matches your company's branding.
Besides native perennial plants and evergreen species, you may want to choose plants that are resilient and require low maintenance. These don't necessarily have to be plain-looking. For example, despite their colorful appearance, irises, daylilies, and daisies can survive harsh weather and maintain their bloom all year round. Drought-resistant flowers such as daffodils are viable options too. Plants like these would be a good addition to your landscape, as they require little effort to cultivate and maintain.
Consider Xeriscaping And Hardscaping
Xeriscaping ticks both boxes of low cost and low maintenance. It involves designing landscapes that minimize the use of water for irrigation and plant cultivation. Xeriscaping can be done in many ways, but it often involves highly resilient plants and greenery, as well as the extensive use of mulch, soil, and rocks.
Alternatively, you could consider the somewhat similar practice of hardscaping. In contrast with softscaping, which uses living elements like plants and flowers, hardscaping makes use of objects and man-made materials, such as bricks, stepping stones, and pergolas. These lend more form and structure to your commercial space and require very little maintenance.
Bottom Line
Though it may seem difficult at first, creating a low-cost commercial landscape is not an impossible task. With an eye for beauty, practical instincts, and the tips given above, you can achieve a great design for your landscape without having to stray from your budget.