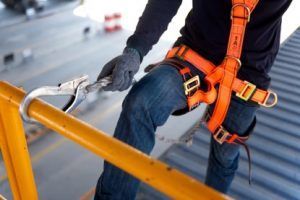 When your staff are working at height, you need to ensure that you have measures in place to keep them safe. Not only will you need to ensure that they are wearing the correct personal protective equipment (PPE) but you will also need to be sure that the machinery they are using is operable. There is a lot that can go wrong with working at heights and as a business owner, you need to ensure that you keep your team protected at all times.
Whether your team members regularly work at heights or you have a scissor lift hire in for just a few days, it is critical that everybody knows what's going on. While the employees operating the machinery and working at a height are naturally at risk, so too are those in the vicinity of the worksite. Items dropped from a height can have a devastating impact if they hit someone on the floor, as they pick up more speed as they fall, causing a lot of potential damage.
Let's take a closer look at a few safety tips that you can use to ensure that your staff is protected when working at heights.
Personal Protective Equipment 
If you are using lifts and hoists at your business location, it's vital that you ensure that your team is wearing the correct personal protective equipment (PPE). High-vis clothing will help to identify people working at a height and also allow them to identify employees moving around below. A hardhat must be work by the operator and anyone in the area and other protective equipment can also be used such as gloves, goggles and earplugs, depending on what work is being completed. 
Make Sure They Are Contactable
When your staff is working at a height, you need to make sure that you can communicate with them easily. For team members working just a few metres off the ground, communicating by talking to one another will be fine. However, if they are on top of the roof or working with a lift, it can be difficult to communicate by shouting at each other, especially with all of the other noise at your premises. In this case, a two-way radio is advised so that there is always a clean line of communication between those on the job and those at the base. 
Section Off The Work Area
To prevent injuries to your other employees or visitors from falling objects or machinery, you must section off the area that is being worked in. Using cones and brightly colored tape, you should create a barrier around the base of the equipment. While this should be enough to deter anyone from coming any closer, it's always a good idea to have the on-the-ground team member keep an eye on the barrier just in case there are any issues that could jeopardize the safety of your team. 
Keep Staff And Visitors Informed
Be sure to tell your staff in advance that there will be a team working from a height on a particular day, during a certain timeframe. This will give your staff enough notice so that they can retrieve anything that they might need in advance from the affected area, minimising disruption to the people working at a height. With everyone n the same page, you can be sure that the work will go as smoothly as possible.
Keep Your Team Safe And Protected At All Times
As a business owner, it's your responsibility to provide a safe, comfortable working environment for your team. Keeping your team safe and protected when they are working from a height, is even more important, as the risks are greater and there is more potential for something to go wrong. However, with the right protocols ad safety measures in place, you can b sure that your workers will always be safe and protected.