A roof is one of the essential elements of the house's exterior since it boosts the house's attractiveness and safeguards the entire home. Hence you need routine modifications to ensure it plays these roles. No matter how well you maintain your roof, there are times you will need to re-roof the entire hose. This arises due to roof destruction, house redecoration, etc.  
If you plan to re-roof the house, you need contractors to help with the critical areas. You also need to understand essential considerations to ensure you have the best roofing. Here are some considerations to help you re-roof the house efficiently. 
1. Cost consideration 
You need to consider the cost involved in the re-roofing. The main costs include labor for removing, repairing damages, and replacing the roofing sheets. Consider the costs of the materials, such as adhesives and roofing sheets. When selecting adhesives, you also need to select the best release liner to help you seal the adhesive materials, membranes, and layers. The best release liners should be siliconized to comply with roofing standards and regulations. Select those with temperature-resistant capabilities to withstand extreme heating and colds.  
 You can limit yourself to your budget but ensure you select the most sustainable and durable option. You also need other possible costs, such as gutters, insulation, and possible replacements and repairs to the walls to match the roofing. Consider other fees such as permit fees, clean-up, and disposal. 
2.The roofing upgrade materials 
When you remove the old roof, you should replace it with a modern and attractive design. One reason to re-roof is due to durability issues; therefore, you should consider one that will be more durable than the current or previous ones. The second reason for new roofing is the desire to have an attractive house and design. Here are some common roof materials and choices to consider if you plan to re-roof. 
Asphalt composite shingles

 
These roofs have been on the market for a while and are amongst some of the oldest roofing techniques. They are affordable and readily available hence suitable for budget re-roofing needs. However, if you need to boost the house's attractiveness, they are not the most ideal. The flat design makes them look ordinary with no contributions to appearance.  
These are some of the ideal roofing for areas that experience high temperatures and are vulnerable to fires. They can also help with the cooling needs due to their low heat conductivity. They are expensive but last longer than most options.  
Metal roofs are made of aluminum or steel; the choice will depend on your budget and other needs. They are the most durable roofing and can withstand disasters such as fires. They are expensive to acquire, and you also need expert help to install them. In the long run, they are the most cost-effective roofing you need. They are also available in different choices, such as raised-seam panels. 
These are high-end roofing options for re-roofing to boost the house's beauty and appearance. They are expensive, heavy, and durable. They are also difficult to handle. Thus, repairs and replacement can be challenging.  
If you love sustainability, concerned with environmental preservation and recycling, this is the best choice for you. The roofs consist mainly of composite and recycled items. They are much lighter and durable hence the best choice for low-budget re-roofing. 
If you want a house to retain ancient and contemporary looks, you can sider these red tiles. They are suitable for Spanish, Greek, and ancient design homes.  
3. The environmental factors 
While replacing the roofing, you need to consider the environmental factors, their impacts on the lifespan, and how well it helps you manage other needs such as cooling and heating. Roofing sheets can help you with cooling and heating needs; hence, when you live in extremely cold or hot areas, you should buy such roofs.  
You should also consider other vulnerabilities, such as fires and storms. In stormy areas, buy heavy sheets to withstand the power of the winds. In fire-prone areas, consider metallic options that can withstand fires. 
4. Install a chimney cap 
You need to design a means to install roofing chimneys and caps without affecting the roof designs. Ensure you select chimney designs and features that resemble the roof. You must ensure the chimney cap is air-tight to prevent rusting or the roof's vulnerability to storms and winds that may blow off the roof. It also helps keep your house warm in cold weather. 
When you plan to install other facilities, such as solar panels, you must create a central location to allow access to the sun. For this, you must select the roofs suitable for solar installation.  
If you love collecting rainwater for lawn and kitchen gardens, select the roof that maximizes water collection. Metal sheets can be suitable for areas with low amounts of rainfall since they have a continuous structure and are ideal for water collection. You also need to select the best gutter systems for these sheets.  
5. Roof ventilation 
When you have an attic, you need to work on the best ventilation system to boost lighting and aeration in the attic. The ventilation is also beneficial to cooling your house and the upper rooms. You should consider installing ridge vents and ensure the contractor properly aligns them. You can also consider other ventilation processes, such as windows on attic roofs and soffit vents under the eaves. The ventilation is suitable for drawing cooler air from out into the house while expelling hot air out of the house.  
You can also consider gable vents located at different roof sections and exterior walls' peaks. They are suitable for low roof designs or homes with limited cooling infrastructure. The vents contribute to the home's comfort; hence you must plan for them before you begin the re-roofing process.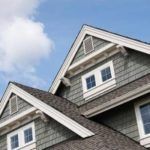 Conclusion 
Before you begin the re-roofing process, you need a plan. The plan should cover all the essential elements for new roofing and other extra needs. You should consider suitable roofing sheets, gutters, and the best ventilation. You also need a budget to guide you in buying the correct elements. Finally, always trust experts to help. 
Links 
https://www.hgtv.com/outdoors/outdoor-remodel/top-6-roofing-materials#:~:text=1%20Asphalt%20Shingles.%20The%20most%20common%20residential%20roofing,texture%20of%20natural%20materials%20like%20slate%20and%20 
https://www.foxriverassociates.com/roofing-release-liners/roofing-release-liners/ 
https://myroofhub.com/materials/roof-vents-attic-ventilation/ 
https://bristileroofing.com.au/guide-to-reroofing/reroofing-consideration/#:~:text=%20Things%20To%20Consider%20When%20Reroofing%20Your%20Home,together%2C%20sarking%2C%20insulation%20and%20ventilation%20can...%20More%20