When creating a luxurious kitchen, one of the most important details is the cabinet. Cabinets set the tone for the whole room and can either make or break the look you're going for. So what sets luxury cabinets apart from the rest?
Installing luxury grey kitchen cabinets can be a great way to add value to your home and make your kitchen look more stylish and modern. But what exactly makes a cabinet look luxurious? This blog post will explore what makes a kitchen cabinet look luxurious.
1. High-Quality Material 
Kitchen cabinets provide storage space and add to the room's overall look and feel. To ensure your kitchen looks luxurious, you must use high-quality materials for your cabinets. Wood is an excellent material for modern grey kitchen cabinets as it can be easily shaped, stained, and painted to create a unique look. It also provides durability and strength so that your cabinets can last many years. Wood adds an elegant touch to any kitchen, making it look luxurious and sophisticated.
2. Color 
The color of your kitchen cabinets can make a massive difference in your kitchen's overall look and feel. A luxurious kitchen cabinet stands out with its rich colors and fine craftsmanship. The right color choice can make all the difference between a regular kitchen cabinet and one that looks like it belongs in a high-end home. To create a luxurious look, black and grey kitchen cabinets are perfect. 
These colors will give your kitchen an elegant, sophisticated vibe that will make it stand out. They are timeless colors that never go out of style and can be easily dressed with different hardware or accessories for a more personalized look. With black or gray kitchen cabinets, you'll have a luxurious-looking kitchen that lasts years.
3. Construction
Quality materials, craftsmanship, and attention to detail are vital in creating a luxurious look for your grey kitchen cabinets. A quality kitchen cabinet is made with a solid construction, meaning the drawer boxes and door frames are solid wood. The cabinet should also have dovetail joinery, which is a type that is stronger and more durable than other types. These components combine to create a stunning look that will last for years. 
4. Soft-Close Doors
Soft-close doors are a crucial feature that makes a kitchen cabinet look luxurious. These doors have a unique mechanism that allows them to close slowly and gently without noise or slamming. This creates an aura of sophistication and luxury in any kitchen and will impress your guests. 
Soft-close doors look great and provide better protection for your blue kitchen cabinets as they keep them from slamming shut. They also help reduce the wear and tear on your blue cabinets' hinges, making them last longer. Investing in soft-close doors is a great way to give your kitchen the luxurious feel it deserves without breaking the bank.
5. Custom Accents
Custom accents are essential to make your black kitchen cabinet look luxurious and inviting. Custom accents can be used to add a touch of elegance and sophistication to your kitchen design. They can also create a unique, personalized look to make your space stand out. 
Custom accents come in various materials, shapes, sizes, and colors and can be used to achieve any desired effect in your kitchen design. From adding texture and color to creating a unique custom design, custom accents will make any kitchen cabinet look luxurious and inviting.
6. Finishes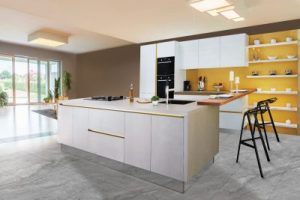 Source: Pexels
Kitchen cabinets are essential to any kitchen; the right finish can make them look luxurious. Many finishes are available for kitchen cabinets, from high-gloss to matte. Each has its unique characteristics that can make your black kitchen look more elegant. The most common type of finish is semi-gloss, which has a satin or glossy finish. High-gloss white cabinets are great for kitchens with an upscale look and can help make your kitchen feel more modern. Matte black kitchen cabinets help to bring out the natural beauty of wood and can also be aesthetically pleasing.
7. Crown Molding
Crown molding is a great way to add elegance and sophistication to blue kitchen cabinets. It can enhance the look of your gray kitchen and make it look luxurious. Crown molding is available in various styles and colors, making it easy to find the perfect one for your home. With crown molding, you can create a timeless look that lasts years. It's an affordable way to upgrade your kitchen cabinets without breaking the bank. So if you're looking for an easy way to add luxury and style to your grey kitchen cabinets, consider adding crown molding!
8. Filler Strips
Filler strips are an essential element in making a kitchen cabinet look luxurious. These thin strips of wood or plastic fill the gaps between cabinets, drawers, and countertops, giving the kitchen a sleek and polished look. Filler strips come in various sizes and materials to match the style of any kitchen. They can create an elegant, contemporary look or add a touch of traditional charm. With filler strips, you can easily make your kitchen look luxurious without spending too much on expensive materials.
9. Lighting
Lighting is an essential element in making a kitchen cabinet look luxurious. Proper lighting can create a warm, inviting atmosphere in the kitchen while providing a touch of elegance and sophistication. Lighting can also be used to highlight certain features in the kitchen, such as countertops, cabinets, and other fixtures. With proper lighting, your gray kitchen cabinets will look stunning and luxurious.
10. Deep Drawers and Pull-Out Shelves
A luxurious kitchen cabinet is a finishing touch to any home. Deep drawers and pull-out shelves can take your kitchen cabinet from ordinary to extraordinary. Deep drawers provide a more organized look and can accommodate larger items such as pots, pans, and baking dishes. Pull-out shelves offer easy access to items stored in the back of the cabinet, making it easier to find what you need quickly. These essential components of a luxurious kitchen cabinet will make your space look stylish and inviting for years to come.
11. Seamless Design
For those looking for a luxurious look in their kitchen, seamless design of a kitchen cabinet is key. Seamless design creates a unified look with no visible lines or gaps between the cabinets and the walls. This creates a modern and sophisticated look that can be achieved with minimal effort and cost. With proper planning and execution, seamless design can make any kitchen cabinet look luxurious.
Conclusion 
A well-built kitchen demands sturdy, high-quality cabinets to make the most of the room's design. Gray cabinet kitchen with a sleek design can look luxurious if made of high-quality materials. Not only do your cabinets need to match your countertops and flooring, but they also need to endure the often brutal wear a kitchen can take throughout its lifetime. Grey kitchen cabinets are famous for luxury kitchens because they create a sophisticated look. If you want to add a touch of luxury to your kitchen, grey kitchen cabinets are a great option.
*Featured Image Source