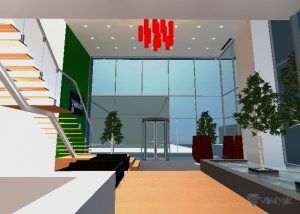 CataList Interactive Catalog is a perfect combination of Visualization, Sustainability rating systems and BIM.
SmartBIM (part of the VIMtrek Group) has launched a unique Virtual Catalog which takes Building Product Manufacturer's existing product images and product information and sets it in a 3D, high fidelity showroom based on the Unity Game Engine. This combination creates a free roam environment where shoppers / specifiers can freely roam around the showroom clicking on objects and pulling up a wealth of augmented data associated to the object such as pricing, color ways, sizing, specifications, options and environment data.
The unique aspect of CataList is that Building product manufactures objects can be set in real buildings such as residential, mixed use, office hospitals or schools, allowing the browser to see the objects in context to their intended final setting.
CataList is an application and device agnostic and is always available so you can place products in the hands of buyers anyplace, anytime and literally anywhere. As part of the experience, users are presented with an index which enables them simply to touch/click on your 3D product in a room setting in order to instantaneously pull up a whole series of augmented data such as your product Information, links to website, cut sheets, ecoScorecard evaluations, and all the BIM embedded information.  
VIMtrek CataList as a standard model runs off PC or Mac, but can also be optimized to run off Samsung Gear headsets for a fully immersive virtual reality experience. 
The AEC industry (architects, engineers, contractors, designers, and building product manufacturers) can now integrate CataList into the ecoScorecard module, which is a web repository database of FREE manufacturer specific micro sites that help architects and designers search, evaluate and document environmental impacts of building products and materials against the leading environmental rating systems such as LEED.
CataList environments start from as little as $7,000 and once created the ecoScorecard platform can be overlaid for FREE for the user and no sign-in is required.  
Within days of launching the platform clients were signing up such as Armstrong World Industries' Ceiling Division and Contrax Furnishings who have commissioned SmartBIM which incorporate over 50 products set in a school and office space environment. 
About VIMtrek
In 2003 Arol Wolford founded SmartBIM, which creates smart data embedded Revit Objects and which is now owned by VIMtrek, which was launched in 2010 and is built on the Unity engine.
The combined suite of products brings stakeholders together from the AEC industry into a 3D, high fidelity and augmented data rich game engine. With enhanced file compression technology, virtual environments can be shared over Internet Protocols, to any device, anytime and anywhere, allowing 2D files to be converted into 3D, free roam environments with the unique attribute of preserving the original Revit data embedded into the Building product manufactures objects. These environments do not require the native Autodesk file and allow all party collaboration, quantity & cost analytics and helps promote green & lean building process.