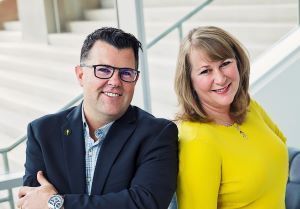 YellowBird, a gig-economy marketplace connecting Environmental, Health, and Safety (EHS) professionals with businesses on-demand, is one of eight companies to make it to the second round of the 'Inno Madness' competition, featuring Arizona's most innovative tech startups. More than 1,400 votes were cast in the bracket-style competition based on which companies they would be most likely to invest in.
The public is encouraged to vote for YellowBird in the second round featured on the AZInno website until March 14. The competition started with a field of 16-companies with a goal to elevate Arizona's startup ecosystem and encourage investment. Winning companies will move onto the next phase until the final winner is chosen on March 29. 
"YellowBird's A.I. driven platform helps companies of all sizes create safer, healthier workplaces for their employees and their customers by matching them with qualified professionals who can be on the job in just one day," said Michael Zalle, CEO and Founder of YellowBird. "Our unique platform empowers EHS professionals in all 50 states by giving them access to good paying jobs that allow them to work on site or remotely, at the hours they choose, on the projects they select, and we believe it's changing the way companies hire."
YellowBird launched in 2019 with a sophisticated artificial intelligence platform and on-demand services that are a game changer in the EHS and tech industries for giving workers better control of when and where they work, while improving efficiencies to save time and money. Companies in insurance, construction, manufacturing, and oil/gas industries turn to YellowBird's deep roster of certified, vetted, and insured professionals who can work at a moment's notice on any size project.
AZInno is the startup and innovation arm of the Phoenix Business Journal, which aims to showcase the breadth and diversity of Arizona's startup scene.
About YellowBird:
YellowBird is a gig economy marketplace that quickly and easily connects Risk Management and Environmental, Health, and Safety Professionals with businesses on-demand. By providing a fast and efficient method for business leaders and skilled professionals willing to connect, YellowBird facilitates the right people, in the right location, with the right experience for the job. Safety has never been so simple! To see more go to www.goYellowBird.com or visit them on Facebook and LinkedIn.