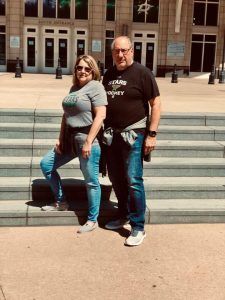 The COO of KCA Development on the soundtrack of his office life, what his father taught him about hard work and what his world will look like post-pandemic. 
What's the most cherished item in your office?
I have so many—from a collection of coffee cups from several companies I worked with to photos of my kids. But a letter I framed from my best friend, Carl Hamaj, which he gave me on my 60th birthday, is the best. We both started working at Ponderosa Steakhouse when we were 16 years old.
What's your favorite time to get things done?
Between 7 a.m. and 9 a.m. It's before the phone starts ringing. I could get more things done in those few hours before critical items hit my desk.
What's the soundtrack that plays in the background of your office?
The Bridge on Sirius Radio.
The band you cannot take off your playlist.
The Eagles, 38 Special and Phil Collins
What does a typical workday look like?
Take the first hours of the day to plan the day and the week.
What's the craziest thing that has ever happened to you on a job site?
Completed a normal eight-week construction timeline in only 28 days—from permit issue to opening. This was to hit the new store openings for the fiscal year reporting.


What are you binge watching right now?
Football.
What's the coolest thing you've done since the pandemic hit?
I opened a consultant development company to support some of my old companies and several new companies.
What has this experience taught you?
Things always change, but a pandemic is very drastic. It has devastated restaurants, retail and office spaces. We're all hoping they get back to normal sometime soon. But things will look different. There will be more home delivery service from both restaurants and retail. Offices will be downsized because more people will be working from home more efficiently. Conference calls, Zoom meetings, etc.
If you knew what was going to happen, what would you have done differently?
Changed the design of all restaurants to include a drive thru, delivery services, pickup areas, etc. Downsize square footage. It is amazing what some chains have done to survive. I have seen up to 24 reserved parking spots for takeout to bundling packaged meals to be made at home. Some included a roll of toilet paper and wine or liquor to mixed drinks. Ghost kitchens. We have to do anything to survive, which includes doing thing outside of the box.


Favorite comfort food.
Mexican food.
Best advice you ever received?
Treat everyone the way you would like to be treated.
Biggest influence in your life?
My Dad. He worked hard. Then when he came home, he would work on the cars and the house, etc. I learned a lot from him. He was my biggest cheerleader.
What trait do you most admire?
Integrity. Always do the right thing.


What advice would you give your younger self?
Things are a lot different nowadays than when I was growing up. Adults would work for one company for years and retire from that company. That rarely happens today. Things change. Companies are bought out and merged. You have to look out for yourself.
What is the first thing you're going to do when you can get back to some sense of normalcy?
Take a vacation to a beach with lots of drinks.