Photo Credit: Sloan
Based in North Carolina, SPC Mechanical has provided HVAC and plumbing services for its customers for over 50 years. So, when it came time to specify products for its own brand-new headquarters, it decided to practice what it preaches and specify Sloan, just as it does for its customers.
Please read the case study below or online to see how Sloan provided touch-free, aesthetically pleasing products that also help to support facility maintenance.
Project: SPC Mechanical Headquarters
Location: Wendell, NC
Founded by Buren Williford and family-owned since 1965, SPC Mechanical provides HVAC and plumbing services for several different markets, including commercial, government, healthcare, and industrial sectors. Backed by its exceptional work and reputation, SPC has steadily expanded over the years into locations throughout North Carolina, including a location in Charlotte.
In September 2019, the company began construction on its brand-new 
headquarters in Wendell, NC

. The 40,000-square-foot building was completed in June 2021 and exclusively features Sloan restroom products. SPC chose Sloan because the SPC team was eager to practice what it preaches, as it specifies Sloan for its own customers. In addition, SPC wanted to stay at the forefront of restroom design, incorporating touch-free, aesthetically pleasing products that also make facility maintenance much easier.
"Sloan is a 10 out of 10," said Addison Powell, project manager, SPC Mechanical. "The service rep team is extremely helpful, and we always get compliments on our fixtures. We are very satisfied with Sloan products."
Look Good, Feel Good
When designing new corporate headquarters, it's important to specify top-notch products and accessories throughout the building, and that includes restrooms. "When we were researching fixtures to put in the SPC headquarters office, we found Sloan products to be of superior quality," Powell said. The new restrooms are headlined by Sloan's DSWD-81000, 82000, and 83000 Designer Series™ Wall-mounted Weir Deck Sinks and EFX-250 BASYS® Battery-powered Deck-mounted Faucets—two products that bring a sleek, modern aesthetic that aligns perfectly with SPC's vision. Visually striking in a quartz desert silver color, these upscale sinks and faucets catch the eye of employees and visitors the moment they enter the restroom. The faucets also are engraved with the SPC Mechanical logo, a unique feature that was a big selling point to the team. "Our customers find that is an impressive touch to detail," Powell said. "When they ask how we came across that feature, we explain that is something Sloan offers, and they can do the same with any company logo."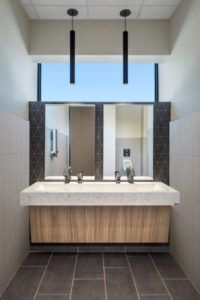 Photo Credit: Sloan
Taking Care of Business
The new restrooms at SPC Mechanical are optimized for more than just the user – Sloan's touch-free restroom products were designed with ease of service as a top priority. For example, the BASYS Faucets feature a variety of components engineered to streamline services, such as automatic shut-off capability, visible diagnostics that indicate the health and status of key components, power options, sleep mode, and much more. Additionally, the SU-7419 Washdown Urinals and ST-2469 Wall-mounted Water Closets are equipped with SloanTec® Hydrophobic Glaze—a unique, proprietary glaze that inhibits the growth of germs and bacteria, making the fixtures easier to clean and keeping them cleaner longer.
Sign of the Times
Given today's heightened awareness around hand hygiene, next-generation restrooms must include touch-free products. Sloan delivered on this front for SPC Mechanical Headquarters by installing contactless CX 8158 Water Closet Flushometers and CX 8198 Urinal Flushometers, as well as hands-free faucets. These flushometers and faucets feature sensor technology that allows the user to eliminate touchpoints where germs can breed. "When we moved in here in June 2021, COVID was still a concern," Powell said, "so it's been really beneficial to have the Sloan touch-free products."