There are many factors that must be considered when designing a new building. Energy efficiency, stunning aesthetics, and top-notch safety are just a few of the primary concerns. 
However, one of the most underrated factors to consider in the modern era is soundproofing. Contemporary buildings must be created to accommodate our highly connected and bustling lifestyles.
Fortunately, there are a plethora of innovative soundproofing options that can help builders along these lines. Keep reading for a detailed breakdown of some of the best soundproofing materials that can help stifle the noise in contemporary buildings!
ICF Framing
ICF (insulated concrete forms) framing provides excellent exterior wall soundproofing due to its double-wythe design and the inherent mass of concrete. The concrete core of ICF walls acts as a natural sound barrier, reducing the impact of exterior noise. Additionally, due to their airtight construction method, ICFs can help block airborne noise more effectively than other framing materials. 
While ICF framing is a great soundproofing choice for projects still in the planning phase, if buildings have recently been constructed, applying ICF framing may not be a practical or cost-effective solution. As an alternative solution for existing structures, a temporary soundproof wall constructed using materials like mass-loaded vinyl or soundproofing blankets can offer substantial noise reduction without permanent modifications to the building's infrastructure.
Acoustic Wall Panels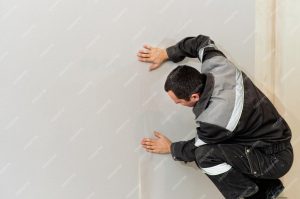 Acoustic wall panels, also known as sound-absorbing panels, are an effective solution for those looking to reduce unwanted noise in their homes, offices, or commercial spaces. These panels are designed to absorb sound waves, preventing them from bouncing off hard surfaces and creating echoes. By installing acoustic panels for walls, you can create a more peaceful and productive environment, free from the distractions of outside noise.
Acoustic wall panels come in a variety of materials, including foam, fiberglass, and fabric-wrapped panels. Each material offers its unique benefits, and the best choice for your needs will depend on your specific requirements. Foam panels are a cost-effective option and are easy to install, while fiberglass panels provide excellent sound absorption across a wide range of frequencies. Fabric-wrapped panels offer a more aesthetically pleasing option, with a range of colors and designs to complement your interior decor.
One of the key benefits of acoustic wall panels is their versatility. They can be used in a variety of settings, including home theaters, recording studios, conference rooms, and even open-plan offices. By strategically placing acoustic panels in areas where sound reflection is a problem, you can significantly improve the acoustics of your space, enhancing speech clarity and reducing reverberation.
Spray Foam Insulation
Soundproofing is an essential aspect of any building, especially in prefabricated metal buildings where noise can be amplified due to the sound transmitting properties of steel. As a result, spray foam insulation has emerged as a game-changer in the world of soundproofing, offering a combination of effective noise reduction and energy efficiency.
Spray foam insulation is a two-component liquid that expands to fill and seal gaps, creating an airtight barrier that prevents sound transmission. It adheres to surfaces, providing a seamless insulation layer that effectively blocks sound waves. This makes it an ideal solution for prefabricated metal buildings, where it can be applied to walls, roofs, and floors to create a quieter and more comfortable environment.
One significant advantage of spray foam insulation is its ability to reduce both airborne and structure-borne noise. It absorbs sound waves, reducing reverberation and echo within the building. Additionally, it fills cracks and gaps, preventing sound from traveling through the structure.
Cork Floors
Cork floors are a highly effective soundproofing material due to their unique cellular structure. Cork cells contain suberin and lignin, which act as natural sound absorbers, effectively reducing impact and airborne noise. Cork floors also possess vibration dampening properties, further contributing to their soundproofing capabilities. 
Additionally, cork's elastic nature offers exceptional shock absorption, making it ideal for high-traffic areas where noise reduction is a priority. Installing cork floors can significantly enhance the overall acoustic comfort of a space, creating a quieter and more conducive environment.
Window Trim, Shutters, and Treatments
Effective soundproofing measures can be achieved by addressing window trim, shutters, and treatments. Trim can be installed to create a more airtight seal between windows and their frames, dampening any sound that may have been transferred through small cracks. Shutters provide additional soundproofing, especially when closed during periods of intense noise. Finally, heavy-duty window treatments such as thick curtains can absorb and diffuse sound, especially high-pitched noises like traffic or construction.
Go the Extra Mile With Soundproofing Materials
Despite the myriad concerns of modern homes and commercial facilities, one factor that cannot be overlooked is sound control. Through the careful selection of the right soundproofing materials, builders and architects can ensure that their structures are as tranquil as possible to accommodate increasingly connected lifestyles. For more of the latest construction resources on the web, explore the materials at Commercial Construction & Renovation for the latest ideas and insights in the industry!