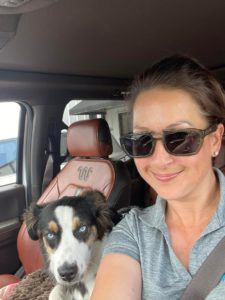 The VP of Business Development for Triad Retail Construction on her favorite time to get things done, why the "Golf Channel" is the perfect background noise, and why if it's rock n roll, it has to be the Rolling Stones.
What's the most cherished item in your office?
My dog, Doc Holiday.
What's your favorite time to get things done?
First thing in the morning.
What's the soundtrack that plays in the background of your office?
The "Golf Channel" is usually on, but I just like glancing at the highlights. I do not normally have music on.
Name the band you cannot take off your playlist.
I love old classic rock like the Rolling Stones.

What does a typical workday look like?
It's a mix of sales tasks, employee management and strategic discussions.
What are you binge watching right now?
Recently enjoyed "Game of Thrones." Yes, I know, I'm years behind.
What's the coolest thing you've done since the pandemic hit?
I recently went to Nantucket, Martha's Vineyard and Falmouth, Massachusetts. What a beautiful part of the country to visit in June. This is especially true when you live in southeast Texas.

What has this experience taught you?
To do what you love and do it as often as possible. In my case, I need to travel to more desitnation that I have never visited.
Favorite comfort food.
Italian of any kind with a nice red.
Best advice you ever received?
Tackle the item on your to-do list that will have the greatest impact.
Biggest influence in your life?
My father. He still suffers today with PTSD from Vietnam, but worked hard to raise and provide for me and my sister.

What trait do you most admire?
Tenacity.
What advice would you give your younger self?
Always do what you believe is the right thing to do, even when no one is watching.
What's the first thing you are going to do when you are able to get back to some sense of normalcy?
Travel to Greece or Italy.