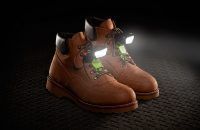 Night Tech Gear, creators of the world's first industrial shoe lighting system, recently announced the launch of Night Shift Shoe Lights. The Night Shift Shoe Lights are the latest addition to the Night Tech Gear product line, designed to help workers identify potential hazards and reduce workplace falls.
Night Shift Shoe Lights are worn on shoes or boots and are for the rigors of industrial use. They provide hands-free lighting in low-light work environments with 400 lumens of LED lights that deliver 90 meters of forward beam and visibility from all sides to prevent workplace accidents, lost productivity and employer liability.
More information at  https://www.nighttechgear.com.