Opened in the 1980s, 4890-4898 Taschereau Boulevard is a busy, multi-tenant retail building located in Greenfield Park, Quebec. The two-floor, 36,984 sq. ft. building houses reputable tenants such as Baton Rouge, Neuro Rive-Sud and Vimat – all well-known brands in Quebec. It is owned and operated by BTB REIT, a real estate investment trust that owns 70 commercial, office and industrial properties in eastern Canada. 
BTB is renowned for its focus on providing comfort and safety in a well-maintained environment for its tenants and customers. To this end, the property manager understands the importance of an exterior that is well illuminated in the evening, providing visibility and a sense of security for all of its building's tenants and visitors.
The company also takes sustainability seriously and actively seeks ways of reducing energy consumption. Converting older, energy sapping lighting to more modern and efficient LED alternatives is one way BTB is achieving this.
When it came to refreshing the 4890-4898 Taschereau Boulevard parking lot and signage, BTB recognised an opportunity for a win-win scenario by replacing aging high pressure sodium and metal halide lighting with energy efficient and modern LED lighting fixtures. Not only does the upgrade look great, it saves energy and dollars for BTB.
BTB selected Concept Illumination as its lighting partner. Tasked with revitalizing the building's exterior, the lighting solutions provider set about assessing the site and worked through the whole project with BTB, from A-Z.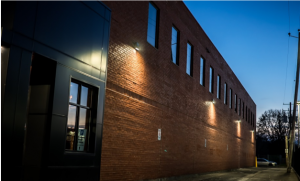 Concept Illumination evaluated the site, selected the products and hardware, conducted photometric analysis, completed energy saving calculations and installed all of the fixtures. The renovation project was completed in September 2017.
The renovation included pole mounted parking lot lighting, for general illumination of the exterior area improving security and the aesthetic. Seventeen 400W fixtures - a mix of high pressure sodium and metal halide - were replaced one-for-one with 160W LED fixtures. Concept Illumination also replaced a damaged pole and repaired a base, as well as painted all existing poles black and all bases yellow.
Wall packs around the building's exterior walls were also replaced. Again, there was a mix of high pressure sodium and metal halide fixtures. Ten 175W wall packs were replaced by the same number of 50W LED products and a further two 400W HPS fixtures were removed in favour of 80W LED equivalents to reduce energy while improving security.
Finally, one of the most visible aspects of the building's exterior – the pylon sign – was illuminated by twenty 96W, 8ft, T12 fluorescent tubes. These were exchanged with twenty 48W double sided LED lightbars. The fluorescent ballasts were also replaced with ten LED drivers.

"With both the parking lot and the exterior wall packs, the white of the metal halide competed with the orange colour of the high pressure sodium resulting in a patchy, unbalanced appearance," says Daniel Herz, who headed up the project for Concept Illumination. "When we replaced them with the newer LED fixtures, we were able to achieve a much more even 4000K illumination, which greatly improved the aesthetics."
The savings are expected to be significant. After replacing the old fixtures with the new LED fixtures, it is estimated that the building will realise a 68% reduction in energy use from the lighting – a reduction from ~59,000 kWh to ~19,000 kWh. All of the new lighting products have a ten-year warranty.
"Our intent was to save on energy costs while improving the aesthetic of the property," says Madeleine-Jane Brammer Lavoie, Property Manager and Sustainability Officer for BTB. "We are very satisfied with the significant savings and the final appearance."