Regardless of whether you're a seasoned event planner or a novice to the event industry, certain expectations need to be met to run a successful and safe event. One of the main components present for a professional event is security. Though you may think you won't need to implement security measures, this is a crucial step to ensure your event attendees are well protected. If you have an event looming on the horizon, selecting the right security measures to put in place should be done well in advance. Having trouble deciding which companies or measures are right for your purposes? Read on to learn how to pick the right security for your next event.
Gauge Event Size
The first step to accurately assessing your security needs is gauging the size of your event. Having a good idea of how many guests or vendors will be attending is essential to any security planning. Overall event size will dictate the number of security personnel required to properly staff your venue and might influence which company you go with. The size of the venue is also important to take into account, as this will impact the traffic and flow of your attendees. Venue size will also change where entrances and exits should be located.
Assess Risk Factors
Based on the type of event you are planning, the risk factor can increase or decrease significantly. Attendee risk is an essential metric to assess because it may be the difference between a non-problematic event, and an event rife with complication. Though it is impossible to ascertain how risky each guest will personally be, there are some clear markers to look for. For example, if you hire a controversial speaker or artist to speak or perform, the potential for event disturbance is substantially higher. The same thing can be said for highly influential or famous individuals. Substances are also something that should be considered. If the majority of your attendees will be consuming alcoholic beverages, it is a good idea to beef up your security.
Check Qualifications
One of the most important criteria for picking event security is evaluating qualifications. You'll want to look for a private company that has been in business for a long time and has experience working a plethora of events. Reputable companies like Cutty Protection will offer individuals up-to-date security licenses as well as first aid certifications. This is important for liability reasons, regardless of the type of event you are putting on. In a nutshell, the security you select should be able to deal with a variety of different security scenarios.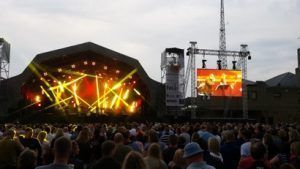 Know Your Venue
Having an iron-clad knowledge of your venue is non-negotiable when looking to hire security for an event. This is on account of several things. For starters, an outdoor versus indoor venue will pose significantly more problems. Without well-defined entrance and exit points, outdoor events are much harder to contain. As such, it is a good idea to work with a security team to set up multiple checkpoints and clarify a perimeter. If your event is indoors, there are an entirely different set of challenges. Ensure you know which areas or floors are zoned for your event, and work with your security to highlight and protect things such as stairwells and elevators.
Constant Communication
Effective and timely communication is highly regarded in the security industry for a reason. With so many moving parts and people, being able to get in contact with your security detail in an instant is an absolute must. Not only that but keeping in constant communication is important for effective cooperation in identifying and dealing with threats as they arise. Seamlessly integrating security into your event will increase protection while simultaneously decreasing any chance of significant disruptions. The best security is one that doesn't detract from the event.
Planning an event is stressful enough without having to worry about the safety of your guests. Hiring security professionals can relieve an unnecessary burden on you while decreasing the risk inherent in events of any size. By calculating the scale, attendance, and risk potential you pave the way to make a well-fitting decision. Furthermore, being aware of the necessary credentials and qualifications needed from a security company will help inform your choices. Ultimately, if you have mapped the venue, have an idea of what you want, and select a security service with excellent client communication, there should be no reason for concern. The tough part is making the best security decision for your needs, the rest is up to you! With security off your mind, you can focus on crafting the best possible experience for your guests.