Maintaining a clean and well-organized house can be quite a challenge, especially when you have a busy lifestyle. It takes time, effort, and dedication to keep your home in good shape - however, it is all worth it in the end. With just a few simple tips and tricks, your house will look like new every day! Whether you're looking for ways to spruce up an old home or simply want some tips on how to maintain your living space more efficiently, read on for great ideas about how to keep your house in good shape!
1. Start From The Roof Down
Check your roof for any damage or wear and tear. You should also inspect all windows and doors, ensuring that they're properly sealed to keep out drafts. Pay attention to the condition of the siding and paint, making sure it isn't cracked or chipped. Hiring a commercial roofing service can give you a headstart for your renovation efforts because professionals will be able to better identify potential issues. For example, they can spot missing shingles or damaged flashing before it becomes a major repair.
2. Clean Often and Thoroughly
Keeping a clean house is essential for maintaining good health, as dirt and dust can easily accumulate if left unchecked. Make sure to regularly vacuum carpets, mop floors, and dust surfaces such as shelves or furniture. Don't forget to tidy up after yourself too! Even the smallest mess can cause bigger problems down the line if not taken care of right away. Additionally, it's important to deep-clean your home once in a while. Move around furniture and appliances to really get in all those hard-to-reach places that often go unnoticed during regular cleaning sessions. And if you don't have the time or energy to do this yourself, it never hurts to hire a professional cleaner once in a while. 
3. Make Your Home Greener
Adding plants or flowers can give your home an extra boost of life and color. Not only that, but these additions also help improve air quality in your home by filtering out toxins through a process called phytoremediation. Additionally, using energy-saving appliances and lightbulbs can significantly reduce your carbon footprint while also keeping electricity costs down in the long run. In some cases, you may even be eligible for tax credits or rebates if you install energy-saving appliances. Solar panels are also a great way to reduce your energy bills, although they involve a bit of an upfront cost. 
4. Declutter and Organize
Taking some time to declutter can be beneficial for both physical and mental health! Clearing out old belongings that you no longer need or have space for will help create a sense of peace in your home. It's best to tackle one room at a time so that you don't feel overwhelmed with the task ahead. Investing in storage items such as boxes, bins, or shelves is also helpful if you're looking to organize small items like books, paperwork, or knick-knacks. 
5. Keep Up With Repairs and Maintenance
Simple maintenance tasks such as checking smoke detectors, changing HVAC filters, or cleaning out gutters should be done regularly to ensure that your home's systems are functioning correctly and safely. Additionally, it's a good idea to keep up with any necessary repairs in order to prevent bigger issues from arising in the future. That way, you can save yourself from having to deal with costly repairs down the line. Every month or so, try to assess your home and make note of any tasks that need to be completed. 
6. Add Some Personal Touches
Your home is your personal sanctuary, so why not add some touches that reflect your personality? Whether it's a few pieces of artwork or a comfy throw blanket, small accents can go a long way in making your space feel more like yours. You could also opt for DIY projects such as painting furniture or creating wall decorations with old photographs. Adding personalized elements to your home will help make it more inviting and enjoyable to be in. And when you're done, you'll have a place that you can proudly call your own.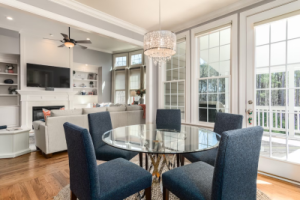 By following these tips, you can ensure that your house is always in tip-top condition! Taking the time to keep on top of repairs and maintenance will pay off in the long run, as it could save you from having to deal with bigger problems down the line. And by investing in some simple cleaning supplies and organizational items, you'll be well on your way to a cleaner and more organized living space - one that you can truly call home.