When someone says, "I have a roof over my head," they usually mean they own a home. Hence, the roof appears to be a significant part of any building. However, it is necessary that a house has a roof. Considering the importance of a roof to a building's integrity, its quality and durability are inherently critical. This article will help you understand what qualities a good roof should have and what steps you can take to install one that is durable and long-lasting in your own home.
The Importance of Having a Strong Roof Structure
Keeping occupants dry and safe from harsh weather is, of course, the fundamental function of a roof. Roofing material is designed to withstand the elements, from winter snow and ice to scorching summer heat. Although those mentioned above are some of the most apparent benefits a roof may provide a homeowner, this is by no means an exhaustive list.
The benefits offered by a solid roof are an essential aspect of any home. Regardless of how strong and well-structured the walls are, without a strong roof, the house is likely to collapse or, at the very least, become weak. The roof's weight provides the walls with the necessary coverage to ensure durability.
Parts of A Roof Responsible For Strength
While every part of a roof is beneficial and purposeful for the entire structure to have an appealing aesthetic effect and structural durability, the following three are undoubtedly the most essential. Without them, the roof is likely to topple over.
Roof Decking
The roof decking is one of the first parts of a roof that is critical and invaluable for the structure. The roof decking connects the roof to the general structure of the house and the walls. This part ensures that the roof is firmly fitted on the house such that even strong winds and harsh elements would not pull it over.
Roof Rafter
An additional crucial component of any roof is the rafters. You may have seen a beam extending from one roof's end to the other. In roofing, these beams are called rafters. Beams may be built of wood, typical of many single-story homes, or metal, as is often the case with high-rises and other structures with many stories. The rafters hold up the whole roof, ensuring its stability.
Collar and Rafter Ties
Both collar and rafter ties contribute to the robustness and steadiness of roofs. Collar ties, typically located at the highest third of a roof, prevent the roof from being blown off by heavy winds. However, rafter ties play a crucial role in keeping heavy roofing materials in place, which is particularly important in older houses. They are usually attached straight to the walls and go along the lowest parts of the roof.
Tips For Keeping Roofs Strong And Durable
Planning in Construction
It is increasingly important to make a complete design and planning structure before hurrying into building the roof. Just as crucial as putting up a roof is the preparation work that goes into it. That is to say, if you build a roof with proper preparation, it won't be better than it might be and endure as long as you want it to.
Choice of Materials
Taking note of the material utilized for the primary roofing structures will help create a sturdy and long-lasting roof. While it might save you money in the short term, settling for subpar materials is not an option during construction. However, you will suffer many losses and expenses in the long term. Why? Because the employment of such low-quality materials will drastically shorten a roof's life. Using the best possible roofing material from the start can help reduce the frequency of roof repairs.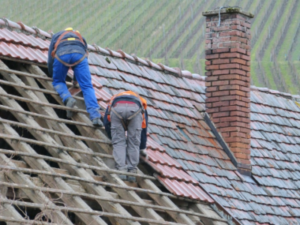 Ask The Experts
Always use reputable roof manufacturers. If you want a strong and long-lasting roof, only consult with professionals. A professional will be able to evaluate the structure of your house, consider how the walls have been built and what roof design can work with them, and advise you on the materials to use for roofing. A professional would likely cost more than an ordinary roof consultant. However, it is better to incur many costs in the beginning than to spend a lot of money afterward on repairs.
Clean It Up
If you want your roof to last for a long time and look good while doing it, it is essential to keep the gutters and other parts clean. Leaves, dust, and small rocks may fall onto your roof, particularly during windy weather. These factors endanger the security of the roof. For this reason, you should schedule routine maintenance on the roof and gutters. However, make sure you never utilize powered equipment while clearing the roof. A roof will be damaged if they are used. It would be advantageous to sweep out the gutters using a long broom.
Last Words
Even though building the roof with critical attention to the details highlighted above will give you an advantage in producing a sturdy and long-lasting roof from the beginning, you still need to take care of your roof on a routine basis if you want it to endure longer and provide you with superior service. You may take care of the roof of your home by giving it a thorough cleaning consistently, maintaining any moveable elements, and avoiding redecorating and reconstruction, all of which have the potential to affect the structural integrity of the building.
If you wish to make any changes to your roof, it would be suitable for you to seek the help of the people you engaged in building the roof in the beginning. These individuals are already familiar with the complexities that are associated with the roof. Keep in mind that the quality of the roof will primarily determine the longevity of your home that it has. If your roof is built effectively, it will surely be sturdy and long-lasting, just as you would want it to be.