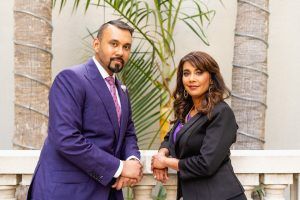 Founders Dr. Kalpana Sundar and Slade Sundar built Kalvera Skin Therapy under the premise that beauty should be unbound from the expectations and insecurities the beauty industry has put upon people. The sister and brother team believe that everyone is beautiful when they have healthy skin and a healthy attitude toward themselves.
Through Kalvera Skin Therapy, their goal continues to help everyday people find confidence in their own skin via clean products and high-tech treatments that are medically effective at restoring their skin's health.
An entrepreneur, speaker and board certified physician, Dr. Kalpana has spent the past 20-plus years extolling the philosophy that true beauty comes from within. A cancer survivor, her journey sparked the investigation into cancer-causing chemicals in products we rely on daily, starting with our skin. She eventually found that products from well-known brands were full of chemicals linked to cancer and that most mainstream brands are not transparent about their ingredients, or who is really behind their companies.
As a seasoned entrepreneur, Slade is an advocate for under-represented entrepreneurs (women, people of color, and LGBTQ+). Like his sister, he is a cancer survivor who is passionate about people being confident in their own skins and defining their own beauty in life. Prior to co-founding Kalvera, Slade spent more than 20 years in startup leadership roles in marketing, HR, operations, strategy, sales, software and product development.
Together, they are moving the Kalvera Skin Therapy mission forward. To get a feel for their plans and mission statement, we sat down with Dr. Kalpana Sundar and Slade Sundar.

Give us a snapshot of the brand?
Dr. Kalpana: We often say we're in the confidence business. We create confidence through skin health. Kalvera takes a data-driven, tech-infused approach to skincare, using data to assess the skin, providing customized med-tech facials and physician-formulated products to get your skin to its healthiest, most beautiful state. Our mission is to help people embrace their whole selves by making everyone more comfortable in their skin.
Slade: A big focus of the brand is on long-term skin health and non-comparative beauty. Kalvera celebrates each individual's beauty and empowers them to heal their skin—and more importantly, their self-confidence—instead of covering up their skin or who they are as a person to please society. We embrace the beauty of each person as art, and we discourage people from comparing their beauty to the beauty of others.
What type of consumers are you targeting? What are they looking for?
Dr. Kalpana: Our customers are the types of people who want their skin to reflect who they are on the inside. People who want to see their most authentic and healthy selves in the mirror. People who don't want to be defined by their age. People who not only want to see results, but also want to track the progress of their skin's health.
Slade: We are also for anyone who has been confused or frustrated by the overwhelming amount of conflicting skincare information found online. Selecting skincare products is confusing, and most standard "fluff and buff" facials from skin spas feel nice, but do very little to heal the ongoing environmental damage to the skin. There's usually no way to track the progress of your skin except by looking in the mirror.
Kalvera is different because we use data from the skin scan to monitor a client's progress every time they come in. We use skin scan data to personalize each client's regimen on an ongoing basis since many factors can affect the skin's health throughout the year such as the weather, stress and dietary habits.
What kind of adjustments have you made to cater to your customers in this new landscape?
Dr. Kalpana: Since we created a skin-health company, we were already prepared for COVID using medical-grade disinfectants, wearing masks and wiping down surfaces were part of our protocols even before the pandemic. We have shifted to being appointment-only to enforce social distancing, and have ramped up our ability to fulfill and ship our Kalvera skincare products.

How does the overall design of your facility cater to what today's consumers are looking for?
Dr. Kalpana: Kalvera's design plays a big part in creating an exclusive, yet inviting atmosphere. We've mixed design elements of a VIP lounge and an art gallery—which is in stark contrast to most skin spas that usually have a bohemian theme or med spas that are either overly opulent with marble columns and gold, or cold and clinical.
Slade: Our clients are looking for a community, an experience and, most of all, effective results for their skin health. Our location design reflects both an inviting fun space and expertise in skin health. We want people to feel welcomed and part of a community where they are beautiful, and prove to them that they are the star of their own life. We display art with themes of empowerment for people of color and women, and our space is designed to feel upbeat and trendy like an upscale Miami lounge where anyone who cares about skin health is welcome.
What is your short-term strategy? Long-term?
Slade: Our short-term strategy is to build a local community around skin health and empowerment and expand that community into local partnerships to work with other women-owned and BIPOC-owned businesses. We are planning a series of workshops (socially distanced and virtual) that cater to women and BIPOC entrepreneurs starting late 2021.
Dr. Kalpana: Our long-term strategy is to franchise Kalvera locations to other physicians across the US. We want each location to be owned and operated by physicians to uphold the safety of our clients and our physician-created skin health approach as we expand across the country.
Walk us through how and why your location is designed the way it is?
Slade: My sister and I spent a lot of time thinking about the way the space would be designed. The design of the spa is a mixture of form and function. We had to ensure we were making the space efficient, but it also needed to feel open and inviting.
We hired the architects at Interplan LLC because executing the vision in our heads was going to be a huge challenge, and we needed architects that could really help us visualize the end result. We had to achieve our vision with a relatively small budget, and the design had to be repeatable and extensible enough that we could use it as a template to franchise in the future.

Our concept for the space blended the idea of a modern art gallery with an aesthetic spa and a community space. We also were limited by minimal square footage and minimal ceiling heights—but we needed to fit eight treatment rooms, a large comfortable retail area, two bathrooms, an office, storage and the kicker: We wanted the space to have the flexibility to convert the retail space into an after-hours event space for seminars.
Dr. Kalpana: We also needed to make sure that clients could enter and exit without feeling like they were physically bumping into other people, which is especially important in a post-COVID world. We didn't have a back door in the space we were building in, so we designed the space with a single-direction flow. Clients coming in throughout the day are able to continuously circulate through the treatment areas and retail area without any bottlenecks. The design principles come from art museums that generally provide a one-direction flow. Each client will enter and exit through the gift shop, aka, our retail/lobby area.
Slade: With any brick and mortar location, you have to provide phenomenal service to your customers: a premium "must-have" experience. But that alone isn't enough to draw in and retain customers. Now more than ever, you have to create a "must-visit" destination. And that's the vision we had in our heads. Interplan really came through, bringing the vision to life with an efficient, beautiful layout that is repeatable for franchisees.
"Our concept for the space blended the idea of a modern art gallery with an aesthetic spa and a community space." — Slade Sundar
Give us a rundown of your market's layout.
Dr. Kalpana: Our market is complex, as there are traditional skin spas that offer manual "fluff and buff" facials, as well as medical spas that offer a mixed-bag of medically effective treatments from skincare to body sculpting in a clinical setting. Both are confusing to the average person and miss the mark in a few ways when it comes to long-term skin health, so we wanted Kalvera to solve that.
The big problem with medical spas is that they typically only cater to a much older audience and have a big focus on injectables. In the minds of anyone under 35, a medical spa is where "old" people go to get Botox. Most are run by male doctors who spend their marketing dollars on making women feel bad about themselves so they will spend more on Botox. They never really focus on prevention.
Slade: The other end of the skincare spectrum is skin spas or facial bars. These are where you go in for a "relaxing facial" and you have an esthetician rub products on your face manually. These are minimally effective, and most of what they rub on your skin, stays on top of your skin, and the nutrients aren't absorbed. They are better than nothing, but if you're serious about reversing something like consistent sun damage, they aren't going to do much. That's why our approach is to use treatments like our Dermafacial, which includes a med-tech device that exfoliates, extracts pores and infuses nutrients into the skin.
What's the biggest issue today related to the construction side of the business?
Slade: The largest challenges that the construction industry faces right now, and what we faced when we started building in mid 2020, are definitely COVID-related. The worst effect is the long lead times on construction materials and components, and with city government staff not having a consistent way of dealing with inspections and approvals because everything was constantly changing during the time we were building.
We were lucky to engage with a forward-thinking construction company, J. Lane Construction. How they worked around this issue was by leveraging relationships, planning ahead with project management software, posting daily reports showing project status/delays/photos/etc., and even just regular old group calls hosted weekly that ensured we were ahead of the issues as much as possible.
They were our eyes and ears and hands, and were able to leverage relationships to minimize our construction delays. We were delayed by three months due to COVID, but it could have been much worse without the quick actions of the J. Lane team.
________________________________________________________
Story by Michael J. Pallerino, editor of Commercial Construction & Renovation magazine. Over the past 30-plus years, he has won numerous awards, including the "Jesse H. Neal Editorial Achievement Award," recognized as the Pulitzer Prize for business-to-business magazines. He can be reached at mikep@ccr-mag.com.
One-on-One with... Dr. Kalpana Sundar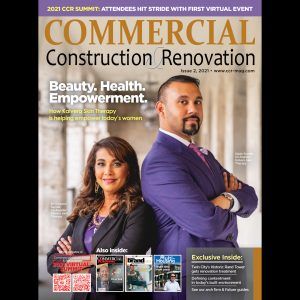 Describe a typical day at Kalvera.
My day is split between seeing clients at the location and being involved in the Jacksonville and Jax Beach community. I make it a point to meet small businesses in the community and see how we can support each other by forming partnerships with other women-owned or BIPOC-owned businesses.
What's the most rewarding part of your job?
When clients walk out with a big smile on their faces and they feel good about themselves, their energy has shifted and their outlook for the day has improved. Once people feel better about themselves, everything is possible. When people look in the mirror and like what they see, it makes dealing with everything the world throws at you a little easier.
Best advice you ever received?
You'll never work a day in your life if you do what you love and if you enjoy the people you work with. That's something I take to heart and can definitely say is true with Kalvera.
Best thing a client ever said to you?
When people look in the mirror and say, "Wow, I didn't think it was possible for me to look this great without surgery." I feel rewarded by having the opportunity to educate people about skin health, restoring the skin's natural defenses, and helping people see the results they can experience without pursuing invasive, aggressive measures like surgery.
How do you like to spend your downtime?
There's not a lot of downtime when starting a new business, but I'm someone who always likes to stay busy regardless. When I do have downtime from Kalvera, I'm writing music, at the race track, playing with my dog, or kickboxing and traveling.