A water heating system consumes about 18% of the total energy bill in your home, and the expense is a bit high. We use hot water for various purposes like showering, laundry, and cleaning dishes. This means that hot water is an indispensable component in our homes.
The good news is that there are different options available that can help to save energy. Read on to learn the energy-efficient and compact solutions for your water heating installation at home.
Lower the Thermostat
If you have an old water heating system in your home, it is essential to lower the thermostat to about 120°F. Originally, the manufacturers of water heaters set thermostats at 140°F, but it is unlikely that you will observe a big temperature difference when you adjust the heat level. A small decrease in temperature can go a long way in reducing electric costs. Lower water temperatures also help reduce scalding and slow the buildup of minerals and other elements like corrosion in the pipes and heater.
Buy a New Water Heater
When you have an old water heater, it is a good idea to replace it with an energy-efficient model. When you decide to install a new water heating, there are different things that you should consider. You need to determine the amount of hot water you require for your household needs and the type of heater to get. Tankless water heaters are increasingly becoming popular due to their compact design and energy efficiency. With the right water heater buying guide, you will realize that tankless systems provide unlimited hot water. This water heating system comes in different sizes, and you can mount it on the wall.
A tankless water heater is easy to use. When you open the water tap connected to the unit, the heating element automatically switches on and starts to heat water. By the time the water comes out of the tank, it is already hot and ready for use. When you close the hot water tap connecting to the unit, the cold water, and the heating element shuts down. The benefits of a tankless water heater include the following:
Energy-efficient and eco-friendly
Heats water on demand
Can last up to 20 years
Compact design
You should make sure that you get the right size water heater to provide enough hot water to save energy.
Explore Water Heater Systems by Energy Source
Electricity is by far the most commonly used source of energy to heat water in different places. Different water heaters use various energy options like geothermal energy, fuel oil, natural gas, solar energy, and propane. Among these types of water heaters, the solar-powered water heater is by far the most energy-efficient and environmentally friendly. Other sources of energy can be costly compared to solar power that is free once you install the heating system.
Insulate Tank
Another great option to reduce heat loss from water is to insulate the storage tank. Whether the heating system uses natural gas, electricity, or oil, insulation of the tank is a viable option to save energy. However, you should not cover the burner, heater's thermostat, the top, and bottom. You also need to insulate the pipes connecting to the unit to conserve heat.
Install Heat Traps
As the name suggests, heat traps prevent hot water from escaping from the unit. If your unit is old but still in good working condition, it is crucial to install a heat trap to retain the heat inside the tank. Modern water heaters come with built-in heat traps that help to keep the water hot even if the heater is off.
Install a Timer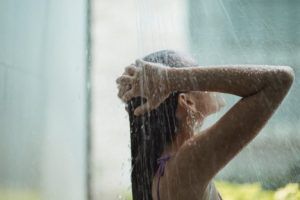 The problem with a traditional water heater tank is that it runs continuously and this leads to increased consumption of energy. You can solve this challenge by installing a timer that turns off the heater at night to conserve energy. Additionally, this also helps to extend the life span of the heating unit because it gets time to rest.
Hot water is a critical component in every home since we use it for various purposes in our day-to-day lives. As noted above, the water heating system accounts for about 18% of the total power utility bill and this is a substantial figure. However, the good news is that there are energy-efficient solutions that you can consider for your water heating installation. It is a good idea to replace an old water heater and other appliances, and you need to insulate your water tank and pipes to prevent heat loss.