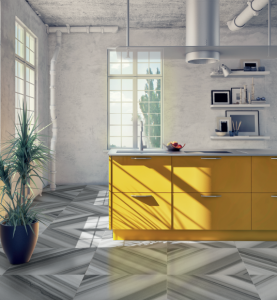 For immediate release: Ege Seramik has developed another state-of-the-art porcelain tile range that emulates the look of natural stone. LUMINA is a modern, very unique interpretation of the venerable Turkish marble known as Marmara… that has been used for centuries in various construction capacities. Whereas grey is the original color of the stone, Ege Seramik has contemporized the "look" by adding a subtle beige hue, created specifically for this series.
LUMINA is now available in large, 12x24" and 24x24" formats, with decorative 9x13" hexagon shaped mosaics. Finished in both matte and lappato, the range is offered both with rectified and non-rectified (neutral / pressed) edges. Ideal for both residential and commercial applications, LUMINA provides a sleek and exquisite contemporary stone appearance… plus the rugged durability and ease of maintenance only offered by porcelain. Design potential is virtually limitless; the range may be used for both floor and wall projects. 
About Ege Seramik
Since 1972, Ege Seramik has been a major global supplier of top-quality ceramic and porcelain tile materials. To meet the demand of customers in the United States and Canada, Ege Seramik America, (established 1991) has been serving a strong and loyal cadre of active North American customers from its stateside headquarters in Georgia. For years, Ege Seramik has been the number one Turkish product exported to the North American continent.
To learn more about Ege Seramik and view the entire product line, visit www.egeseramik.com or contact the firm directly at Ege Seramik America, Inc. 1721 Oakbrook Drive, Suite C Norcross, GA 30093 Office: (678) 291-0888.